The Make in India week from 13th-18th February in Mumbai, inaugurated by Indian Prime Minister Narendra Modi is a good time to ask some deep and piercing questions about what we would like 'Made in India' to mean.
Make in India is a great movement to make India a global manufacturing hub, a movement that needs to be applauded since manufacturing forms only 17% of our GDP and Make in India can help us achieve our target of 25% besides creating additional jobs in the economy. But the crucial point of difference may be what Made in India is going to mean to the consumers of the world in the future. So in other words the positioning of Made in India may be as important as the program Make in India.
After all every country meant something, when they started producing goods and services. I remember that when our family first changed from our old Grundig Radio to a National Panasonic two in one as it was called those days (radio and cassette ) player our first concern was quality.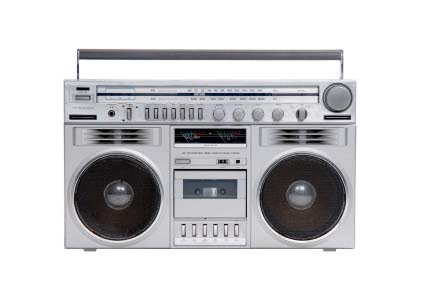 The Japanese those days had just started producing goods and services for the world, and the first impressions were that they were cheap and good quality, but perhaps not as durable as German products. The other big cache that German products had of course was German engineering. The Japanese then invested in a total quality program that was to change their image a decade later. Today one does not think of Japanese products as non-durable. Our Canon and Nikon cameras go on for years on end as do our Japanese Toyota cars and other electronics.
Similarly when one thought of Italian products you expected either luxury, craftsmanship, design or fashionability. As a result Buying an Alfa Romeo can be a very different experience from buying a BMW. You can bet your bottom dollar that a Alfa Romeo is going to be so much better looking in terms of design than a German Car.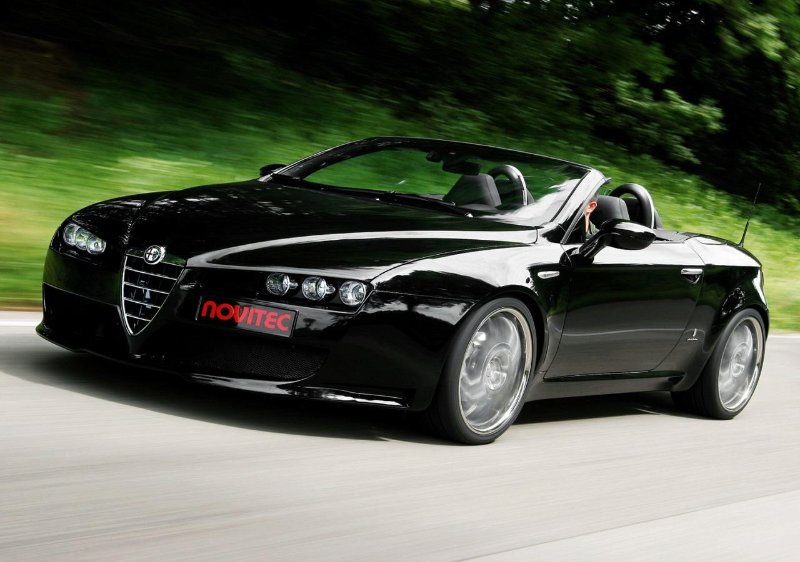 Similarly we seem to have over the years built an impression of American products, of things made in France and the UK. And each country seems to bring its distinctiveness to the product you desire.
In comparison, India's image seems full of contradictions like the country itself. Spirituality and mysticism which it has actively marketed to the West for example means nothing if people were to buy a car or a motorcycle made in India.
JWT did a very interesting study in October 2012, which was appropriately called the JWT Personality Atlas. What I particularly liked about the study was that they took into account 2 important parameters:
What a country of thought of itself? ( what they called the Introspection Map )
What the world thought of that country? ( what they called the Stereotype Map)
We know even at at a personal level that the perception of how we see ourselves, is very different from how the people around us, see us. This is often referred to as meta-perception in psychology.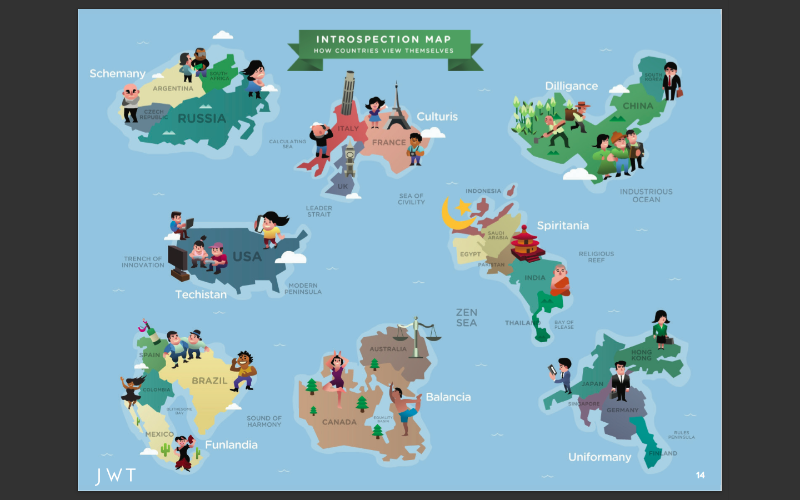 What is interesting is that while we see ourselves as being a part of Spiritania (which obviously has to do with us selling ourselves the world over for our spirituality ), the world sees us a fairly vanilla. ( see the second map ). Which means that we don't currently seem to have a distinct point of difference in the things we make.
What is worrying of course is that the same JWT study also shows that we think much better of ourselves than the world thinks of us. The large gap in self perception and world perception is that we may not be very amenable to feedback about ourselves. If a man thinks highly of himself and others do not think highly of him, there is conflict and a mismatch in the egogram and the difference needs to be bridged.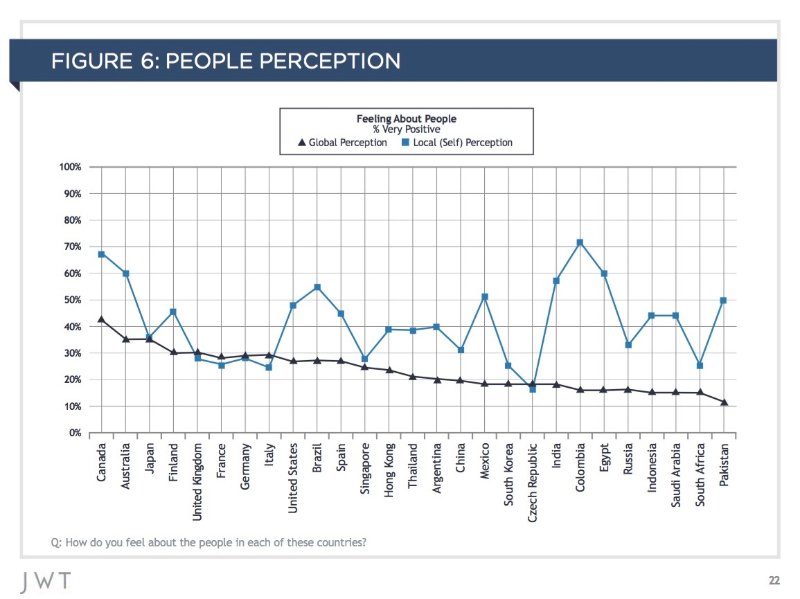 Positioning Made in India
Given the difficulty of how we are seen now may give us a clue as to how we should we be seen in the future. A large part of how a country is positioned also has to do with how it attracts tourists to the country. After all, if you say come to India for spirituality, mysticism and its ancient culture then you can't but help think of India as that. The difficulty here is that what can spirituality, mysticism, ancient culture bring to manufacturing, engineering and production? Almost nothing I would say from the eyes of the modern world.
More important may be to look at what is the largest export we have made? And as I look at it our largest export has been brain-power. Our intellect. When we speak of brain-drain we reluctantly acknowledge this fact. What the Indian overseas is known for is perhaps what 'Made in India' needs to be known for. Software firms, BPOs, KPOs is where we seem to be making our biggest mark.
What should India be known for?
I can't help but feel that therefore India must be known for its Ingenuity. The quality of being original, clever and inventive. Why? Our best ambassadors currently in the news seem to be Sunder Pichai, Satya Nadella, Indra Nooyi, Amartya Sen to mention just a few, and they are all known for their ingenuity and brain power. Our best global companies Infosys, Wipro and TCS also reflect ingenuity, and gain respect overseas. There is a lot to support ingenuity in our past : from inventors of the number 'zero' to establishing Ayurveda as the first school of medicine to establishing the first civilisation in the world.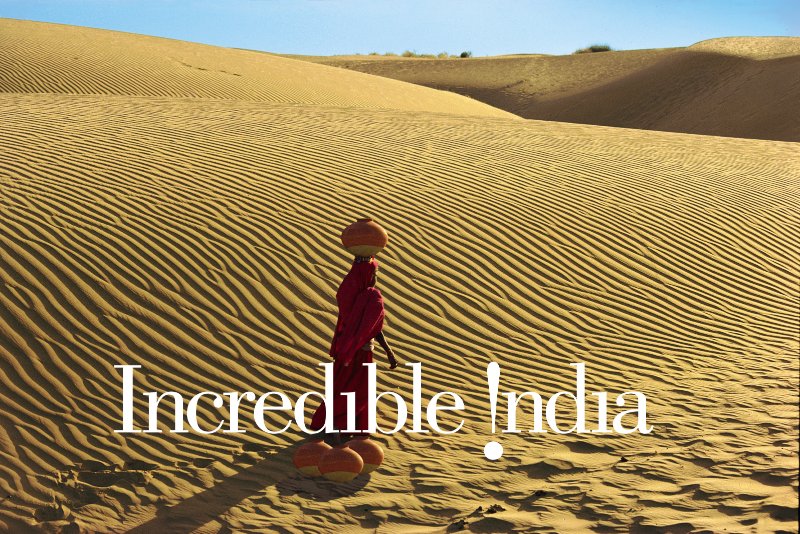 Sumit Roy when asked to comment on the position of Ingenuity says ' There's not much to debate. "Ingenuity" is the route to go. But not the "jugaadu" kind of ingenuity that we often make do with. But the kind of ingenuity that Infosys demonstrated: creating processes that dramatically reduced the "bugs per lines of code" written. If Japan invented "Total Quality Control", it's time for us to be known for "Intelligent Processing".
Vikas Mehta says 'I think there is no doubt in my mind that what India has to offer is enterprise and adaptability. I have used the words carefully as I don't want these to be confused with Jugaad. For me in the last 100 years, be it our unique freedom movement, be it our green revolution, be it Operation Flood milk, be it the IT dominance, India has been about enterprise, looking for solutions in a unique way and adaptability, suiting the solutions to our strengths.
Hamsini Shivkumar also expresses the same doubts about Ingenuity. She says 'The topic is worth thinking about but I don't agree with the platform of ingenuity. It is too close to both creativity and jugaad which we have sold ourselves on...We will need to search harder to identifying relevant and differentiating platforms that would give products made in India a halo for buyers from other countries.'
With India standing alone and the only worthy country among the BRICs, with a GDP growth rate of 7.5%, India is commanding respect in the rest of the world. But in a recent article the Guardian while praising India for its economic growth ended up by saying 'Anyone who has spent any time in India knows that the country still suffers enormous problems: grossly inadequate infrastructure and a deep skills deficit that could easily turn the "demographic dividend" of a youthful population into soaring inequality, massive corporate debt, political gridlock ,patchy rule of law, poor governance and horrendous environmental degradation.'
So, whatever it is, Ingenuity or something else, India has entered a new economic wave with Make in India and it needs to position the country differently. And our Department of Tourism needs to align itself with the new Brand India, because the way India is positioned for tourists and the world, is the way India will be known for its manufacturing, production and engineering in the future. In fact the learned JWT report quoted above says 'A word for government tourism boards: As our map exercise proves, what you think about your destination may or may not jibe with the world's view of what you have on offer.'
Of course changing your image can be a long drawn, painstaking exercise. And we must not fool ourselves into thinking that everything is alright and there is nothing to worry about. Because as Jeff Bezos founder of Amazon once said, 'Your brand is what people say about you when you are not in the room'.
Prabhakar Mundkur is an ad veteran with over 35 years of experience in Advertising and Marketing. He works as an independent consultant and is also Chief Mentor with Percept H.