I guess its time you guys know about IIM Kashipur! The IIM in the North...
A lot of people have been asking me, this one question. Be it in city meets, Personal Messages or in Online Forums.
"What is IIM Kashipur ?"
"What is the Difference between the 6 IIMs?"
Well to the later question, my answer is that I can only talk about the institute I have seen and that is IIM Kashipur.
So here it is, let me remember and try to structure it.
The first thing about IIM Kashipur that strikes me instantly is...
NEW CAMPUS:
The first among all the 6 IIMs to move to its fully functional permanent campus. The campus has been designed by leading designer firm Acorp (based out of Montreal, Canada) and is 200 acres of sheer brilliance. I think I dont have to mention here the benefits of permanent campus ( you are a potential IIM aspirant right?). For more info Kindly check the link Proposed Campus. Convocation of last batch was held at new campus with N. R. Narayana Murthy (Founder-Infosys) as the Chief Guest for the occasion Fourth Convocation of IIM Kashipur Held In Its New Campus - InsideIIM.com
The Rigor :
The highest among all the IIMs. This is a legacy of our Mentor IIM, IIM Lucknow, which used to be called as IIM Hell. Lucky or Unlucky, is something for the student to decide. One thing though, from personal experience is that the kind of work you will do here and the learning you get, in this rigor, is something you cannot get without the rigor. I have seen this rigor change me, mould me and push me to the limits. Get a glimpse of Rigour From The Eyes Of The Uninitiated - Utkarsh Maya's Experience At IIM Kashipur - InsideIIM.com
Industry Exposure:
Kashipur is located in one of the densest Industrial Hubs of the country. The Kashipur - Rudrapur belt has a huge number of industries and IIM Kashipur has a lot of collaborations with the industries. The Lean Cell of IIM Kashipur has been appreciated a lot and has garnered a lot of praise from the industry.
Gurgaon & Delhi are a 4 hour drive from Kashipur and Kashipur is the perfect place for any corporate to come over, interact with some lively students and spend some time in the beauty of nature before going back (I am quoting what a few corporate leaders told me, in my interactions with them).
Often people on various forums have criticized the Government for the existing location of these IIMs. Now that I am part of IIM Kashipur, I can say that having lived in one such city and experienced it personally that how an IIM can impact the lives of people around it, I think its one of the better decisions of our government as it is imperative for an institute like IIM Kashipur which is recognized by government as "Institute of national importance" to do just that. There is a reason why the name "IIM" stands for "Indian Institute of Management" not "Indian Institute of Business"
Academics : "Learning by Doing"
The Website has all the stats, please do have a look Welcome to IIM Kashipur.
What I can say, at an overall level is that the faculty quality is really high. All our faculty are top notch, having prior experience from some of the most reputed institutes in the country and outside. This is a palpable advantage of studying in an IIM.
Our Faculty are participants in Harvard Business School's The Global Colloquium on Participant-Centered Learning (GloColl) and the college follows the Harvards Case Based Learning pedagogy. (Combine this with the industry advantage and you have the perfect mix)
The Research Databases and Bloomberg Analysis facilities are again something that is a great asset. (13 Bloomberg Terminals and a big list of Databases.)
Sage, Cengage, Gartner, Forst & Sullivan, Euromonitor, Crisil among a lot more.
Academics, is I truly believe is one of, our biggest Points of Difference.
The World Bank Initiative :
Something that is Unique to IIM Kashipur. IIM Kashipur students get an opportunity to work under world bank projects and also to specialize in Green Management (Certified from World Bank). It is one of a kind program and the industry has shown a lot of enthusiasm, in this regard.
Placements:
One factor which we all have in mind and when we enter, realise there is a huge array of stuff this place teaches you.
Coming to the point...
At IIM Kashipur the Industry and Profile mix is really diverse. Indicating in essence the diversity of the batch as well.
This can be seen in the report, still I will name a few which come to my mind where some of our students are placed in
Deloitte, KPMG, EY, PWC, JPMC, Thompson Reuters, Boeing.
Reliance Industries Limited & Videocon Industries Limited.
JWT, FCB ULKA, Buchanan are advertising companies that do not recruit in most other IIMs.
Future Supply Chain, SAFEX, Tata Steel, Tata Power, Murugappa
WIPRO, COGNIZANT, HCL, HP, MPHASIS, MINDTREE, Vodafone, Emami, Metro Cash and Carry, Tolaram, Berger Mother Dairy, Lava, Jindal Power Steel, Vodafone, GSK, Cummins, Tide Water Oil, TVS Group, United Breweries, Maruti, Hero, Volvo and Daimler
100% Placement for batch 2014-16 the average package was 12+ lakhs with 54 lakhs being the highest.
Ours will be the 5th batch and hence breaking through the minimum 5 year requirement of some companies and hence our placements will be heading in only one direction i.e. upwards. For Summers we already hosted BOEING, PWC and more.
Case Competition Tie Ups:
HUL, RB, Shoppers Stop, Deloitte, Mahindra & Mahindra, EY, MARICO, Aditya Birla Group.
(You crack the competition you get the PPO)
Before commencement of season the students views are taken on industry and company preferences. That's how companies are got in.
Year on year we noticed growth in companies is palpable and numbers tell the true story
International Collaborations:
Student Exchange:
Ecole de Management de Normandie (EM Normandie)
ESDES Lyon Business School
Asian Institute of Technology, Bangkok
and more………..
And its not only a one way traffic, we also have students coming to our campus adding to the charm of IIM Kashipur. Read Foreign Exchange Students at IIM Kashipur - InsideIIM.com
To sum up our Foreign Exchange Programme vis-à-vis Economics " The supply of partner institutes is more than the demand from our side"
Placements: Retail Biggie DG Sharaff recruits for its Dubai Operations, FMCG Giant Tolaram recruits for placement in Lagos, Nigeria. Multinational companies offering roles in Durban, South Africa.
This is just the start and the work on increasing this is ongoing!!
Infrastructural Facilities :
Fully Functioning Hostels, Mess, IT Infra with a really high speed (Do not know the exact technical stat). You get used to the speed that you feel bad, when you go outside college. It happened to all of us, now that we are in our Summer Internships.
A Fully Functional Auditorium, Meeting Rooms and such. The Major perception that people have about the 6 IIMs is that the infrastructure is not up to the standards, one thing I can say in this regard, is that we in Kashipur have been lucky to have a standalone campus. It might have been a temporary place and we have our permanent campus, now. Yet, we have never felt that we have lived out of a temporary campus pictures of which can be found on 'Inside' IIM Kashipur | Facebook. We are in a full fledged IIM campus, only thing we are getting a better one soon. This is something that is unique to us.
Sports Facilities : Cricket, Basketball, Football, TT, Badminton, Tennis. We had excellent facilities for all this even in our old campus. A perfect day ends with case studies, badminton and a cuppa at the midnight canteen "Hunger Lounge" .
Bottomline : Infra/IT is really good and you will not see a difference in this regard. All this was available in the old campus, itself.
Events:
Throughout the year, we have events that cover every portion of your life at a B-School. Management, Cultural, Sports and Social Causes.
We have a lot of Clubs & Committees that take care of this and every single interest group is catered to, in this regard.
Corporate Events in IIM Kashipur:
The Leadership Conclave: It is the Flagship event of IIM Kashipur and brings some of the biggest names in Indian Industry to the quaint and beautiful city of Kashipur. Leadership Conclave 2014: Industry Academia Collaboration - IIM Kashipur - InsideIIM.com
Coalescence - The Conclave & Summit Week : The entire gamut of function specific conclaves & summits falls under the umbrella of Coalescence which is the Conclave week.
1) Samanvaya - The HR Conclave
2) DigiGo - The Marketing Conclave
3) Neev - The Operations & Supply Chain Conclave
4) Manthan - The Annual Financial Summit Of IIM Kashipur - InsideIIM.com
5) Conflux - The Consulting Summit
6) IT Conclave - The Information Technology Summit
In addition to these events, the weekly guest lecture series ensure that the entire experience is a well rounded affair. Don't believe me? have a look yourself Industry Interactions
Cultural Events:
Kacofonia : The Intra College Cultural Fest (Section Battles)
Agnitraya - Annual Cultural, Sports and Management fest of IIM Kashipur - InsideIIM.com
Tedx IIM Kashipur : Not many Institutes in our country organizes Ted Talks in their campuses. We, at IIM Kashipur have been doing this for past 2 years in the hope of spreading an idea worth spreading. Stalwarts from the field of Technology, Entertainment & Design share a stage and chances are that you will hear something that might change the course of your lives (maybe even outlook towards it). Just imagine the impact they would have on people in IIM Kashipur
Sports Events :
Kashipur Premier League : A sports league, with full on bidding type team & player auctions.
IIM Kashipur might be an IIM which is just 5 yrs old but we noticed a tremendous achievement in each aspect of B-School last year. Our core faculty grew from 27 to 40, Students got placed in a wide range of industries each year, infrastructure is top notch and is improving at an unbelievable pace. New Campus is ready.
In terms of industrial exposure we've done projects in Schneider with their plant head, worked with founder of Big Basket on their competitive positioning, recommended Videocon, Surya Lamps, Ashok Leyland and Parle on improvements in their plants."
The post is getting quite big. There are a lot of things that can be written down. I have missed quite a lot of things.
How cool is it to bike to the mountains with the director himself. The location is an awesome advantage. All work and no play, does make jack a dull boy. I have experienced it and in all this rigor, the natural beauty does calm you down a lot. Nature is the best teacher to push and prod you in right direction.
That's our Director sir by the way with his Pristine Royal Enfield
And its not only the mountains where we trail through nor only the uncharted territories but we also use our rides for noble cause too IIM Kashipur organized Bikerthon - a bike rally to promote road safety - InsideIIM.com
Speaking of IIM Kashipur and missing Jim Corbett is nothing less than a sinister crime, I think this post by my fellow batch mate and good friend Arjun will prod you in right direction-Where is Kashipur? - InsideIIM.com
Travel freak ehh? I wouldn't miss the following posts if I was you
Where is Kashipur? - "Kausani, Queen of Hills"
Where is Kashipur ? - "Jim Corbett, The Tiger's Den"
Where is Kashipur? - "Auli, The Himalayan Retreat"
Finally, thank you to everyone who asked me this question. As I wrote this, I understood and appreciated the value of my Institute more now.
It has been only a month now, but I do miss it. A month more and we will all be back (Summer Internship you see). Waiting for the new batch's arrival.
Hope I will be able to see, some of you there.
Take care!! All the best. -See you at IIM Kashipur
(This article first appeared on Quora)
____
About the Author: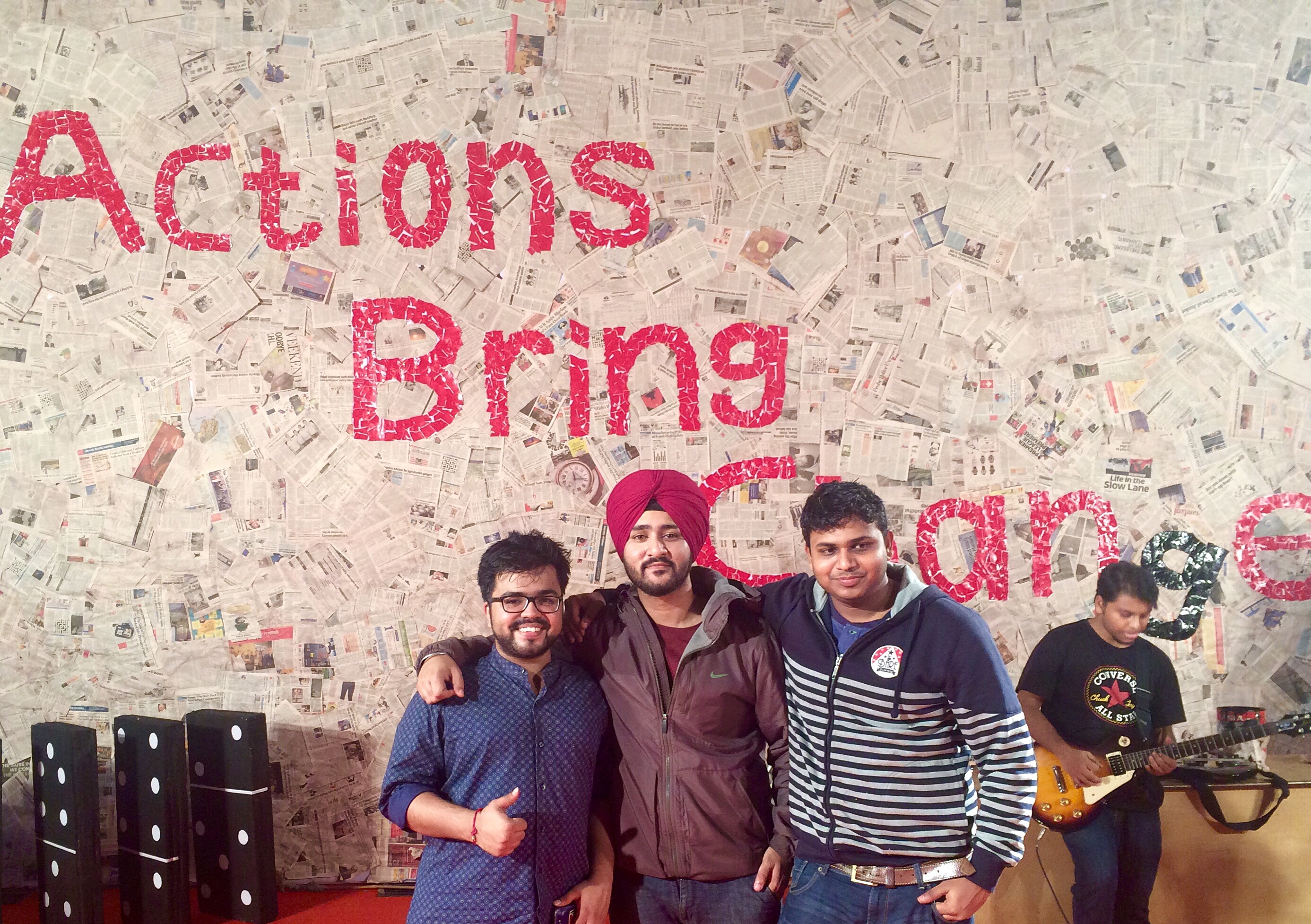 I am Sukhmeet S Sikka, born and brought up in the industrial city of Ludhiana known for its Wheels, Woolens and Weddings. Did my schooling from Ludhiana and pursued graduation in Production Engineering. I am your average JOE pursuing General Management at IIM Kashipur with an inclination towards Marketing. An automobile enthusiast at heart with an ability to bore you to death while talking about automobiles. My mission in life is not merely to survive but to thrive, and to do so with some passion, some compassion, some humor and some style.