Friends, today's edition of Mint has carried an analysis done by me of some of the news that made headlines in February 2016.
Will Amazon continue to invest in India?
Since late December, Amazon has invested Rs 3,676 crore in the Indian market. Why is it investing so much? And will the investment continue? I think so and here's why:
Amazon has already lost the battle in China. Alibaba, the local competitor, is so well entrenched that Amazon could barely manage to garner a lowly single-digit market share in the large Chinese e-commerce market.
China is poised to overtake the US to become the world's largest economy by 2031, according to a study from the UK-based Centre for Economics and Business Research. India will become the third largest economy by then. A weak presence in this market is not good news for Amazon, which aspires to dominate the global e-commerce market.
What makes India the next battleground?
Let us shift our discussion to India. In 2013, when Amazon finally entered India, local competition spearheaded by Flipkart and Snapdeal was well entrenched. Both these companies enjoyed top-of-mind recall among customers. (Ironically, Flipkart's co-founders Sachin Bansal and Binny Bansal are ex-Amazon employees. It seemed that the China story would repeat in India too—a prognosis that was unacceptable to Amazon's founder and CEO Jeff Bezos. He saw India's huge potential:
Large and growing population: India has over 1.25 billion people; in the next decade it is likely to overtake China and become the world's most populous nation.
1. Large and rapidly growing market size: The Boston Consulting Group (BCG) estimated the size of the Indian e-commerce market at $16-17 billion in 2014; it is projected to touch $60-70 billion by 2019.
2. Growth of Indian economy: The International Monetary Fund estimates that the Indian economy will record a growth of 7.5% for 2015 and, more importantly, is poised to repeat its performance in 2016. This growth has to be viewed in the context of the anaemic growth in the rest of the world. No wonder India has been dubbed the "last BRIC standing".
3. Young demography: The mean age in India is 27 years, making it one of the youngest nations in the world. It is a full 10 years younger than the US. Young people display more propensities to spend.
4. Ever improving connectivity: India has the second largest online population in the world, estimated to be 400 million plus. Of these, 280 million have access to the internet through mobile phones, laptops or desktops on a daily basis. Demand for smartphones will rise as their prices drop, connecting more young people to the internet.
The Indian government too is playing a critical role in making India an attractive destination for investments:
1. Make in India: This initiative is geared to attract investment into India. As investments flow in, they will create more jobs. The increased prosperity will lead to increase in disposable income.
2. The push for goods and services tax (GST): This will ensure that India becomes one homogenous country when it comes to the movement of goods and services—a critical requirement for e-commerce companies.
3. Building infrastructure—rail, roads, ports, airports.
4. Digital India: This initiative seeks to ensure internet connectivity reaches the remotest corners of India. As a result, e-commerce companies will have a channel to communicate with the people here.
5. Financial inclusion: The Prime Minister's Jan Dhan Yojna seeks to ensure financial inclusion into the banking system, so that government subsidies reach the people directly, leading to a rise in prosperity and discretionary income.
These facts have not gone unnoticed by Jeff Bezos. In 2014, he promised to invest $2 billion to build the Indian market. Was this just a pronouncement or has money started flowing into India?
In the last couple of months Amazon has pumped in Rs 3,676 crore into India which is being deployed into four large areas: offering deep discounts to counter local competitors; advertising extensively to create awareness about the product and discount offering; logistics to ensure prompt fulfilment of the orders; and of course, technology to ensure that customers get an awesome experience when engaging with the brand.
How have the local boys reacted?
Sensing Amazon's mood, Flipkart and Snapdeal have raised funds of $700 million (July 2015) and $500 million (August 2015), respectively, to ensure they can match Amazon's spending firepower.
Who are funding the local players? Existing investors and Alibaba.
Alibaba has already invested in Snapdeal and Paytm. It is exploring the possibility of investing in Flipkart and increasing its stake in Snapdeal.
What is holding Alibaba back? High valuation. Flipkart has been valued at $15 billion and Snapdeal at $4.8 billion. If these companies give a steep discount to Alibaba, the deal will go through. If and when that happens, the $17 billion cash sitting on Alibaba's balance sheet could well find its way into the Indian market to fight a common enemy—Amazon.
If and when that happens, the battle promises to become meaner and bloodier.
Before that happens, Amazon wants to gain a strong foothold in India by investing in building infrastructure to fulfil orders and leveraging technology to deliver an enjoyable experience to its customer, thus becoming a trustworthy partner of Indian customers.
So, as Fortune reported, the question being asked inside Amazon is not, "When will we make money?" but "Are we investing enough?" because the leadership in Amazon believes that "the opportunity will be measured in trillions, not billions—trillions of dollars, this is, not rupees."
As long as such questions are being asked inside Amazon, it will keep investing in the Indian market. After all, it does not wish the Chinese nightmare to play out in India too.
(This article was originally published on Founding Fuel platform)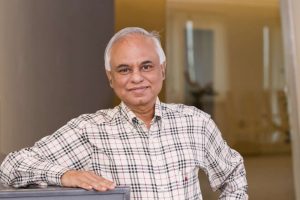 In this series, Rajesh Srivastava, Business Strategist and Visiting Faculty at IIM Indore gives you a regular dose of strategy case studies to help you think and keep you one step ahead as a professional as compared to your peers. Rajesh is an alumnus of IIM Bangalore and IIT Kanpur and has over 2 decades of experience in the FMCG industry. All previous Strategy with RS posts can be found here.