Parul Sharma from Delhi is a true Delhi-ite! She is an avid reader, a lover of her Netflix accounts and loves to write, as well! Both her parents are doctors and her elder sister works in Real Estate, like herself before she started studying at IMTG. In Real Estate, she worked with Jones Lang LaSalle for 2 years, with their Commercial Leasing team, as a part of the Transaction Advisory. Currently, she is a first-year student at IMT Ghaziabad.
Tell us about your Graduation College experiences.
I completed my Bachelor in Business Studies from Shaheed Sukhdev College of Business Studies, Delhi University. Under-graduation was an enriching experience, the kind that shall be cherished by me forever. I got to learn a lot and the Delhi University environment was sublime to be a part of.
How does it feel to be one of the few non-engineers at an IMT Ghaziabad? Tell us the challenges you have faced till now and how you overcame them.
You know for sure that you are out-numbered as a non-engineer during the first few weeks of your first term when you are one of few not raising your hand to "how many of you are from engineering background", a question posed by most professors. Sometimes they'd talk about partial differentiation in Micro Economics, and I would be lost (Never mind, I ended up with an A- in that course. The one I didn't do so well in was, surprisingly, Accounts!) So I think it is all about keeping a leveled head and not get too scared or in my case, over-confident about subjects. One should come here with an open mind and take the subjects as they come. Moreover, the professors here are very helpful inside and outside classes. So, I didn't feel the pinch of being a non-engineer at all.
Being from a non-engineering background, how was it to prepare for GMAT? What was your preparation strategy? (Core strengths and weakness)
I landed a 710 (50 in Quant and 35 in Verbal) on my 3rd attempt of GMAT. Quant in GMAT is actually quite manageable. It was Verbal that made it difficult to pull off a good score. My strategy was simple, first, I completed the course thoroughly and then I started taking sectional timed tests. Once I had built endurance for that, I took a total of 10 full-length tests and I used to work on my mistakes in the tests. GMAT is mostly a test of nerves, and endurance (it is a 4.5 hour long test!)
How has your journey at IMT Ghaziabad been so far? How do you think this exposure to management education has honed your skills or added a new dimension altogether?
The journey at IMT has so far been an eye-opener. Over here, I have challenged myself intellectually and emotionally. Sometimes I failed, but most of the times I came out a winner and with more confidence to take on bigger obstacles. Like any Business School, IMT too, tests your grit and core strengths, and sometimes rattles you to the core too. I am a "technology-gawaar" but when I had to sit through network and Tech classes here, it opened up a whole new world for me which I was surprised to find was very interesting. Like I said before, just try to come here with an open mind.
What are your hobbies and other areas of interests?
I enjoy reading, blogging, dancing, and watching all my favorite movies on Netflix!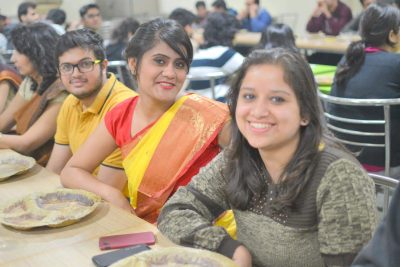 Parul Sharma with her friends at IMT Ghaziabad mess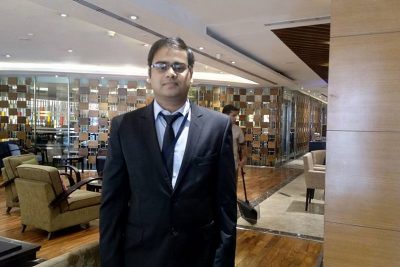 Pranjal Joshi is a student of PGDM (Executive)/PGPX at IMT Ghaziabad, which is a 15 month full-time residential programme. He is a Bachelor of Engineering in Computer Science and hails from Jaipur, Rajasthan. He has been passionately writing articles, blogs, essays etc. for different magazines, websites, newspapers and portals for more than a decade. His areas of interest include politics, social causes, sports, current affairs, spirituality and general issues etc. He loves to express himself as a public speaker and is a prolific writer. He substantiates his writings by means of constructive criticism and satire, he is well-known for his ability to express the truth seamlessly, his thought provoking ways of judging and explaining characters and situations enlightens the audience. Pranjal loves to travel and socialise and is an avid art lover.