Ten things that make IIM Kashipur special AMAZING.
Academics- We started our journey six years ago as an IIM in the north. And look how far we have come. While the hands of time cast its ink, we slowly, steadily, built an IIM that was a whole new B-School in its own rights. Our efforts brought colours as some of the biggest brands set onto a trail to reach IIM Kashipur and wield its intelligentsia to bring forth more business acumen. While some say it to be luck, and some call it connection, IIM Kashipur calls it rigour! IIM Kashipur poses one of the toughest course structure for its PGP program among all B-Schools in India. With six hours of compulsory classroom, with some seven and a half hour days scattered in between, IIM Kashipur will test not only how smart you are but also how long can you hold onto it. As a blade loses its prowess with lesser use, IIM Kashipur pushes its students to feel the pressure and get accustomed to the very tone of the corporate life from day one. "In two years you either leave this place as a better and more capable manager, or you leave as a better and capable manager! There is no alternative." describes the tempo of life at IIM Kashipur and how it has been able to reach such a sure footing in such a small span of time.
At times it did feel difficult, but only those who have known me before I was at IIM Kashipur can gauge the amount of change that has been brought about in me.
With some of the finest faculty from the globe like Dr Sinha, who was awarded the 'Best Operations Professor in Asia Award' in 2014 or Dr Baharul Islam, with his extensive experience of working alongside Dr Sashi Tharoor in the United Nations, academics is the core of the IIM Kashipur experience. So the hustle to the classroom, the huddle for the breakfast and late night case solving has become a part and parcel of my daily existence over the last six months!
Infrastructure- A brand new campus is not something that comes up as quickly as IIM Kashipur has got it. With a full state of the art campus encompassing 200 acres of area, IIM Kashipur is arguably the largest IIM among all. But it's not the only size that will surprise you! The hostels are something that all students look up to as it is their place to unwind from the long classes, quizzes, and many other extra-curricular activities. IIM Kashipur provides single occupancy rooms with attached washrooms to give a student all the privacy that he/ she desires to have to delve into himself/herself and unwind from the long day in class. Step out of the door and there is a plush living room with all the amenities-washing machine, TV, cooking platform, refrigerator, settees waiting for you to explore and enjoy along with your friends. For me personally, the singular room is the best answer for self-exploration and some privacy in the hectic B-School life.
IIM Kashipur has some really magnificent classrooms. While most B-Schools and IIMs, in general, have single projector classrooms with singular or dual green boards, IIM Kashipur has dual projector classrooms with three sets of dual green boards.
The campus is a beauty to look at and a pleasure to venture forth into!
Infrastructure goes beyond the hostels and the classrooms, at least that is my belief.
IIM Kashipur has 13 Bloomberg terminals, arguably one of the highest number of such terminals in a B-School in India, an amazing library stocked with all the books a B-School student requires, a plush outdoor and indoor games club, an amazing dining hall- which also serves as a common meeting spot for students from all the different hostel blocks and a night canteen for all those hungry souls in the middle of the night.
The brick red buildings of IIM Kashipur, the long circular arches, and the plush green are something that a student will keep with himself for all times to come.
No wonder, they say, 'A thing of beauty, is a joy forever.'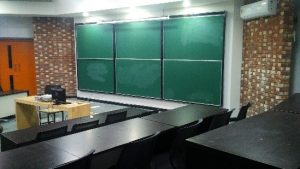 Industry- Most B-Schools are located in places where they are away from the very thing that constitutes a B-School, THE INDUSTRY. IIM Kashipur, on the other hand, is strategically located in the central hub of 180+ industries, from Tata Motors, Bajaj, and Ashok Leyland to Nestle, Perfetti and Videocon, and much more in between. You name a brand and Uttarakhand probably has it! But this also means another thing. If you are an operations lover and a number cruncher, you'll love the number of guest lectures and live projects that the professors in operations indulge in. And live projects are the best way to get acquainted with the subject a student reads in class.
So if you are looking for some real work in marketing a brand, nurturing its production, handling its finances and providing companies solutions to real life problems, IIM Kashipur has a project ready for you. Personally, I have been able to bag three over the last two trimesters!
Added to this we have frequent alumni visits and Coalescence- The annual Industry-Academia Meet, where the students of IIM Kashipur get a chance to meet the CXOs of the industry.
World Bank- This is the del-a-carte offering of IIM Kashipur and it an exclusive of ours. IIM Kashipur gets a set of elective course in management funded by the World Bank. These courses not only earn you credit point but also a certificate from the World Bank vouching for your understanding of the subject. World Bank periodically visits IIM Kashipur and updates its program to keep the courses relevant. Dr Baharul Islam has been instrumental for the same. A common saying at IIM Kashipur goes as, "If you are from IIM Kashipur, you better be World Bank certified!"
TEDxIIMKashipur- TEDxIIMKashipur is one of the most awaited events among the student fraternity at IIM Kashipur. With the likes of Sonal Dabral, Dr Seema Rao and Syed Nazakat attending the event, IIM Kashipur's edition of TEDx is one to remember for the rest of one's life. Being actively involved with TEDxIIMKashipur 3.0, I was mesmerised by the beauty that the students of IIM Kashipur had created. And like always, TEDxIIMKashipur's stage is a beauty yet to be matched by the TEDx events organised in India in my personal opinion. Head out to YouTube of Facebook to check the same if you do not believe me!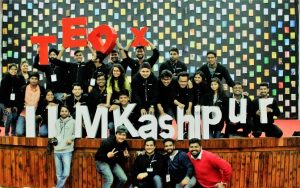 The Himalayas on bikes- How many B-School Directors are the leader of their institute's biking club? I guess there is only one and that distinction is held by Prof. Gautam Sinha of IIM Kashipur. Being located in the scenic plains in the foothills of Himalayas, bike tours are a natural tendency for students of IIM Kashipur. But to head off to a start, Prof. Gautam Sinha has formed the Biker's Club of IIM Kashipur and takes the students on bike trips across Nainital, Bhimtal, Almora, Auli and Jim Corbett during the vacations. And it is a sure treat to go out venturing into the wild with your Director, leading the pack!
There is no dearth of a quick getaway during the weekends. Delhi or Dehradun, Jaipur or Jim Corbett, all are equally viable options!
The Gorilla- 'Have you seen the Gorilla? The Gorilla wants you to think!' Let me introduce you to one of the most talked about personalities at IIM Kashipur. Gorilla- is the official mascot of OYM-On Your Mark, the marketing club of IIM Kashipur. At various points of the year, you see him reach out to you with competition and goodies organized by OYM. And he is this popular for a reason. The posters of the Gorilla can be found everywhere with some really amazing captions that draw students to these competitions, no matter how far they are from marketing! So it's easy to find a poster of OYM reading, "The Gorilla is sleep deprive, but still is willing to work!" at your door, or "The Gorilla wants you to have good food for having more energy to think!" at the dining hall. Sometimes the Gorilla reaches out in the showers as well with "The Gorilla wants you to be clean!"
There are a plethora of clubs actively involved to bring amazing competitions and knowledge sharing sessions to the students of IIM Kashipur. But the Gorilla is a tough competition to beat I guess!
The Amphitheatre- Whether it is a cultural extravaganza or the celebration of festivals, the soft acoustic performance of Zephyr- The music club of IIM Kashipur or the beats of the Garba dance, the Amphitheatre is the place to be for all IIM Kashipur students. Be it Matkiphod or Diwali, Onam or Durga Puja the amphitheatere is the heartbeat of IIM Kashipur. On a summer evening, you can find students chatting, singing and pouring their hearts out at the amphitheatre. During the cold foggy winters of Kashipur, the same students gather around the bonfire to share spooky stories!
The amphitheatre is the pulse of IIM Kashipur. Be wherever you are from, whoever you are, if you want to feel the other side of the hustling bustling future corporate leaders of IIM Kashipur, come visit us once at the Amphitheatre. This is where Pink Floyd meets the ragas, ballet meets Bharat Natyam, Shakespeare meets Nietzsche.
Student Exchanges- Every year nearly ten or more students of IIM Kashipur shift out to countries in the west or the east to spend a trimester as some university there. In turn students from these universities visit IIM Kashipur and call this place home for a three to four-month long period. IIM Kashipur has tie-ups with Ecole De Management de Normandie (EM Normandie), Caen, Le Havre, Deauville, France as well as École supérieure pour le développement économique et social (ESDES) School of Business and Management, Lyon, France, AIT Bangkok and FPT School of Business Vietnam for the student exchange program. But the best part of this is the students who are coming over to experience IIM Kashipur, to experience India. As I have been a first-year student my interactions with all these students have brought forth a whole new dimension for me to see India from, the warmth of the people, the differences between us, and yet how we stand as a united nation. Another amazing thing to experience is how they taste Indian food and the contraction of their facial muscle in response to the taste. During such exchanges, IIM Kashipur becomes a hot post of cultural exchange and social extravaganza!
Parivartan- We, at IIM Kashipur, believe that as students of an Institute of National Importance, it is our duty to give back to the people of India. It is because of them that we have the chance to access and institute like ours. Parivartan Club of IIM Kashipur is a student-run club aiming to make a difference in the life of the people of Uttarakhand. Parivartan is that part of the soul of IIM Kashipur that believe that the greater good of IIM Kashipur lies within the greater good of the people of India. Every year Parivartan Club organizes the Kashipur Marathon where students of IIM Kashipur take to the streets of IIM Kashipur to spread the awareness about socially relevant issues like female foeticide, Swachch Bharat, Education for All and much It takes the public forum of malls and street junctures to enact 'nukkad nataks' to behest people to reflect on out actions and how it affects the society. Parivartan club actively reaches out to school catering to the underprivileged to help them academically, and sometimes by just having a chance to share a laugh with the students of such schools. Parivartan also organizes games and activities for the supporting staff of IIM Kashipur, to make them feel as equal a part of IIM Kashipur as the students of IIM Kashipur. They also organize blood donation camps and reaches out to students for books and clothing to distribute among the financially challenged of our society.
In short, 'Life is amazing, here, at IIM Kashipur.'
Roop Pratim Datta, a first-year student of IIM Kashipur. He is a Kolkata-born and brought up boy with an obsession for Statistics, Mathematics, and Music. He enjoys Bengali literature and is a die-hard Stayajit Ray fan. He pursued his undergraduate degree in Electrical Engineering from Government Engineering College, Jalpaiguri, West Bengal.