We at InsideIIM are storytellers - stories of those who've faced failures repeatedly, those who've gotten up for a split second before being thrown back to the ground but eventually using their grit to come out on top as winners and, more importantly, as survivors. Today, we bring to you yet another story of someone who has come from very humble beginnings, has faced tremendous challenges in life, but has gone on to achieve what many in this country only dream of achieving. This is the story of Ameer Iqubal - an IIM Bangalore Class of 2020 graduate whose sheer will power and determination have found him a place amongst India's Best-50 Most Employable MBA Graduates!
The following is Ameer Iqubal's set of responses to a questionnaire floated amongst MBA graduates to determine the top-50 most employable MBA graduates of the Class of 2020. Amongst the massive number of entries and responses being evaluated by the Founder of InsideIIM-Kampus Konversations, Ameer's story and profile stood out. Here's his story in his words.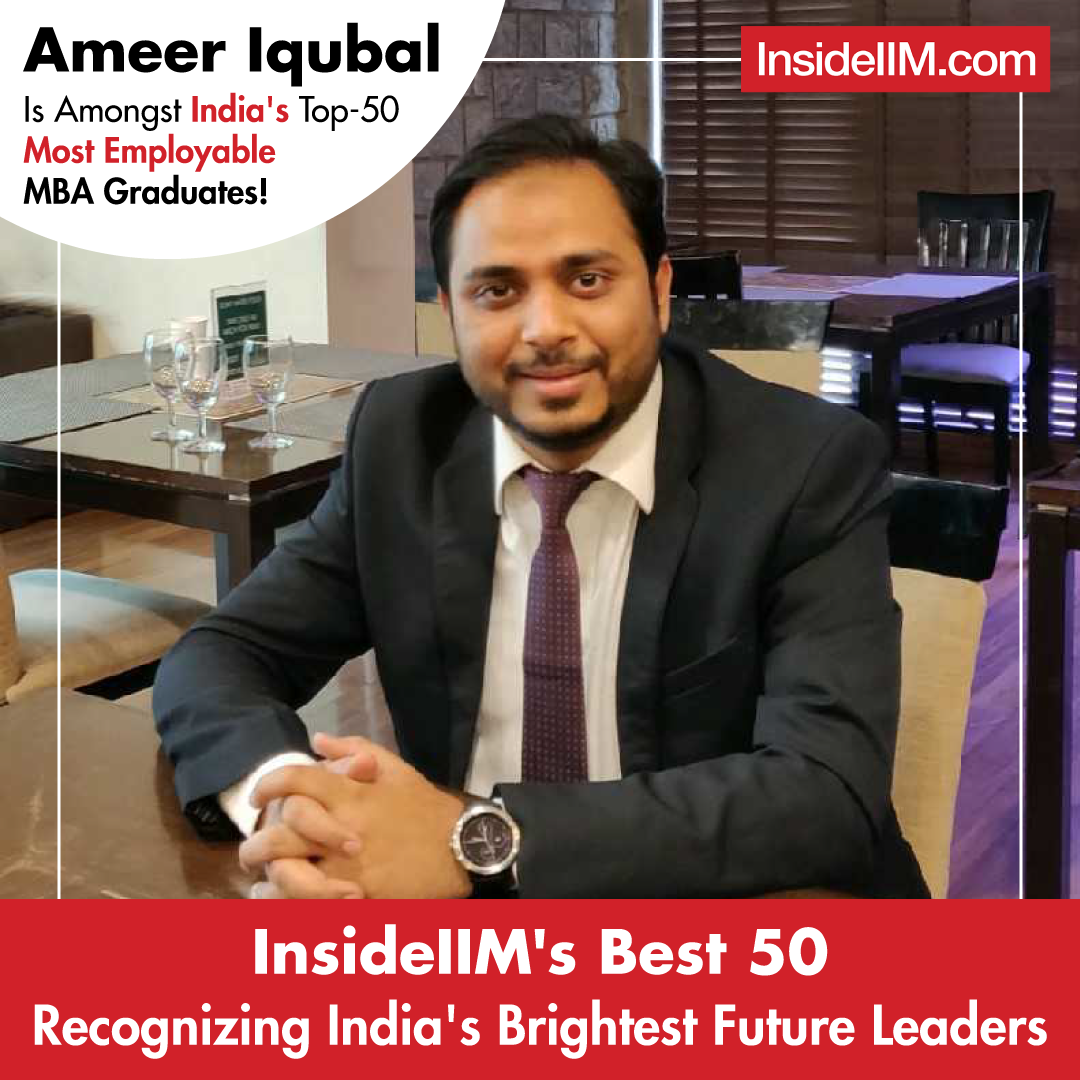 "Perseverance, dedication, determination and earnest willingness to learn have been some of the reinforcements that continue to drive me in pursuit of excellence.
I am Ameer Iqubal. Born and raised in one of the remotest area of Dhanbad, I did my Electrical Engineering from prestigious Aligarh Muslim University and subsequent specialization (M.Tech) from IIT Kharagpur. After 7 years of experience in GAIL (India) Limited as a Procurement officer, I joined IIM Bangalore with an aim to enhance my skill set and to integrate my varied interests in social sector, innovation and entrepreneurship.
At IIM Bangalore, I was the coordinator of Forum for Industrial Interaction (FII, Business Club) where I undertook the task of raising funds for Vista (Business fest) and successfully finalized title sponsors for its last two editions. Owing to my flair in problem solving, I actively participated in case competitions and for showcasing exemplary performance in 26+ of them. I was also adjudged as the D2C Most Competitive Leader 2020. I interned with Amazon and will be joining them full time in May 2020. Apart from my interests in solving social problems, I enjoy playing table tennis and listening to Sufi music!"
Name an instance where you wanted something and went out of your comfort zone to achieve it OR Tell us the biggest risk you have taken so far in your life.
"In my experience, the greatest achievements and risks that I faced were not on the professional front but rather from a personal life incident. It was on 24th of Oct 2012, on my way back home after writing CAT, when I met with an accident. I was thrown out of a running train near Bina at midnight by a few local goons as I defended myself from being mugged. I was fortunate enough to survive, but my left patella (knee) got crushed in the accident. Doctors in my town advised me to remove the patella, but I knew that following the removal of the patella, I would not be able to walk. Hence, I did not went ahead with the surgery.
In that condition, I kept searching for doctors who could at least attempt to restore my patella. Somehow, I got to know about Dr. Rakesh Rajput (Fortis Hospital) who operated on me to join the fracture with the help of implants. I was advised to indefinite bed rest as the recovery was uneventful. Meanwhile, I got an interview call from IIM A, which I somehow attended but could not clear it.
This whole incident came as a setback as I was not able to walk properly even after 6 months. I felt disappointed because I was not able to do anything. Some of the best doctors in the country gave up justifying that there are situations where medical science cannot do much and I would have to live with it.
In Oct 2013, I came to know about Airtel Half Marathon which was scheduled on 15th Dec 2013 in Delhi. I decided to participate in the marathon and thus took it as a challenge. It was a Do or Die situation for me, in the sense that if I could complete the Half marathon (21.1 Km) it would help me regain confidence. But the risk was tremendous - I would keep my leg at stake for the rest of my life. Nevertheless, my determination pushed me to get out of my comfort zone and I began preparing for the marathon - 6 weeks before the event.
Finally, the big day arrived, and I still remember that after about 15 minutes, I started feeling the pain. I asked my colleagues to focus on their run without being bothered by me. I gave everything I had in the marathon and believe me! I was able to complete the marathon in 3 hours and 8 minutes. Although I exceeded the prescribed time limit by 8 minutes, I was completely satisfied with my efforts. This experience helped me to understand that with perseverance, anything could be achieved. Meanwhile, I also kept writing CAT and getting calls from the likes of IIM Indore, Kozhikode and other institutions. But I had decided to pursue MBA only from one of the top 3 B-schools of the country.
Finally, after 5 years of being rejected from IIM Ahmedabad, I got an admit call from IIM Bangalore in 2018. With this valuable experience, I truly believe that "when your heart deeply desires for something, the whole universe conspires to help you achieve it"."
When was the last time someone relied on you? OR What did you do which was purely for someone else - a truly selfless act.
"I believe that the best actions are those done for personal satisfaction / pleasure without expecting anything in return. Moreover, those acts may help shape the character of person, which according to me is priceless. Helping people makes me feel satisfied and I have always been known as a great mentor within my professional & social networks.
In my previous job, I was posted at a remote location which was around 50 kilometres from a small district in Madhya Pradesh. Most of the service-related jobs were done on a contractual basis with limited facilities of a small apartment with 1 BHK flats (within the company township) allocated for contact workers and their families. The township also hosts a Kendriya Vidayalaya school to support the education of the contractual workers' children. However, after multiple engagements with workers, I realized that their children lacked motivation to study and wanted to start working in order to support their families.
Since I've personally seen the power of education as the only ethical way to get out of the vicious circle of poverty, I began interacting with 5-6 children whose parents worked in my department. In about three months, I was able to mentor and engage with about 50+ students of classes ranging from 5th to 10th standard. My aim then was to inculcate an inclination towards education and its long-term benefits in those children, through narratives and discussions of leaders who rose from rags to riches and changed their fate. Along with this, I also tutored them in subjects that they faced difficulty in.
Additionally, I sponsored the education of two under-privileged children from my native place and as of now they have successfully completed five years of education. They are in Class IV now. In the long term, I would like to start a scholarship fund for under-privileged children to help them realize their dreams. When I look back at the children whom I mentored earlier, I find that they are ever ready to inspire and help others from similar background and I believe that this is actual empowerment of the unprivileged in our society."
Tell us about a time when you disagreed with an opinion/idea/decision. What did you do about it?
"Prior to my MBA, I worked in a Public Sector organization as a Procurement Officer and was responsible for all the hiring of contracts and procurement for Operations and Maintenance of plant and related establishments. Due to irregular patrolling of the company's pipelines by the concerned staff, multiple incidents were being reported. To overcome this problem, it was decided to hire a contract for Procurement & Installation of online tracking system of foot patrolling of pipelines. Moreover, this contract was driven by the Chairman's office and the contract was to be finalized on an urgent basis. I was the officer in-charge for this tender.
The tender was being processed on highest priority and we received two bids. Meanwhile, I got an anonymous complain about one of the bidders having submitted fake documents to meet the tender requirement of prior experience in similar contracts. The bidder was asked to confirm the authenticity of the documents by submitting the notarized copy of the documents duly certified by Chartered Engineer, in response to which they submitted the certified documents. To cross check, I also raised a query to the company (another PSU) that issued those documents but didn't receive any response from them.
My boss and Head of my department asked me to consider the documents submitted by that bidder and to proceed with their bid by qualifying them. However, I was not comfortable in proceeding ahead with those allegations. I believed that if that bidder became L1 and gets the contract, that could sabotage the company's project during execution apart from them adopting unethical means to get the contract. Thus, I was very clear on my ethics and decided to pursue the issuing organization to get confirmation from them. I personally got in touch with the issuing officer through social media and requested him to confirm about the validity of the certificate. It wasn't an easy task to get hold of the information, owing to reasons of confidentiality. I requested for his support in this critical situation and to share the information after requisite approval. It took him 3 days to get the approval and trust me those 3 days were one such experience which I will never forget in my life. Pressure was being built on me from all sides to finalize the tender and I was even threatened on its implications on my career. Unexpectedly, the next morning brought a new twist to the tender. I received a mail from the issuing authority of the certificate stating that the contract was awarded to the bidder, but they could not complete the work. Moreover, the bidder had manipulated the contract value to meet the eligibility criteria of our tender.
With this confirmation, I was able to reject that bidder and after following the due procedure, I got them blacklisted from participating in any of the government tenders. Though the tender was delayed by a couple of days, I believe that with my stance, I was able to save my employer from a potential sabotage of one of their critical projects."
What is the one thing you can claim to have some level of expertise or depth of knowledge in - it could be anything - a subject, a sport, a hobby, a venture, an initiative which has led you to do deep work in that field?
"During my under-graduation studies, I used to focus only on the academics. However, soon after graduation, I realized that competitions expose us to new opportunities of problem solving & leadership, while pushing us out of the comfort zone. Therefore, I started participating in competitions in my previous organization and, over a period of time, my interest in problem solving transformed into passion. I won several competitions within the organization and was nominated to represent the company on several platforms. Ever since I was stepped into IIM Bangalore, I wanted to work on live projects and case competitions for management students. As someone who can think laterally and redefine conventional thinking, corporate competitions provided me with opportunities to work on real business problems across a diverse set of industries and verticals.
However, in the first two semesters, I struggled to be a part of teams that participated in competitions. Soon, my leadership skills were at task as I worked on forming my own team. Later, I got started and worked closely with many of my peers over the rest of my MBA. I participated in 50+ case competition over a period of one year and performed well in 26 of them (6 National Winner; 2 National Runners-Up; 1 National 2nd Runners-Up, 6 National finalist, 2 Regional finalist / Campus Winners; 9 Campus Finalists) – which includes the like of HUL, Reliance TUP, Asian Paints, Flipkart, Mahindra, Optum, Colgate, Bajaj Finserv, TransUnion CIBIL, Cisco, EZJobs, Tavaga, The Hindu etc.
All of these efforts were validated when I was adjudged the 'Most Competitive Leader 2020' in a competition run in association with CNBC TV18 and CRISIL. Owing to my problem solving and people skills, I was the sole candidate out of nine Program Manager Interns from IIM Bangalore to be awarded with a pre-placement offer from Amazon. I was also amongst the 15 Indian delegates selected for the 23rd World Business Dialogue at University of Cologne, Germany for my exemplary skills & leadership potential. Hence, these achievements define my expertise in problem solving, building strategies, people and leadership skills."
If 10 Million Dollars (approximately INR 75 Crores) is given to you to use it any way you deem fit what would you do with this corpus?
"Born in one of the ordinary villages in India, my childhood was spent witnessing my parents struggle to earn a livelihood for our family. I had nothing but only dreams of a better future and opportunities for our community. It took me no time to understand- "Give man a fish, he will eat for a day; Get him a job, so that he can afford to eat fish everyday". With the never-ending support of my family and firm belief of my parents in education, I could come out of the vicious circle of poverty and aspire to break this circle for others too.
Out of my keen interest in solving social problems, I developed two different business models. The first one being TAL-ent – which provides a platform for budding & passionate artists to nurture their skills and gain exposure. It also allows event organisers to choose from a wide pool of artists. I co-founded another platform-based start-up PaperTown, which aims to empower paper / waste collectors by building a transparent and efficient recycling ecosystem. Our aim is to reorganize this sector by connecting the waste collectors with people who want to sell waste-papers and subsequently incorporate all other waste sources, thereby leading to vertically integrated waste disposal solutions. In one of the test drives in Bengaluru, we were able to collect 1150 Kgs of waste-papers amounting to revenue of INR 13,890. Both the business models received appreciation from various corporate and industry experts. However, due to lack of funds they are still in their beta testing phase and could not take off fully fledged.
Hence, given INR 75 crores, I would invest INR 40 crore in PaperTown and 15 crores in TAL-ent to get them started. I will keep the remaining 20 crores as a corpus for the scholarship fund to sponsor the education of unprivileged children right from the primary level of education. I hope that with all these activities, I would be able to create a social impact. I also believe that at the end of the day, it's not about what one has or what they have accomplished; but it's about whom they help. It's all about what one can give back to the society."