I have outlined this piece (I will call it a show though) into 8 important scenes from my 8 weeks at Tata Steel. Hope you have a good read.
Scene 1: The gruelling summer placement at IIM Indore had ended long back and the denizens of Planet-I had been constantly on their toes all through the first year. One fine evening, towards the end of Term-III, I receive a mail from Talent Acquisition Group, Tata Steel regarding the list of projects instructing me to fill in a form listing my preferences, and I am reminded of my interview experience almost instantly, of a journey which had begun, but the destination had been elusive all this while. With great enthusiasm, I fill in my choices and hope that I get into one of those. Soon enough, we are intimated about the projects, our locations, the names of our mentors and guides we needed to report to, but I break out in cold sweat when I look at my project title, I see a product that I know nothing about and I think to myself if I will be able to deliver as per the expectations of the company. I calm myself and drop a mail to my guide and mentor asking them for further instructions as to any pre-requisites. Much to my delight, they come across as really warm people who tell me not to worry about anything, and join them soon at Kolkata for further discussions, saying "You will learn while you are here, see you soon!"
Take Your Career To The Next Level. Ask Our Experts Anything. We Will Respond Within 48 Hours.
Scene 2: I reach the city of joy on the morning of 3rd April, a day before the commencement of my internship. I had been to Kolkata a couple of times before, but this felt different. This was going to be an important milestone in my MBA journey, and I was nervous, excited and apprehensive. I was looking at the yellow taxis zooming around while I crossed the Howrah Bridge, the air was humid and the crowd was constantly chattering and I said to myself, "May the city of joy bring me immense joy and a lot of happy memories".
Scene 3: It's 4th April. I am standing in front of a tall building on J N Road, which goes by the name of 'Tata Centre'. The taxi driver who dropped me there told me that it used to be one of the tallest buildings on the road at one point of time. It hits me that I will be working with one of the steel giants in the country, with a company which has a history that is more than a hundred years old. With these thoughts running in my mind, I enter into the lobby and I am greeted by a number of anxious faces. I quickly realise that these are my co-interns. I see a couple of familiar faces, and many unfamiliar faces, but all of us share the same emotion, to make the most out of this two month internship experience. We are quickly ushered into a conference hall with the HR, who urges us to make a quick round of introduction and directs us to different floors after the customary speech about expectations from interns and the rules and regulations we needed to follow.
Scene 4: I enter into the 12th floor which reads "Ferroalloys and Minerals Division" and it looks like a maze to me. I see many people typing away on their keyboards, moving around on the floor, drinking coffee, talking over the phone, and I feel "This is it. This is where you belong for the coming two months. Carpe diem". I walk into my Guide's cabin, he greets me with a warm smile and introduces me to my buddy. He insists that I take the empty seat right in front of his cabin and do not hesitate to approach him if I nee help. I am assigned a number of annual reports and documents that I need to make sense of before I get on with my project. So, the next couple of days, I pore over a lot of macroeconomic data, product specifications, market dynamics and my buddy walks me through the business and outlines the objective of my project. I meet a number of co-interns over tea and lunch, and it feels like I am back in college again, except it really isn't and everyone means business.
Scene 5: One fine morning, I am informed by my buddy that the Chief of Marketing and Sales, who is also my mentor in office after his trip to Europe and wants to meet all the interns. I walk in with a smile on my face and see three more interns from my department smiling back at me, but the biggest of all the smiles is of CoMS. After a quick round of introductions, we settle down to a session by CoMS on how different are B2B, B2C, B2SME and C2C models, and which segment will our project cater to. That is when I am informed that my project is going to have a huge impact when GST is rolled out by the Government in the subsequent months and they are looking forward to a good set of recommendations that will help them design their strategy. I am told that I will have all the resources I need at my disposal and I am free to make my own project charter, to arrange for my own market visits and I can interact with as many current and potential clients as I want, to make this project a success. I come out of the meeting with renewed energy and enthusiasm by the words of encouragement and thoroughly impressed by the openness and humility of the top management of a company which has been doing business for more than a hundred years now.
Scene 6: All the interns in the department are invited to the Annual Conference of FAMD where the who's who of Tata Steel would be coming together for a wonderful evening at The Grand Oberoi and we are given strict instructions to enjoy ourselves while we are there and not to worry about anything if things become too technical for us. We took cool pictures with the co-interns and the buddies at the conference that will speak for what we did there.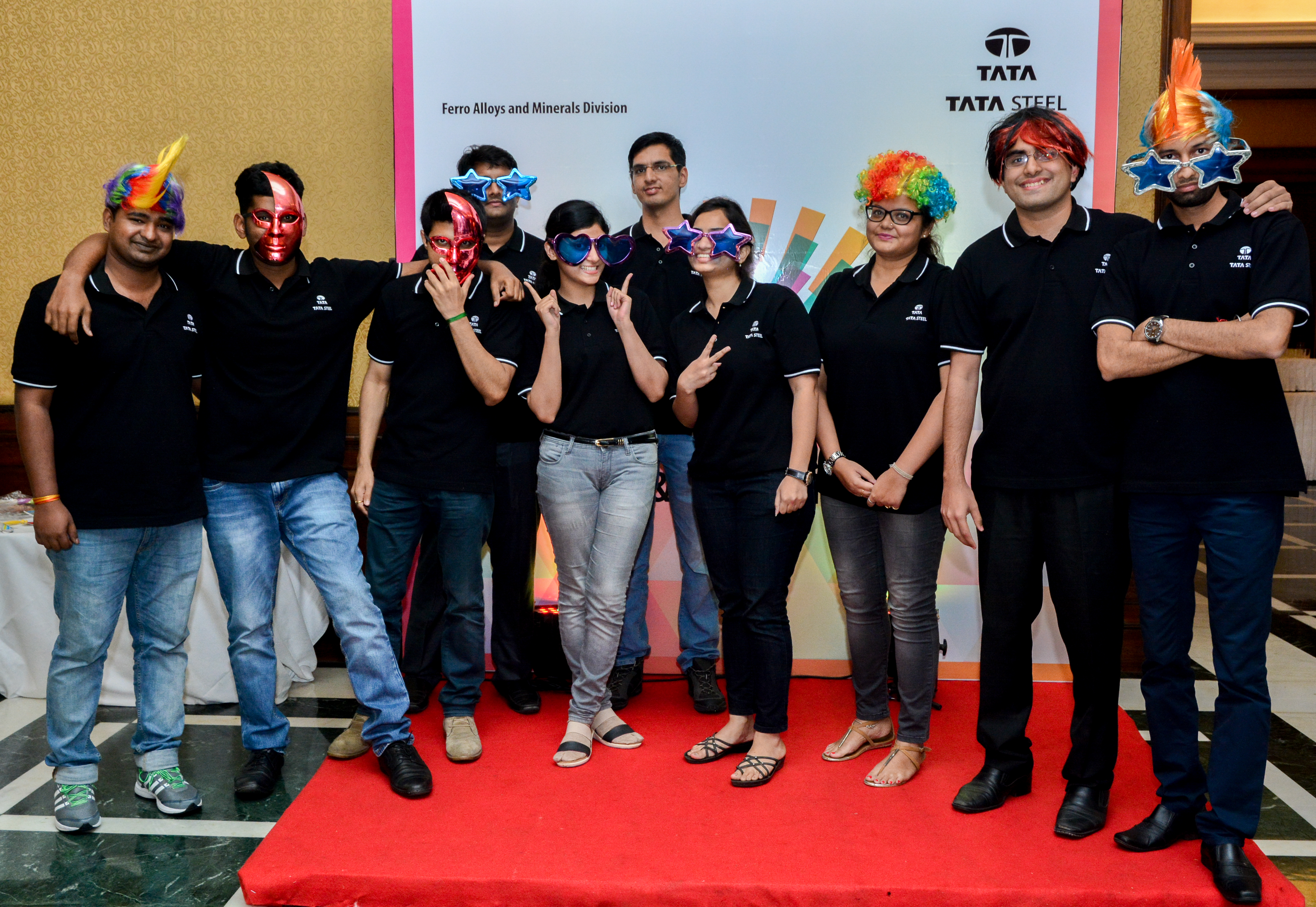 Scene 7: So, I have started making visits to various potential clients in the industrial clusters of Jharkhand and Odisha, trying to gain insights into the consumer behaviour and trying to collect as much data as I can to help me strategize how my end deliverables would look like. And all this while, the responsibility to generate leads and design my project according to my thought process has been such a great learning experience. The mid review with my mentor and guide have been positive reinforcements and my buddy saying, "Don't worry about the outcome. Just give it your best shot!" is one of the few highlights of my internship experience.
Scene 8: Amidst the talk of the final review worries, it would be a grave injustice if I leave out the fun that I had with my co-interns. The calm evenings at Prinsep Ghat, the search on Zomato for the best restaurants, the Baahubali 2 outing (who could forget that!) or just the simple chai breaks which started off with exchanging pleasantries and soon turned into brainstorming sessions while we listened to each other's project deliverables and tried to help each other with some ideas.
When I look back, right from receiving customized goodies to meeting interns from different B-schools, from interacting with potential clients to working with seasoned professionals in the industry, from trying to understand the business to apply concepts studied in b-school, from planning visits to study markets in different states to devising strategies to serve them, it has been an amazing journey in a span of 2 months. I think I have rediscovered myself as a person as I have been able to connect with so many people on a professional and personal level, which will help me in the long run as to how to manage my own self and career.
My takeaways from this internship has been immense, in terms of my understanding of B2B and B2SME business models, implementing STP, understanding consumer behaviour in the markets, and working on distribution channels to serve them well. What I liked about Tata Steel is the positive work environment, where none of the ideas(even if it comes from an intern) are shot down but debated and analysed before reaching any conclusion. The welcoming attitude of all of the senior management is a plus and this helps the interns to feel very comfortable in a new environment.
I left Kolkata with a heavy heart with so many memories. 'Inspire 2017' has truly been inspiring in every sense of the word. This will go down as one of the most memorable internship experiences I have ever had.
#internshipdiaries #summersaga2017 #iimindore