In our list of India's Best 30 - the 30 Most Employable Students from the Class of 2019-21, we feature MBA students who have worked hard to make a dent in the world. One of those featured in today's story, Sagar Sahni, has proved to possess an exceptional amount of rigour to make the world a better place with technology. Read on and find out how this Developer at XLRI is all set to create & implement transformative solutions.
The following are Sagar Sahni's set of responses to a questionnaire floated amongst MBA graduates to determine the top-30 most employable MBA graduates of the Class of 2021. Amongst the massive number of entries and responses being evaluated by the Founder of InsideIIM-Kampus Konversations, Sagar's story and profile stood out. Here's his story in his own words.
Take Your Career To The Next Level. Ask Our Experts Anything. We Will Respond Within 48 Hours.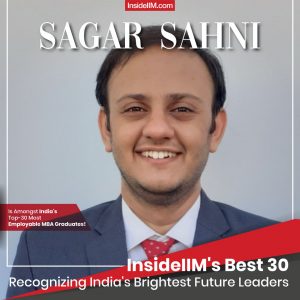 "I hail from the city of Rishikesh, situated at the foothills of the Himalayas in Uttarakhand. I am a gold medallist graduate in Computer Science Engineering from SRM University and have 2 years of experience as a Software Developer at Amadeus Labs in Bangalore. I am passionate about adventure sports, mythological texts, and traveling. I have done Asia's tallest bungee jump from a height of more than 270 feet and have traveled to 4 countries and numerous places in India. I am a technophile and want to increase the use of technology at every house making lives easier which is why I changed career paths from a developer to an MBA graduate."
Name an instance where you wanted something and went out of your comfort zone to achieve it OR Tell us the biggest risk you have taken so far in your life.
I had moved from Rishikesh to Chennai for my graduation. I used to work with an NGO for child welfare at a local orphanage and I wanted to continue contributing to the society. I along with a few like-minded people, got in touch with Child Rights & You NGO and talked to them regarding setting up a Public Action Group in the Potheri area. Potheri is a rural area on the outskirts of Chennai where my college was located. The local shops had a lot of child labor while the government school lacked even the basic amenities. Being a Hindi speaking guy willing to work in a Tamil speaking area was a major hurdle which even the NGO workers felt would be difficult. I set up a PAG with necessary approval and with some social media and offline promotion in college, I was able to gather around 30 volunteers aligned towards the cause. We had a few Tamil speaking volunteers who used to translate things to overcome the language barrier. Together, we did awareness campaigns against child labor, literacy programs and workshops for the Anganwadi students, file PIL for boundary wall and washrooms for the only government school in the area as the vehicles going through the school ground posed a threat to the children's lives. The action group has since then continued at my college with new volunteers joining every year as the baton is passed to the juniors.
When was the last time someone relied on you? OR What did you do which was purely for someone else - a truly selfless act.
One year into my job, my manager came to me and asked me to lead the department's internship program. He told me that in a month, 3 interns will be joining the department and I should be ready with their project briefs and the 5-month deliverables. Now, to get such an opportunity in a multi-national company was a very big thing. Even my seniors had occasionally just got to mentor some interns each year with the part that would be associated with the project they were working on but never the entire program. I knew I had to live up to the expectation as my manager had relied on me with this big opportunity. I brainstormed and finalized with the product managers about the project ideas that could add value to our current offerings, created the technical roadmap for prototype development, and presented it to my manager for his approval which I got. In the 5 months of the internship program, we were able to develop 4 end to end software solutions and presented them to the product management team. One of the projects got the best project award across divisions and I was appreciated for my management skills in successfully executing the program by my manager and the trust he showed in me did not go in vain.
Tell us about a time when you disagreed with an opinion/idea/decision. What did you do about it?
I had done my final year internship at the company I was going to join after my graduation. When I finally joined that company, all graduates had to undergo a training program and I was at the top of my batch in the training assessment. When I finally joined the company, I was allotted a Quality Assurance role than a developer role. I talked to the HR in-charge who advised me to continue in the role stating there is no other available position. I talked to my manager who was kind enough to listen to my argument. The issue here was not of the title, but it was of the work and the career trajectory that would be set. I wanted to develop software and I was hired for that role and there was no point in doing the work half-heartedly and then look for a different job just because of a manual error. Luckily, there was a position available in the Android division, but I did not have any experience with Android. I was given a week's task to develop a specific use case in Kotlin language in order to get an entry into that team. Even though I was a Java developer, I worked very hard and achieved the task and finally earned the developer position I fought hard for.
What is the one thing you can claim to have some level of expertise or depth of knowledge in - it could be anything - a subject, a sport, a hobby, a venture, an initiative which has led you to do deep work in that field?
The one thing that I would say, I have in-depth knowledge in would be creating Android apps for mobile devices. I started creating apps around five years back while I have been coding in Java for the last eleven years. My inclination towards Android started more from the job requirement perspective but I quickly grew to have a fondness for it. I was able to launch a B2B application at 50+ airports while working in a team of 2 people that reduced the time for handling baggage operations at the airport by 35%. I worked on a platform to create a white-labeled app that can be customized for every airline customer and 30+ airlines are using it as their apps on the Google play store. I single-handedly led the migration of apps from Java to Kotlin as it was the latest language launched with a specific focus on Android programming. While I moved on from my role as an Android developer to pursue Business Management, I still create and modify some apps for personal use.
If 10 Million Dollars (approximately INR 75 Crores) is given to you to use it any way you deem fit what would you do with this corpus?
Assuming the 75 crores is the post-tax value given to me, I'd use around 10 crores (approx. 15%) for personal use i.e. repayment of loans, houses for parents and self, bank balance, and personal gratification items. I'd keep a similar 15% amount for the social cause I deeply care about which is child welfare. I'd like to sponsor the NGOs working towards child rights and child welfare. For the remaining 70% of the corpus, I'd invest in start-ups. Since I understand technology the best, I'd like to invest in software solutions start-ups but to diversify the risk I want to invest in various sectors that have large untapped potential in terms of easing the tasks by using technology.
You may also like to read: