(It is Friday and it is time to hear from Kunj on his unique journeys! All of you who wish to know the background to this 'Baazigar' column on insideIIM.com please read here)
Sometimes you have to look real hard for a source of inspiration. At other times, there is such a parade going on that you get overwhelmed, unable to stop and dwell, unable to isolate inspiration from fascination.
Amritsar is one such city. Its a non-stop riot of colours, people, music, food, spirituality, markets, etc. It is loud and brash and basically shoulder tackles you even at 2:30am. There have been times when I have rushed back to my guest house just to step back and contemplate - although it didn't help that the window of my room opened into the Jallianwala Bagh.
Amritsar is essentially a city of three massively significant monuments.
I don't go to temples, etc very often because I don't find God's presence in those places. I find God in people and music and cinema and conversations and straight drives and random street corners.Templesare a little too self-conscious. Yet when you go to the Chandraprabhu Tok in Sammed Shikhar or some of those churches inSouth Goaor Haji Ali, there is this undeniable presence of God which hits you with its full power and fundamentally changes something inside you. TheGoldenTempleis at the pinnacle of such places in my opinion. If the multitudes of people praying, squatting, sleeping, bathing, singing, smiling wont get to you, then the natural shimmer of the temple, reflected in the lake around it, will. The temple made a person who was totally averse to charity and terribly selfish peel potatoes for three hours in the langar for other devotees. I sat there all night once from 3am to 8am just listening to the ardas and bhajans, with their english translations on the big screen to help me. My experiences so far have made me question my attitude towards my own religion. If I am willing to learn so much from Islam or Sikhism, maybe I should give Jainism also a fair chance. Maybe the fundamentalists among my relatives have turned me off.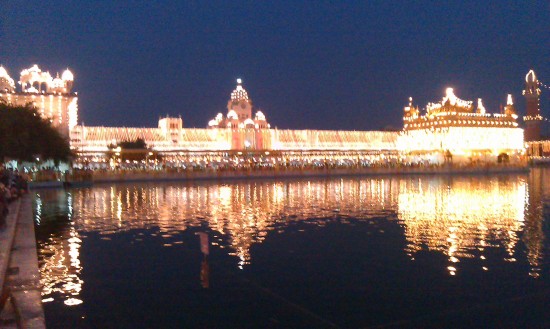 Pic 1 - Had decided not to put this pic as its insufficient, but couldn't resist.
I think it is important for history to always have a precise impact on a civilisation - neither too less nor too much. In both cases, the civilisation would suffer - with lack of contexts or with unproductive hangovers. The Jallianwala Bagh is a monument to the Indian freedom struggle which just about manages to achieve the balancing act. It is revered and mourned upon by the visitors and its also a park now, where kids frolic around in bright sunshine, unaware and unaffected by its bloody past. It shows us in a microcosm, that if we manage to acknowledge the sacrifices made for our freedom and at the same time enjoy this freedom bestowed upon us, we as a generation would have done a good job.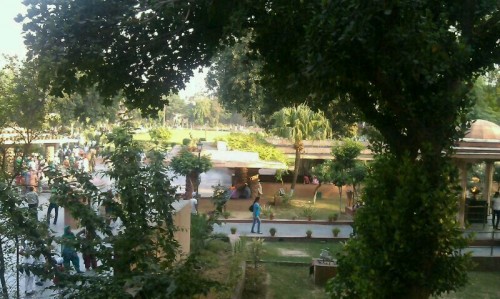 Pic 2 - The view of the Bagh from my guest house. I paid extra for the view.
The Wagah border ceremony is an unnecessary, contemptuous, demeaning reminder of our troubled past and present. I wish it has minimal impact on our future. What happens there is not a true reflection of the two countries and hopefully of their relationship as well. It was almost like soldiers on both sides were trying to outdo the other in their thumping marches, aggressive opening of the gates and the curt handshake. It made me question how we consume our sports as well. All this talk about sport bringing nations closer is gobbledygook if it has this nationalistic colour to it. Sport should not be a metaphor for war and victory should not be taken as a sign of moral superiority.
And then there is the food which is consistently oily and delicious. The chaats and dals and paneer and kulchas and lassi and kulfi are all so full of goodness of milk, ghee, butter, etc that you know you have come to the home of very prosperous, happy people. The portions are invariably massive and quite beyond my capacity. On the hygiene front, well, lets just say we should place more belief in our Udipis and Dhabas and Bhasas than we do in the Dominos and McDonalds of the world. Bade Bhai Ka Brothers Dhaba for the Paneer, Kesar Da Dhaba for the Dal and Lassi, Rajasthani Chaat Bhandar for the Gol Gappe, Guru's for the Aloo Tikki and Mahajan for the kulfi are my recommendations. The pricing is steep by dhaba standards but thats because they all find mention in the Lonely Planet Guide.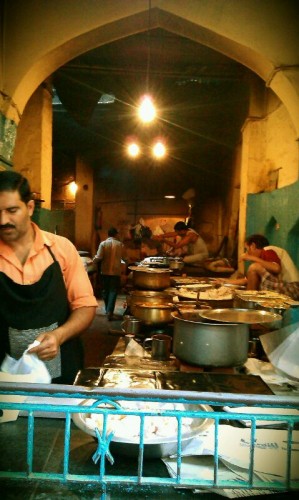 Pic 3 - Amritsar' famous Kesar Da Dhaba
As far as the story goes, It could have been based on any of the above since each of them in itself is so ripe with stories to tell - Golden temple's spirituality, Jallianwala bagh's history, Wagah's stupidity, the dhabas' culinary excellence. But the inspiration for my story came from the gazillion markets in the city: The slender lanes which open into small chowks which divide into even slimmer lanes, the lines and lines of shops selling clothes, juttis, knick-knacks, curios, chaddars, books, etc. The constant festive decorations, mini traffic jams in lanes which cannot let two cycle-rickshaws cross each other without a big fight, the constant elbowing and abusing and jumping. All those ancient 2 storey buildings with stores decked up in all their finery at the bottom floor and dilapidated homes falling apart on the top floor - quite like our country in how the opposites coexist.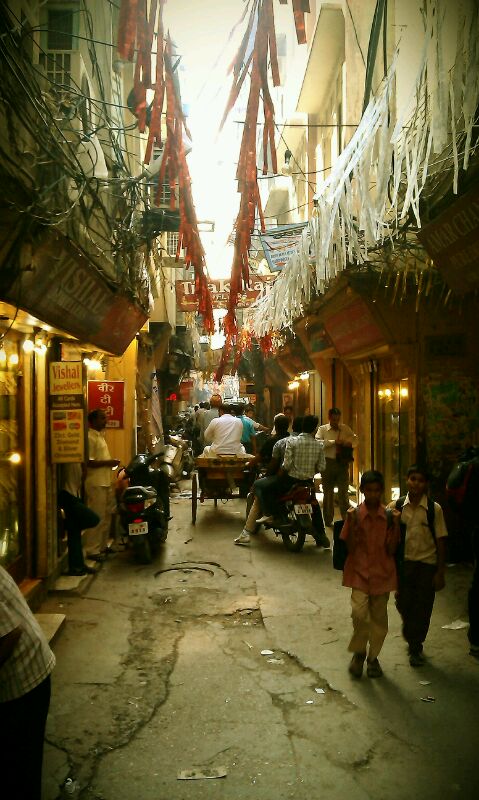 Pic 4 – One of those slender lanes
It is now time to move on to Mcleodganj. I will be joined by two of my closest friends over there. It is going to be a poor man's Zindagi Na Milegi Dobara!
Both my stories have had sad endings so far. As an eternal romantic, I don't see how that can last for too long. I am hoping it would change in Mcleodganj thanks to the presence of friends and other intoxicants.
(All of you who wish to know the background to this 'Baazigar' column on insideIIM.com please read here)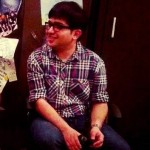 (Kunj Sanghvi will be writing about his experiences in each new city every week on InsideIIM.com. At various junctures on this trip, he'll be found working over cups of coffee in coffee shops across the country. He'd love to meet, talk, discuss with anyone who'd care to meet him; just to know the city and its people better. Follow him on twitter here – @kunjsanghvi. He blogs here.
About Kunj – Kunj Sanghvi is a B.Com graduate from Narsee Monjee College of Commerce and Economics and MBA from Mudra Institute of Communications, Ahmedabad(MICA). Prior to plunging into this adventure he was a Senior Manager at Hindustan Times. He has also worked with whatsonIndia.com in the past. )
You may be interested in :