Remember the iconic Fevicol Ads on TV? Or the one where your fortunes changed within seconds of applying Fevikwik on a fishing rod? For decades, these ads have made these brands something that every Indian household trusts. And these iconic brands germinated from more than half a century old parent company, Pidilite.
A company that thrives on its innovative approach to problem-solving and has a history of unique products under their name. Now, Pidilite wants you to be in their shoes. You get to be the decision-maker to solve a business problem.
We present you, Bond with Pidilite, the ultimate B-school case study competition. An opportunity to bond with Pidilite and get a Summer Internship with a company that is 'a part of you'.
Form a team of three from your B-school. This is also an opportunity to know your peers a bit better and find your match during this online learning experience. Try to have a good gender mix in your team as well.

Download the Kampus app here, register your team with a unique name, and fill in all the details.
You will get to know about your business case on the app, under Round 1.

Introduce your team, mention what are the scopes for the business case you have got, and give an outline of what would be your approach to solve it. Send in the same in a PDF/PPT, in not more than 3 pages/slides.

Selected Ideas will make it to Round 2, where you have to send in a detailed PPT/PDF of your case study. The more creative your solution, the better your chances of going through to the finals.

Top 5 selected teams would then be chosen for Round 3, where you have to present your ideas in front of a panel consisting of judges from Pidilite and InsideIIM. This would be an online presentation session conducted over a Microsoft Team Call.

The winning team will get a summer internship with Pidilite.
The team leader will have to submit the details of his/her team members. Once registered, the team members will be able to see the competition on the Kampus App. All team members should log in/register with the same email address added by their team leader.
Once you complete your registration on the Kampus App, you will get to know about the business case study that you have to work on under the Round 1 submission tab.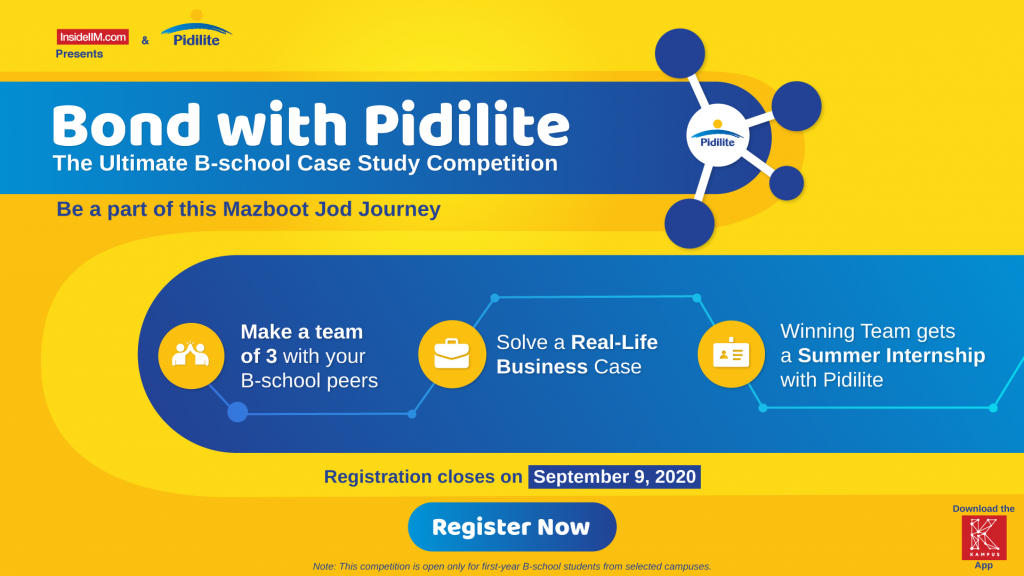 Eligibility for the Competition -
Bond with Pidilite 2020 is open to first-year students currently pursuing a two-year flagship PGP/MBA program in the following business schools. Students can only form teams with students within their B-schools.
| | | | |
| --- | --- | --- | --- |
| IIM Ahmedabad | JBIMS Mumbai | DoMS IIT Delhi | IMT Ghaziabad |
| IIM Calcutta | MDI Gurgaon | NMIMS Mumbai | DoMS IIT Madras |
| IIM Bangalore | SJMSoM IIT Bombay | IIM Udaipur | IMI Delhi |
| FMS Delhi | NITIE Mumbai | IIM Raipur | SIMSR |
| XLRI Jamshedpur | IIM Shillong | IIM Kashipur | XIM Bhubaneshwar |
| IIM Lucknow | SIBM Pune | SCMHRD Pune | GIM |
| IIM Kozhikode | TISS Mumbai | IIM Rohtak | TAPMI Manipal |
| IIM Indore | IIFT Kolkata | VGSoM IIT Kharagpur | GLIM |
| SPJIMR Mumbai | IIM Ranchi | MICA Ahmedabad | IRMA |
| IIFT Delhi | IIM Trichy | IIM Nagpur | Welingkar |
Form your team, introduce them, and in not more than 3 slides/pages (PPT/PDF), present about your idea and broad points you want to cover. Upload the same on the Kampus app.
Tell us in detail about your plan. Selected teams would have to send in a detailed case study analysis of the business problem and come up with effective solutions. The idea needs to have an end-to-end solution approach, talking about everything in detail. Once you are ready with your document, you need to upload it to the Kampus app.
The top 5 teams from different B-schools would compete for the coveted title and need to present their ideas in front of a panel consisting of judges from Pidilite and InsideIIM.
What's in it for you?
Get a chance to work on a real-life business case and come up with unique implementable solutions.

And as we mentioned before, there is a Summer Internship waiting for you at the end of this competition.
1st Runner Ups will get a year-long subscription of Harvard Business Review.
How Can You Take Part?
Visit the Competition section

Register Yourself on the app (Registrations are now live)

Fill in all your team details.
Important Dates -
Registration Starts: August 27, 2020

Registration/Round 1 Submission Ends: September 9, 2020

Opening of Second Round Submissions: September 16, 2020

Second Round submission Ends: September 21, 2020

Final Round: End of September/ 1st week of October
Exclusive Webinar -
For better understanding, the competition, and providing you a cheat sheet, Pidilite in association with InsideIIM has organized an exclusive webinar. You can register yourself for the same here and ask your questions.
Note: Don't forget to set a reminder of the event on YouTube.

All the Best.