This is the second part of the post on CAT Preparation FAQs, you can find the first part here.
While analysing a paper, if a particular problem is extremely hard and the logic of the answer is also difficult to comprehend (especially some QA problems), is it worth spending too much time trying to understand the problem?
Nope. If the solution is also complicated, then that means the question is clearly way beyond CAT-level. Dump the question. If the mock CAT provider gives a lot of questions at this level of difficulty, dump the provider.
How to improve in word usage? Even after practising a lot, there are so many word usages that I am not familiar with?
Word Usage is about context and about idiomatic usage. The only way to improve in word usage is by reading a lot, and reading a lot of different things in different styles. If the word usage questions you are missing out on are vocab-based, then worry not. These kinds of questions are very rare in CAT.
While analysing my mock CAT papers, I find that in every paper, there are some inevitable mistakes I make every time. (They are neither silly mistakes nor mistakes due to lack of concept and are also not because of missing reading some crucial data in the problem) and I don't know how to improve on this? Please could you help me with this issue?
Fatigue or Pressure? Read the answer here.
Retain the joie-de-vivre as much as possible during CAT preparation. Read comic strips, go through fun articles. Hit the InsideIIM blog and FB page. Basically, de-stress as much as possible.
I have been assigned various project works at the office for the next two months, but next two months are going to be very crucial for CAT. Please could you suggest a way to manage time and some tips on what to focus on during Oct-Nov?
The demands on your time from people who pay you a salary is to be expected. This is why what you get paid is called "compensation". This "work pressure" in the last 3 months is more often a suitable excuse than anything else. You are shooting for this MBA thing because you are ambitious. Now is the time to man up and go all out. The time to wake up at 5 am and get 2 hours in, time to skip the sit-com marathon, the Salman-Khan movie, those long phone calls, those Facebook updates, and the gazillion other things that distract you. Practically everyone can find an additional 20 hours per week over a 4-month period.
This is the second time that I am writing CAT (Last time I got 91.88 percentile), but unlike last time I am feeling enormous mental pressure to crack the CAT this time. And, when I see some of my friends going off to the US to pursue their MS, I am feeling even more pressurised. I am so desperate to do well and now my stress is only starting to de-motivate me. Also, I have been taking some MOCK CATs on a regular basis from May '16, and I was consistently getting 88-90 percentiles in the mocks. But for the last 4 mocks or so, my percentile has dipped down to 65-70 percentile and I don't know what to do or what to focus on to improve. Sir, please help me with some tips on how I can channel my stress to focus on the right things that will help me crack the CAT.
Handling stress is the toughest part. No one has a fool proof solution, I am going to give a bunch of small ideas:
Prepare in a cocoon
Take n mocks
Worry about the small details. Don't worry continuously about the big picture.
Have a good plan-B. Don't tank your end-semester, don't shout at your boss, don't scream at the office receptionist. Don't do anything stupid.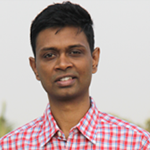 Rajesh Balasubramanian runs 2IIM's CAT program and handles more than half the classes for CAT preparation. He completed his Electrical engineering from IIT Madras in 2001 and PGDM from IIM Bangalore in 2003. He worked as an equity Research Analyst at Credit Suisse, London. This was an enriching experience, in a literal sense; and a soul-sapping experience otherwise. He finally quit his job in 2009 and joined 2IIM as director in 2010.