Most CAT aspirants while starting their preparation lay excess emphasis on covering the quantitative aptitude syllabus. As they should, because quantitative aptitude is one section whose syllabus can be clearly defined according to the topics as opposed to the other two sections which can be rather unpredictable. While most engineers may be aware of the concepts and formulas of quant, they require dedicated practice to improve their speed and accuracy, while non-engineers often consider this section as their Achilles' heel and may need to go through the basic concepts first. In this article, we do a topic-wise analysis of the past years' quantitative aptitude section to help you ace the quant section in CAT 2022.
The quantitative aptitude section of CAT can be classified into 5 categories- Arithmetic, Geometry, Algebra, Modern Math and Numbers. Most of the questions in the CAT exam can be counted in either of these categories, however, there are certain questions which might test knowledge of more than one topic. Given the vast syllabus and practice required, it is important to understand the weightage given to each of these so that you can prioritize your time better.
Below is the data showing the topic-wise questions as a percentage of the total questions asked. While CAT had been a 3-hour paper till 2019, due to the pandemic-induced restrictions, it had to be changed to a 2-hour paper. Hence the total number of questions have reduced significantly in 2020 and 2021. While there used to be 34 questions in the quant section in the 3-hour paper pattern, in 2020 it reduced to 26 and further reduced to 22 questions in 2021. Therefore we have shown the importance of the different sections in percentages.
*There is some discrepancy in the no. of questions per category between analyses by TIME and IMS Learning due to different categorization of sub-topics by both leading and reliable organisations. IMS's question categorization is better defined as compared to TIME's, and is also similar to analyses by other leading portals which is why data from IMS has been referred to in the table below

---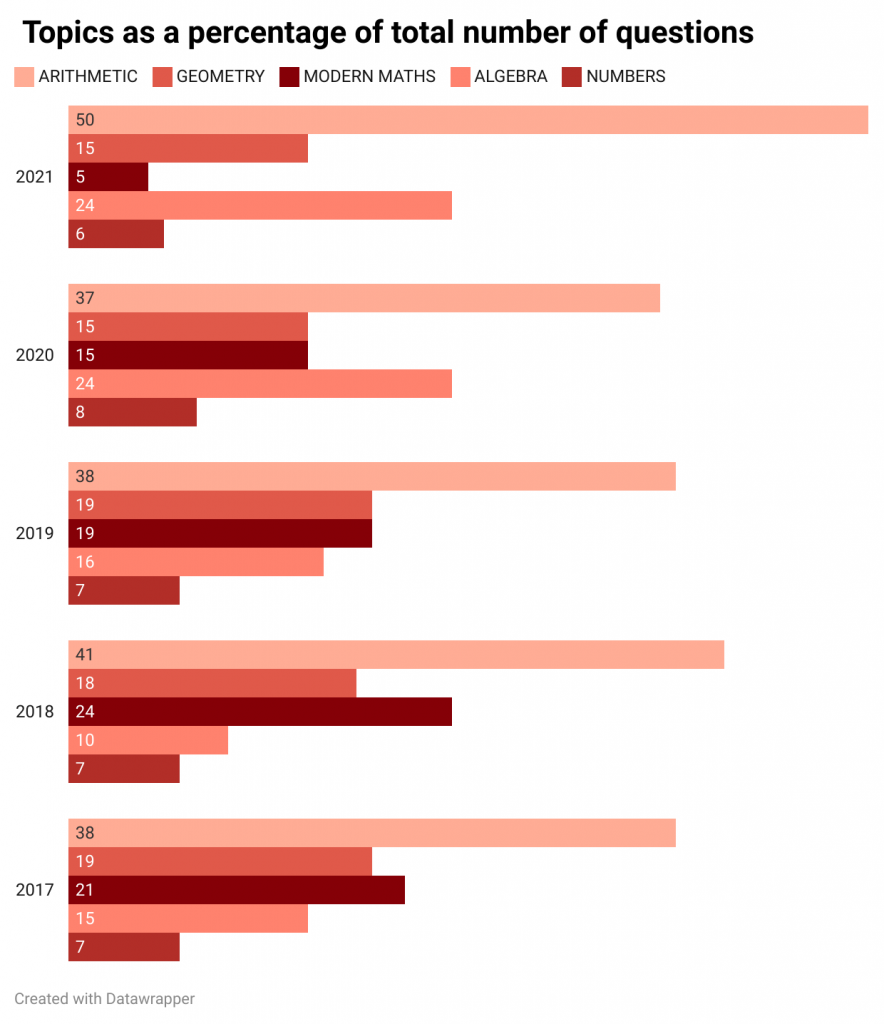 ---
Given the data, it is evident that arithmetic is the most important section in quant for CAT. It includes topics like Time and Work, Ratio and Proportion, Simple Interest and Compound Interest, Speed Time and Distance etc. Especially in CAT 2021, 11 out of a total of 22 questions asked in each slot were arithmetic which makes it 50% of the section! Though CAT 2022 would be again unpredictable, it would be safe to lay maximum emphasis on this topic, as even before 2021 the weightage of arithmetic questions has been 35-40%.
Algebra and Geometry are other important topics as together with arithmetic, these two sections constituted close to 90% of the paper in 2021. Hence, especially for aspirants who are starting their preparation late, covering these topics well should be a priority.
Numbers, one of the vastest and most feared topics for those weak in Quant, accounts for only 6-7% of the total no. of questions on the CAT exam's QA section. Therefore, while it is not advised to neglect the topic, you may not want to make this topic your highest priority.
An effective strategy to ace the quant section of CAT 2022 would be to cover the basic concepts of the more important topics first, and start giving mock tests along with the practice questions. Mock tests would help you assess your strength and weakness areas so you can work on them and would also help you make a better question selection in the actual exam going forward. Also, there might be a few questions in the exam which are considered 'sitters' or based directly on formula. Hence it is advised to cover the basics of all topics, so as to not lose out on the opportunity to score these easy marks,
All the best for your preparation!