With the introduction of the Citizenship Amendment Act, the nation has seen various protests and acts of violence in recent times. In 2020, the most recent example of such violence is that of the Delhi riots, which has led to many casualties and clashes between religious groups. So, what exactly is happening in Delhi? Why have these riots taken place? Who is responsible for these riots, and what is the government doing to check the violence that has ensued in the national capital? Here is a deep-dive into the Delhi riots of 2020 to help you form an opinion on the issue.
Note - This article is for educational purposes only and is meant to help MBA aspirants form an opinion on important current affairs topics that may be raised in the GD-PI-WAT processes of business school interviews.
Delhi Riots 2020 - What Is The Background of The Delhi Riots?
On 23rd February, Kapil Mishra, a BJP leader in New Delhi, held a rally in Maujpur which is a location very close to Jaffrabad, where a crowd of protesters comprising mostly women had been protesting against the Citizenship Amendment Act. At the rally, which was mainly pro-CAA, he gave a "three day" ultimatum to the Delhi police to clear the area of the protesters, failing which Mishra and his allies would "not listen to you [the police]", insinuating that they would take matters into their own hands. Mishra also attempted to rally forces on Twitter, asking his followers to "prevent another Shaheen Bagh" from taking place near the Jaffrabad metro station. It is believed that this was the starting point for the communal riots in Delhi. The rally was allegedly conducted in the presence of DCP Ved Prakash Surya.
As of 28th February, 39 individuals have lost their lives in the riots mostly from gunshot wounds inflicted by the police and wounds from stone pelting, and the dead include Hindus and Muslims involved in the riots. Among the dead are Delhi Head Constable Ratan Lal and Intelligence Bureau staffer Ankit Sharma. Hundreds have also been reported injured and have been admitted to nearby hospitals.
As a result of rioting, schools and shops have been closed and heavy security comprising around 1000 policemen has been deployed in sensitive areas in North-East Delhi - areas that are Muslim-majority neighborhoods. It is being reported that Muslim families in unrest-struck areas such Mustafabad have left their homes with their belongings, fearing any further violence that may ensue. Journalists from esteemed media houses such as NDTV, Indian Express, and the Times of India have also been harassed and man-handled by rioters.
International media has taken cognizance of the Delhi riots, owing primarily to the presence of the President of the United States, Mr. Donald Trump in India and his meeting with Prime Minister Narendra Modi to enhance/resolve Indo-US relations and other issues, and the overlap of his visit with violence in the national capital.
Delhi Riots 2020 - Who Is Kapil Mishra? What Is His Political Background?
Kapil Mishra is a member of the Bharatiya Janata Party (BJP), which is the ruling party in India. He is a graduate of the Delhi School of Social Work, and was part of Anna Hazare's anti-corruption movement (India Against Corruption). He began his political career by joining the Aam Aadmi Party and was inducted as the Water Resource Minister in the 2015 AAP government.
The son of a BJP councillor, Mishra joined the BJP in 2019 after being disqualified as an MLA of Delhi under the anti-defection law for campaigning for the BJP in the 2019 General Elections, having been fired by the Aam Aadmi Party after he was accused of corruption in his ministry works. Mishra accused CM Arvind Kejriwal of accepting bribes, but was unable to prove his accusations.
Kapil Mishra contested the Delhi 2020 state elections on a BJP ticket from the Model Town constituency. In recent months leading up to the Delhi state elections, Mishra has previously made inflammatory comments against anti-CAA protesters, insinuating the usage of violence targeted towards them. This led to the EC banning him from campaigning during the Delhi elections for a period of 48 hours for violating the model code of conduct. Mishra lost the elections by a margin of more than 11,000 votes.
Kapil Mishra has been accused of inciting communal violence in Delhi that has led to the death of 39 individuals so far. Party colleague and MP Gautam Gambhir, as well as BJP's Delhi chief Manoj Tiwari have indirectly condemned Mishra's actions. Relatives of several victims of the violence in Delhi have also accused Mishra of inciting violence. Kapil Mishra put out the following tweet, addressing those accusing him of inciting violence: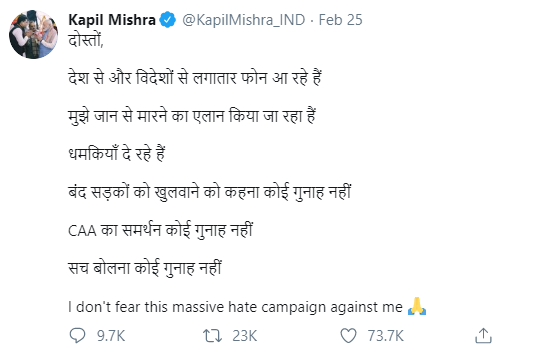 ---
Delhi Riots 2020 - Who Was Involved In The Delhi Rioting?
It has been reported that the initial clashes and incidences of violence took place between pro-CAA and anti-CAA elements. However, a communal angle was introduced to the violence at a later stage, and many cases of Muslims being singled out and anti-Muslim slogans being chanted have emerged in the form of videos and photographs. Incidents of Hindu mobs armed with rods and sticks beating unarmed men and women, including journalists, have been captured on chilling photographs.
It is believed that the perpetrators mainly comprise Hindu religious extremists, rallied by the likes of Kapil Mishra and other inflammatory elements. These individuals, donning saffron clothing and armed with iron rods, sticks and even petrol bombs resorted to arson, identifying and setting Muslim-owned shops, mosques and houses alight for multiple days until a shoot-at-sight order was given to the Delhi police.
Perpetrators have targeted Muslim-majority areas in North-Eastern Delhi such as Jaffrabad, Babarpur, Brahmapuri, Gorakh Park, Maujpur, Bhajanpura, Kabir Nagar, Chand Bag, Gokulpuri, Karawal Nagar, Khajoori Khas, and Kardam Puri. It is also believed that in these areas, elements from the Muslim community also pelted stones at the rioters in retaliation.
Apart from violence inflicted by religious communities, verified videos of police personnel in riot gear thrashing five people lying injured on the side of a road have also gone viral on social media. The video, verified by AltNews, shows a policeman capturing the incident on his mobile phone while the injured men are being forced to sing the national anthem.
In many part of Delhi, residents from various religious communities have sheltered individuals fleeing from the violence. There have been reports of Muslims protecting Hindu temples from being vandalized in Chand Bagh area of Delhi - a Muslim-dominated neighborhood. Several marches by Hindu and Muslim residents have also been carried out as a display of religious harmony.
---
Delhi Riots 2020 - What Is The Delhi State Government Doing To Diffuse The Situation?
After winning 62 of 80 seats in the state elections and coming back to power for the 3rd consecutive time, so far, the Arvind Kejriwal-led AAP government has been criticized for failing to comment and visibly take action against the riots in Delhi. The party has been accused of not attempting to diffuse the situation or even visiting the violence-hit areas.
Additionally, in a recent sequence of events that have cast aspersions on the CM Kejriwal and his party, AAP leader Tahir Hussain has been charged with the murder of an Intelligence Bureau employee that was found dead in North East Delhi, based on unconfirmed video footage and an FIR lodged by the victim's father. It has also been alleged that Hussain allowed rioters to use his home terrace to stock and use stones, Molotov cocktails, and acid pouches. Investigations are ongoing as of this date.
CM Kejriwal has met with the Union Minster for Home Affairs on multiple occasions during the violence in order to find solutions moving forward, and has only recently commented publicly on the riots, asking for the Army to be sent to Delhi to control the situation.

Deputy CM Manish Sisodia and CM Kejriwal have also recently visited those who were injured in the violence and have been admitted to hospitals.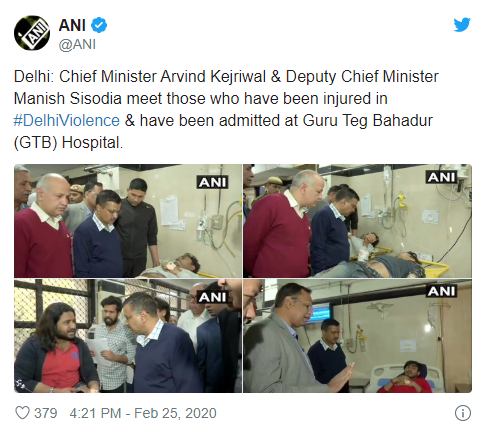 AAP leader and MLA Atishi Marlena also questioned the Central government as to why the Indian Army has not been brought in yet to control the situation, saying:
"Violence and arson has been continuing for 48 hours now. Police, civilians, Hindus, Muslims are injured in large numbers. At least 10 people have died. If police is unable to maintain law and order, why is @AmitShah not imposing curfew? Why is the army not being called in?"
However, as pointed out in the Indian Express, the AAP can themselves submit a formal request for the Army to be called in via the District Magistrate, which is under the Delhi government. At the time of publication of the article in the Indian Express, the DM had not been contacted by AAP representatives for any such request.
---
Delhi Riots 2020 - What Is The Central Government Doing To Control These Riots?
Prime Minister Narendra Modi, Union Minister Amit Shah, and NSA to the PM Ajit Doval have expressed their concerns regarding the violence in Delhi, and have also taken steps to curb any bloodshed in the city, such as the deployment of over 1000 police personnel in sensitive areas in Delhi.
PM Modi put out the following tweet on 26th February, after US President Donald Trump had departed from his visit to India: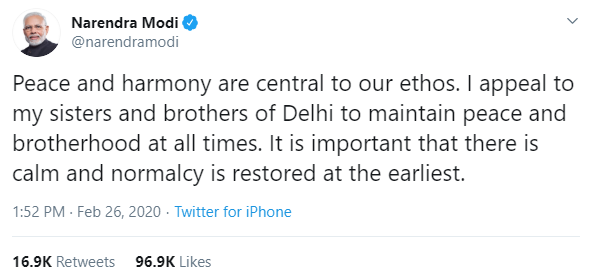 Union Minister Amit Shah has met CM Arvind Kejriwal and senior police officials multiple times in the past few days to take an account of the situation and find a peaceful way forward. Mr. Ajit Doval conducted a midnight visit to the violence-affected areas in Delhi, interacting with residents and assuring them protection from miscreants. He was also spotted telling reporters, "Inshallah, there will be peace here. Situation is totally under control. People are satisfied. I have confidence in law enforcement agencies. Police is doing its work."
The Delhi police, which comes under the jurisdiction of the Ministry of Home Affairs of the Central Government, has made 106 arrests so far in relation to the 2020 Delhi riots, and have registered 18 FIRs. However, the police has been widely criticized for its role in managing the riots, specifically for its inadequacy in suppressing the violence unleashed by miscreants and also being in cahoots with them. Due to lack of experience in dealing with such a situation, Delhi police has suffered loss of personnel to death and injuries.
In a number of videos, rioters can be clearly seen pelting the other group with stones from the side where the Delhi police personnel are present. Union Minister of Home Affairs, Amit Shah, has emphasized the need to avoid criticism of Delhi Police, and said that "unnecessary and unwarranted criticism can have a negative impact on the morale of the force." NSA Ajit Doval said in defense of the Delhi police, "People were doubting the capabilities and intentions of Delhi Police. This needs to be addressed. People need to trust the man in uniform."
---
Delhi Riots 2020 - What Have The Indian Courts Said?
Indian courts have made their displeasure with the handling of the Delhi riots by the Delhi police known in clear terms, with a Delhi High Court bench of Justices S Muralidhar and Anup J Bhambhani coming down heavily on the Delhi police in a recent hearing, saying that the court was "amazed at the state of affairs" of the police. Justice Muralidhar said during the hearing:
"Just register FIRs. You showed alacrity in lodging FIRs for arson; why aren't you showing the same for registering FIR for these speeches?...When you've registered FIRs for damages to property, why aren't you registering it for these speeches? Don't you want to even acknowledge the presence of a crime? When the SG himself is saying that these videos are inflammatory, why aren't you registering the FIRs? The entire nation is asking that question."
The Delhi HC on 27th February gave the Center 4 weeks to file a counter-affidavit in response to a plea seeking registration of FIRs against politicians like Kapil Mishra for making inflammatory statements that allegedly incited violent mob attacks and riots in North East Delhi. The matter will now be heard on 13th April, while violence continues to grip the national capital.
The Supreme Court has also slammed the Delhi police for their inadequacy in controlling the violence that gripped Delhi. Justice KM Joseph gave the example of police in US and UK to say the police in these countries act professionally if something goes awry.
---
MBA Interview Questions To Be Expected Around The Delhi Riots In 2020
Here are some questions you may be asked related to the riots in Delhi:
What is happening in Delhi? Why are there riots in the city suddenly?
Under whose jurisdiction is the Delhi police? Do you believe that the police should be under the CM of a state/union territory and not the Central government? Why/Why not? Why is there a special case in Delhi? Is the situation similar anywhere else in the country?
How is the National Security Advisor selected? Who does he report to? What powers does he/she possess? Who is the current NSA to the Prime Minister of India? Who was his predecessor?
Do you agree with the CAA? How will CAA impact the Indian economy? How is CAA different from NRC? What is the NPR? How does a Bill become an Act?
What can you tell me about the Delhi elections? Who won and by what margin? What are some key highlights from the election?
---
Need more information about the Delhi riots and related events? Here's what you can take a look at next: