The final placement season of 2012 will be the big test for the IIMs and other top business schools in India. Let me list down the reasons below:
1)

Batch Size
: Class of 2010-12 was the first batch where across all IIMs the full implementation of the OBC quota was done. Hence, batch sizes increased and became largest ever across most IIMs. 49.5% reserved category seats (OBC/SC/ST/PWD).
Over 500 more graduates from the 10 top institutions featured on this website will graduate this year as against the Class of 2011.
2)
Cost of the programme
: The total cost of the PGP/PGDM programme also increased across institutes. Class of 2012 will pay about 3 times more than the Class of 2008 for the same programme. EMIs approaching Rs.25, 000. Whether the increased fee has led to any appreciable improvement in the quality of education imparted is debatable but it has surely helped to upgrade infrastructure in a lot of institutions. It has also led to the top IIMs getting autonomy.
3)
Economy
: Uncertain economic situation. Certain big names are sure to be missing from placement reports this year especially in Banking & Finance. Given that hiring was robust in 2011 and that growth in FY 2012-13 is expected to drop, it will be interesting to see if companies continue to hire in large numbers.
Given below is some data which should help you appreciate the magnitude of the concern in many quarters. Given below are the details of the Class of 2012. Batch Size and cost of programme.
Click on table to enlarge.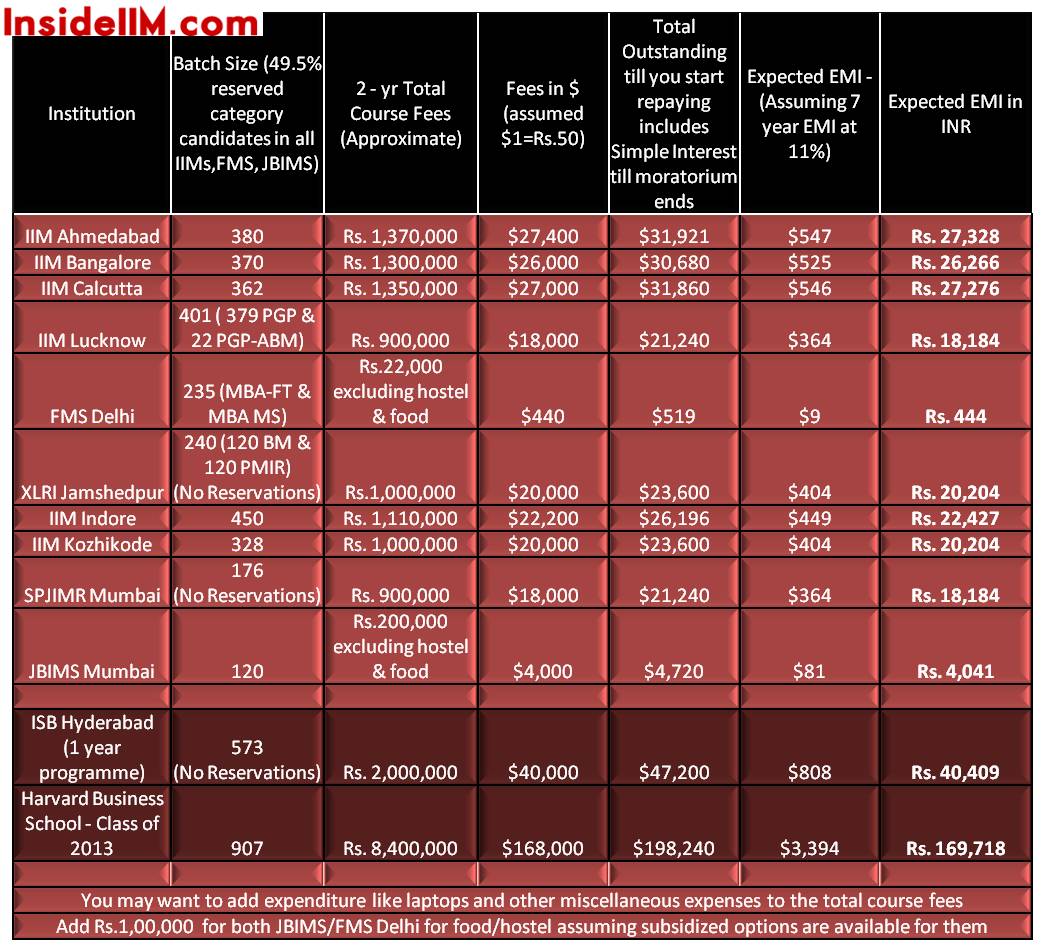 ISB is a one year programme so one starts earning faster although the cost is almost twice that of the IIMs. Harvard Business School figures have been put in out of my own academic interest.

The above salary scenarios are just illustrative. They do not include perquisites and non-cash benefits which may be part of CTC but do not affect cash in hand. You will also appreciate how the same take home salary can bring out varied emotions for people based out of different cities. For e.g. Cost of living in Mumbai vs. Cost of living in Hyderabad/Gurgaon . Let me not even get into quality of living!
I hope companies account for all this when designing compensation plans and even campus recruitment strategy this year. There is no point recruiting from top institutions and getting people who are forever going to be unhappy about the money they get. Companies are increasingly going to find new joinees already stuck in the web of debt and the ever-expanding aspiration for owning and consuming latest products will ensure they take on more debt. Large batch sizes force people to accept jobs they don't really want. And then, in the first year itself they desperately try to switch to another better paying and more glamorous job. It is an absolute waste of time and money for the company. They would rather go to places where expectations are better managed and education loan debt is not that high.
Take the case of a 26-year old fresh graduate with a monthly take home of Rs.75,000 with an education loan EMI of Rs.20,000, Rent (shared flat), Food & other living expenses of Rs.20,000 per month in Mumbai. Add another Rs.5,000 for miscellaneous expenses. Now if he sends some money home to parents, there is barely any left for him to save. He plans to marry this year and soon his rent will go up by Rs.15,000. Suddenly, it does not look as good as it sounds when one first read the attention grabbing salary figures in leading newspapers of India.
Companies need to take note of this changing environment and hence the expectations of fresh graduates.
(However, having said all of this I must still admit that management graduates from top institutions in India should consider themselves fortunate. There is just too much poverty in this country for anyone of us to complain)
If you're a student in any of the business schools, you need to ask your placement committee to give you the exact compensation structure. You must know your monthly post-tax takeaway after all deductions. By just saying compensation is 16 lakhs ($32,000) does not help. The devil is in the details and make sure you have the details or else you may be in for a rude shock after seeing your first salary slip.
According to my estimate there is a great possibility that about 30% of the Class of 2012 will not save more than Rs.25, 000 after paying their educational loan EMI, House Rent and Food per month. A major revision across sectors and domains will be needed.
Needless to say, past record says that if you're in IIM ABC you're better off even if you're an average student in your school. There is just way too much that companies are willing to offer in these schools because of extra-ordinary alumni linkage. There are companies that recruit over 15 people in each of the 3 schools and are not willing to even look at resumes of people from anywhere else. (Why some companies are willing to fight for someone in the top 200 at IIM A vs. someone in the top 20 at IIM L, I, K, XLRI, FMS etc. is an interesting question but is beyond the scope of this article. May be we'll write on it later)
Perhaps from all the schools listed above, the biggest test will be for my alma mater IIM Indore. It has aggressively hiked course fees citing better infrastructure, better course content, experiential learning etc. (MP Rural immersion, Himalayan adventure trip for strategy, Malaysia industrial trip are examples but students are expected to pay some part even for these trips) Moreover it has also gone all out to be the largest IIM in terms of batch size – 450 for the Class of 2012 from 240 for the Class of 2011. If they can pull off good quality placements for majority of the batch (i.e. in my opinion over 350 students) they would have done something quite extraordinary given the institution is only 15 years old. Looking at the economic situation at this point, it looks like an uphill task though.
Purely, from a return on investment perspective it is a great time to be in FMS Delhi or JBIMS Mumbai. Even if you don't get the best job on these campuses you will still be in the position to be able to easily service your EMI and still save enough for the future and make merry in the city you work. I am not sure one even needs an education loan if one is at FMS Delhi. I would much rather be an average student in FMS Delhi/JBIMS than be an average one in IIM L,I,K,XLRI,SPJIMR.
One may wonder why a post-graduate management degree is needed at all. Why can't I just work my way up or even do something else? Unfortunately, India is the perfect example where Sir Ken Robinson's term applies – Academic Inflation. And if I may add one more word before it – 'Restrictive' Academic inflation. You can only rise above a certain point in the organization if you are a post-graduate degree holder. And the word 'restrictive' kicks in because certain people over the years have ensured that only management degree holders from select institutions get access to certain jobs.
The only sure shot way to beat all this is by choosing to be an entrepreneur. No one can say you can't do business because you're not from a particular school. All the above analysis becomes irrelevant. You neither worry about the batch size nor the average salaries or monthly take home.
You can choose to be an entrepreneur even after getting a management degree. However, the top institutions need to step in here. A few have introduced concepts like placement holiday and a few brave ones have even given a
fee waiver/refund
. Such support will go a long way in ensuring entrepreneurship is encouraged and does not get killed in the web of EMIs.
I have tried to make some sense of the environment at present with the help of some data and my little experience and intuition. Readers must note that though we are using parameters like ROI, EMI etc. above management education should not only be looked at from the lens of placements and money. There are a lot of other things to it which various writers on this website have tried to talk about as well.
I wish all the business schools the best for the Class of 2012 final placements. Let's hope there's more peace and less heartburn. Above all, I hope the graduation of Class of 2012 results in many more start-ups and exciting ventures. And if nothing, then social leaders like
him
.
- Ankit Doshi
(I would like to thank Lakshmanan Ganesh for helping build the EMI calculations. He is from the Class of 2011 at IIM Indore and works with ITC Limited)
(The author is an alumnus of IIM Indore – Class of 2011 and Narsee Monjee College of Commerce and Economics,Mumbai – Class of 2007. He currently works with Bank of America Merrill Lynch and has worked with TATA Capital and WhatsonIndia.com in the past. He still believes that 'Umang' NM College's festival was the best thing to have happened to him where he led a team of 500 students)
If you are preparing for Summer Placements or Final Placements, please have a look at our Career Guide -
The InsideIIM Career Guide
You may also like to read :