Fitternity is an online aggregator, search and discovery platform for finding out, booking a trial and buying fitness services.
Through us ,users can find a variety of fitness options (you name and we have it) within their vicinity and receive all the details one would require (photos, rate cards, promos, ratings, reviews, timings, and much more) without having to take the pain of stepping out of their house.
We are bridging the gap between the fitness seekers and service providers! Which is why, from a service provider perspective, we help various service providers (gyms, studios, personal trainers, etc.) in generating value through brand awareness, online presence and last mile conversions.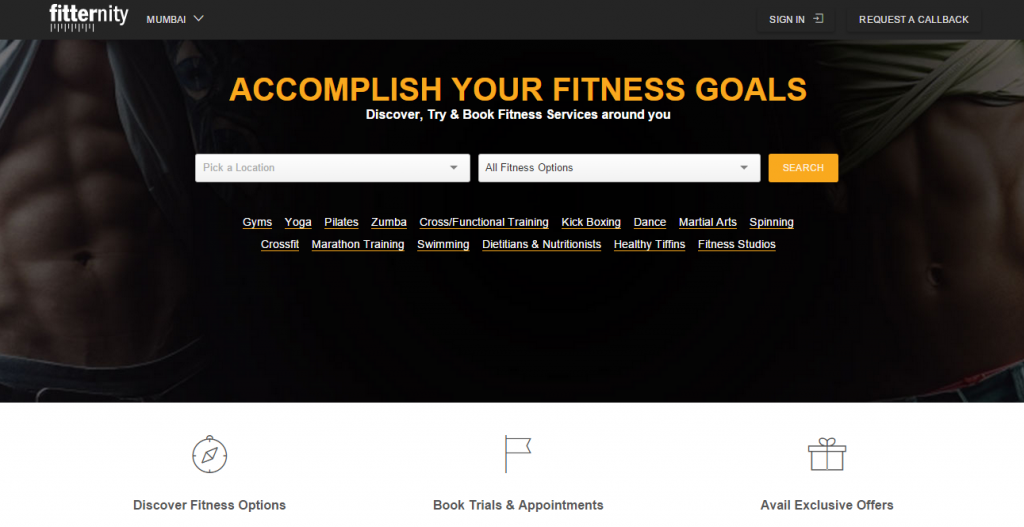 To sum it up, Fitternity is an online search engine which connects a user with a fitness service provider.
We are hiring for multiple positions in Mumbai. Please click here to apply.
Background &History – How was Fitternity founded?
The idea behind Fitternity stems from Neha Motwani's (Founder & Chief Executive Officer) personal fitness experience and the desire to provide every individual with a complete and hassle free fitness experience.
Neha began her journey of building up Fitternity by meeting up with more than 500 people from across six major cities. Soon after meeting up with these people, Neha realised that while it was very easy for a consumer to search for a restaurant, book a hotel, or simply find coupons for their next online purchase,there really was nothing to help a consumer in discovering the variety of fitness options from the comfort of his/her house.
Simply putting it, we still had an unorganised fitness market out there!
After understanding the market in detail,Neha and a few team members launched Fitternity to revolutionise the fitness industry for the benefit of, both, the consumer as well as the provider.
And now, a consumer can simply go online or download our app and experience the multiple fitness options in just three steps!
Discover fitness options (across working out and eating options)
Book Trials & Appointments
Avail Exclusive Offers
That's how Fitternity came into existence!
Front runners to work on revolutionalize the fitness industry.
Over a span of 2 years, the company has expanded its presence to 4 major cities: Mumbai, Pune, Bangalore, and most recently Delhi.
Registered database of more than 75,000 users
Detailed listing and validation of 8,000 fitness options across 4 cities
We have grown 50% growth every quarter since September 2014
In July 2015 we raised 1 Million U.S. Dollars, which is equivalent to INR 6.3 Crores, in seed funding!
Our team at Fitternity comprises of a very diverse and skill oriented group who have come together as a result of a passion for fitness, startups, and growth!
Have you ever had the feeling where your workplace is your second home? We bet you have! But! Have you actually enjoyed spending more time at your workplace than at home? Well, that's how Fitternity is!
Fitternity, since its inception, has placed a very significant importance in building its workplace culture. As an organization, understand the importance of the feeling of Belongingness, Independence, Individual Growth and Contribution.
We leave no stone unturned to ensure that each and every member of the team experiences these feelings as well as receives personal attention in terms of career development and professional growth!
The end result? Each and every member of our team treats each other like a family. As the saying goes, family is everything!
How can we prove that you will love working for Fitternity? Well, we do have a retention rate of 95%! That's all we need to say!
Neha Motwani, Founder-CEO, has worked across various domains such as the Human Resources and Risk & Financial consulting. While working with Aon Hewitt as Talent and Organization Consultant in May, 2013, Neha, driven by her personal fitness journey and the challenges on the way, moved on from her corporate career to start Fitternity Health eSolution Pvt. Ltd. (www.fitternity.com). She is a complete fitness freak and a task master who aims to make Fitternity India's largest fitness company.
Jayam Vora, COO, has extensive experience of managing operations in an eCommerce business. He has spearheaded the Business Development, Vendor and supply-chain Management, Logistics Management, e-store Management, Category Management while shouldering various other roles related to Operations Management. He is the man behind the amazing Fitternity family and the seamless integration of its multi-city expansion. He throws parties at his home for the Fitternity team when he takes a break from wearing the hat of COO.
Chaithanya Padi, CTO, is responsible for complete management of Fitternity's website and mobile app. He was the Chief Architect & core developer of EnProbe [Best Software product at ITSAP-2013, Top 30 at TechCrunch-Bangalore 2013] before joining Fitternity. He leads a team of developers and designers to create awesome products and technology infrastructure at Fitternity.
Ritu Jhajharia, VP-Marketing, is currently heading marketing initiatives of Fitternity. She has worked across industries like ITES, Power & Energy, and eCommerce etc. She has managed the Corporate Communication and Public Relations of India's biggest PSU after finishing her education from MICA with a super specialization in Brand Management. She aspires to become a writer and runs a popular fashion, films and lifestyle blog in her spare time.
What differentiates Team Fitternity is our awesome advisory team that guides and supports our growth:
Girish Paranjpe is a well-known venture capitalist and is currently part of Fitternity's board of directors. He is currently a General Partner with Exfinity Venture Partners, the VC fund which has invested in Fitternity. He is also an Operating Partner with Advent International. His previous major assignments include serving as Managing Director of Bloom International and as Joint-CEO of Wipro's IT Business and also as a Member of the Board of Wipro Ltd.
Manas Rath is advising Fitternity on strategy and operations. An alumni of Massachusetts Institute of Technology, Manas has a wide experience in investment banking. He also has a deep understanding of social and development sector and helps social enterprises in maximizing their impact.
Sunil Bhatia has over 15 years of hands-on technical and management experience. He is currently working with Amazon, India and is responsible to take care of the Competitive Pricing promise of the company. He is advising Fitternity's technical team to build a world-class tech-interface and user experience. A hacker at heart, he is a certified Scrum Mater and an Agile Evangelist.
Rustom Batlivala is the Executive Director and Chief Financial Officer at Matrix Partners India. He is currently the financial advisor for Fitternity. He is also an advisor to the Matrix India Operating Team. Prior to joining Matrix, Mr. Batlivala was the Chief Financial Officer at Publicis Advertising and also served on the Management Board for the India Operation.
We are looking for highly driven individuals who love challenges and want to change the world. There is never a dull moment at Fitternity, they all thrive towards a common goal of making world a fitter place. We believe in fast-track career growth with accountability and high-performing team culture.
Join us if you want to be a –
Change Agent: We are as close as one can get to a fitness revolution. Whether you believe in change or want to be the change, this is the right place to maximize impact
Idea Builder: If your brain works on an overdrive and ideas are a part of your daily task list, then Fitternity is the place to ideate, execute, get your hands dirty, make mistakes, and learn everyday!
Go Getter: You wish to be around dynamic, passionate, go-getters to work, workout, chill and party with? Then you would love your time at Fitternity office
We are hiring for the position of Head of Marketing. Please click here to apply.
This is a promoted feature content.
'This is a Promoted Feature.'