Nomura is an Asia-headquartered financial services group with an integrated global network spanning over 30 countries. By connecting markets East & West, Nomura services the needs of individuals, institutions, corporations, and governments through its four business divisions: Retail, Asset Management, Wholesale (Global Markets and Investment Banking), and Merchant Banking. Founded in 1925, the firm is built on a tradition of disciplined entrepreneurship, serving clients with creative solutions and considered thought leadership. For further information about Nomura, visit www.nomura.com.
Many students who aspire to work in Finance dream of working in a giant like Nomura. Enter: Mr. Naresh Nayak, a student of SDA Bocconi Asia Center who was recently placed in Nomura during his final placements. We got a chance to speak with him about how he prepared for his placements, and how he got into Nomura.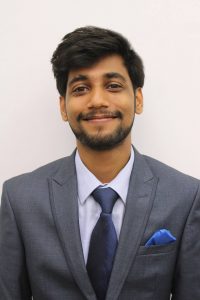 Naresh Nayak completed his B tech from NIT Surathkal, post which he worked for Bank of America for 22 months in the Global Risk Control Division. With a desire to widen his understanding of business and finance, he decided to join SDA Bocconi Asia Center. During his summer internship, he worked with JLL in the Capital Markets division. He has cleared CFA level 1 as well as FRM level 1. During his free time he likes to go on bike rides, sketch and paint.
Excerpts from the interview:
When did you decide to pursue a career in finance/ investment banking?
While working at BOA, I developed an interest in the area of finance. I wanted to learn more about what was happening behind the code snippets. And the more I researched about the field, the more I realized that investment banking was the right fit for me.

How did you approach your MBA? How did SDA Bocconi Asia Center help you prepare for your dream role?
SDABAC gave me a platform where I could develop myself in my chosen field. The professors helped build a strong foundation and challenged us to think outside the box through different academic projects. Courses like M&A, Corporate Finance and Financial Markets and Institutions also guided me in my preparation for CFA and FRM certifications. This, along with the academic club sessions and additional certification courses like Excel and R programing made sure that I was more than prepared when my dream offer came along.
Could you tell us about any particular project you worked on, which helped you improve your skills/learn something new?
During my exchange trimester in Milan, I took up a course in Asset management. We were given an assignment where we had to predict the composition of a mutual fund in an emerging market. This was a new challenge for me. We experimented by comparing the fund to its benchmark, adding comparable funds to the portfolio and tried to get the composition right and evaluated it with R2 we got from the regression. It involved extensive use of Excel and thorough research work on the fund that we were assigned to. Working with a team of diverse cultures helped me understand their working style and the kind of thought process they have to solve the same problem with an entirely different angle. We were more focused on the process and data analysis which helped us achieve outstanding results.
Could you tell us about your summer internship with Jones Lang LaSalle? What was your project about?
The work environment at Jones Lang Lasalle was lively and challenging. I learned a lot, since this was my first time working in the real estate field. JLL has a wonderful open desk policy which gave me the opportunity to frequently interact and learn from top-level management like Mr. Samantak Das, the Chief Economist, and Executive Director.
I pursued research projects on Data centers, Tokenization based on Blockchain technology in India, building a news aggregator tool and worked on a project of JLL's expansion strategy in tier 2 and tier 3 cities.
Tell us about your final presentation.
I had to present my work at JLL to the Chief Economist and Executive Director Mr. Samantak Das and my reporting manager, Director of Capital markets, Mr.Jitesh Karlekar. I presented my research on Data Centers and how Tokenization can be the next big thing in the digital world. Additionally, I also showed them the news aggregator tool which I had developed and how it can benefit the research team.
Tell us about Nomura.
Nomura is the first and only Asia-based bank with fully operational investment banking and capital markets businesses within all major financial centers of the world. It offers services in Retail, Asset Management, Wholesale and Merchant Banking. Nomura offers a unique platform through India Analytics Group (IAG) for a successful global career. IAG, which is the core component group of investment banking division, supporting over 28 teams all over the world and poised to further expand its reach over the coming years. IAG has awarded over 80 mobility positions since inception till date.
What was their selection process like? Tell us how you approached this, your preparation, your strategy, etc.
The selection process involved CV shortlisting, 2 rounds of Personal interviews which included 80% technical and 20% hygiene questions.
I brushed up on my basics with the help of my FRM and CFA notes, and also the additional materials provided by the Finance club. We were also expected to be up to date about the happenings and trends in one of the industries. I took up the real estate industry, as I was already familiar with it through my internship
How did SDA Bocconi help you prepare for your interview?
Mock interviews conducted by CDS team and Alumni's really helped me stay calm during the interview process. The access to sites like The Big-Interview provided by the college helped me frame my answers better.

How does it feel, being placed in a company like Nomura? What does an investment banker do in Nomura?
I always wanted to get into investment banking. To work in Nomura, one of the top companies in this field, is a dream come true. This would not have been possible without the support from the management and my friends.
IAG program at Nomura aims to train and mold the candidate to be among the best in the industry. This 3-year program starts with market Research, Industry Benchmarking to Complex valuation, merger modeling. Promising an increase in complexity and new learning every day.

How are you preparing for your stint with Nomura?
More than anything a financial analyst needs to be aware of what is happening around the world. I have been reading business magazines (Outlook), newspapers (Business Standard), and also following the global stock market to keep up with the current trends. I got in touch with associates in the company and they have been helping me get ready for my role at Nomura.
*This is a promoted feature