John F. Kennedy once said, "When written in Chinese, the word 'crisis' is composed of two characters. One represents danger and the other represents opportunity." When our beloved nation was struck by the crisis, not only did we realise the danger that COVID 19 posed to the common man, but we collectively realised the opportunity to come together behind closed doors to address critical issues that the pandemic has bought about. The team came together at the "Coronathon" event held in late March and have been taking time from our daily schedule to create the platform COVIDFYI with zero funding.
What makes the team click is its varied composition. We have MBA students from IIM Kozhikode, Design research scholar from School of the Art Institute of Chicago, Mechanical Master's student from RWTH Aachen Germany, Backend developers, UI/UX developers, Data and AI enthusiasts, MBBS and Accounting Grads, the list goes on.
During these unprecedented times, "Information" occupies a very crucial position. It is vital for every citizen to keep themselves abreast of the developments on a daily basis. During the time of need, any critical data such as "What are the helpline numbers", "Which doctor to call?", "Where is the nearest testing centre", "Nearest certified hospitals" should be available to anyone seeking it.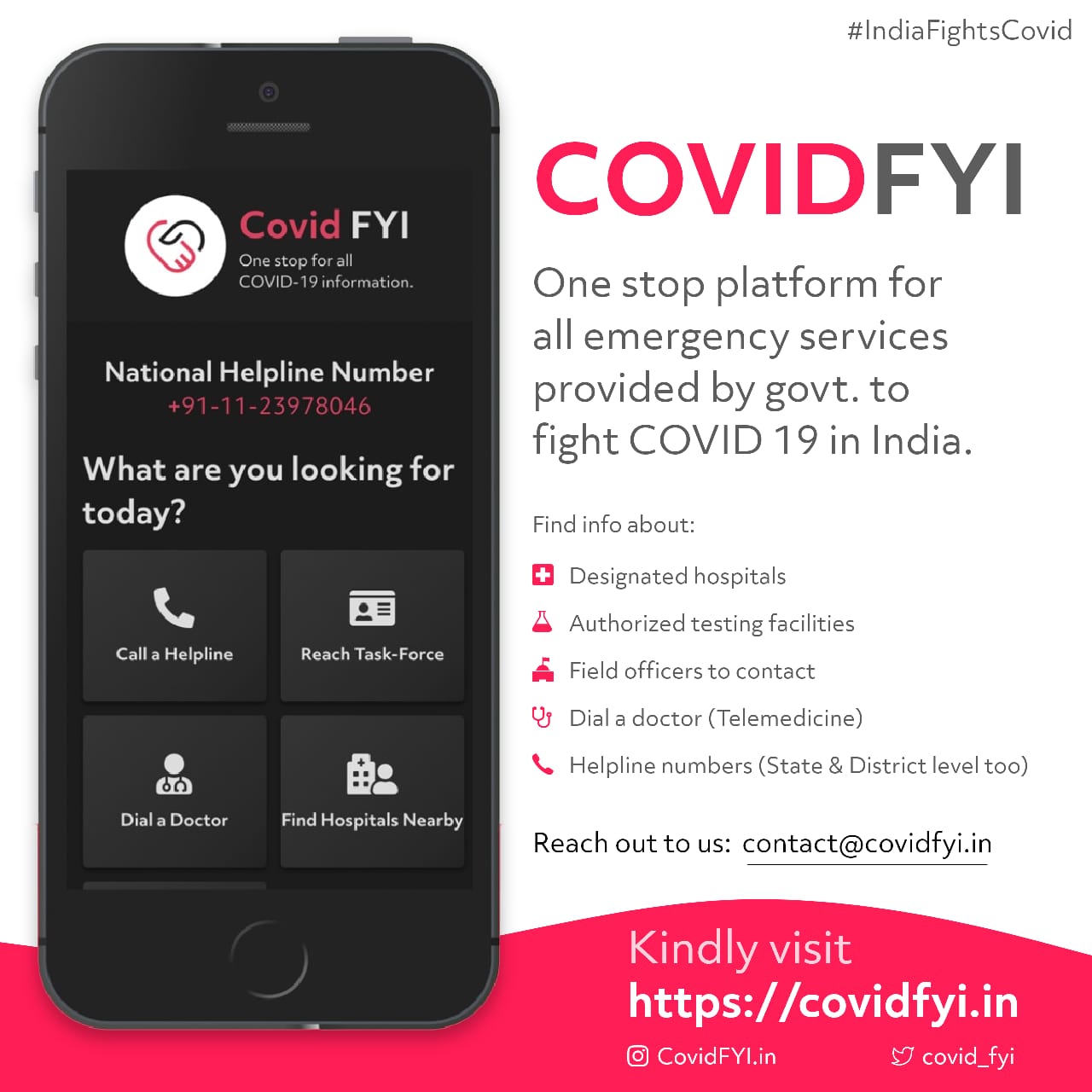 COVID FYI seeks to be the "One-Click-Platform" for citizens to access up-to-date, verified information coming from different Governments across Centre, State, District, Taluk level. Offering information categorized across different services and states makes it very easy for anyone to find what they need in a couple of clicks.
"Quick access to verified authentic credible and consolidated Information" is what we are!
Every Indian citizen living in India and abroad can find relevant information on our platform. Suppose someone is feeling ill and wants to consult a doctor, we have listed "Doctors on Tele call" who are certified by the Government to help citizens. In case anyone is looking to find testing centres or wants to contact officers in charge of emergency, they can find all relevant information on COVID-FYI
We have also been approached and are in talks with a number of State Governments representatives to work together. Since we already have both the data and the platform, Governments are delighted to use the existing solution to convey all relevant information. Our aim is to take this collaboration to as many States and also the Central level.
---
WHY DID WE COME UP WITH COVID FYI?
With a daily influx of numerous circulars, notices from various levels of Government, there is "Information Overload" and this makes keeping track very difficult. It brings across a scenario of "Searching for Needle in Haystack" thus anyone seeking time-critical information has been facing problems to locate the right medium. Fake news has been rampant and people have been faced with situations of calling non-existing emergency numbers.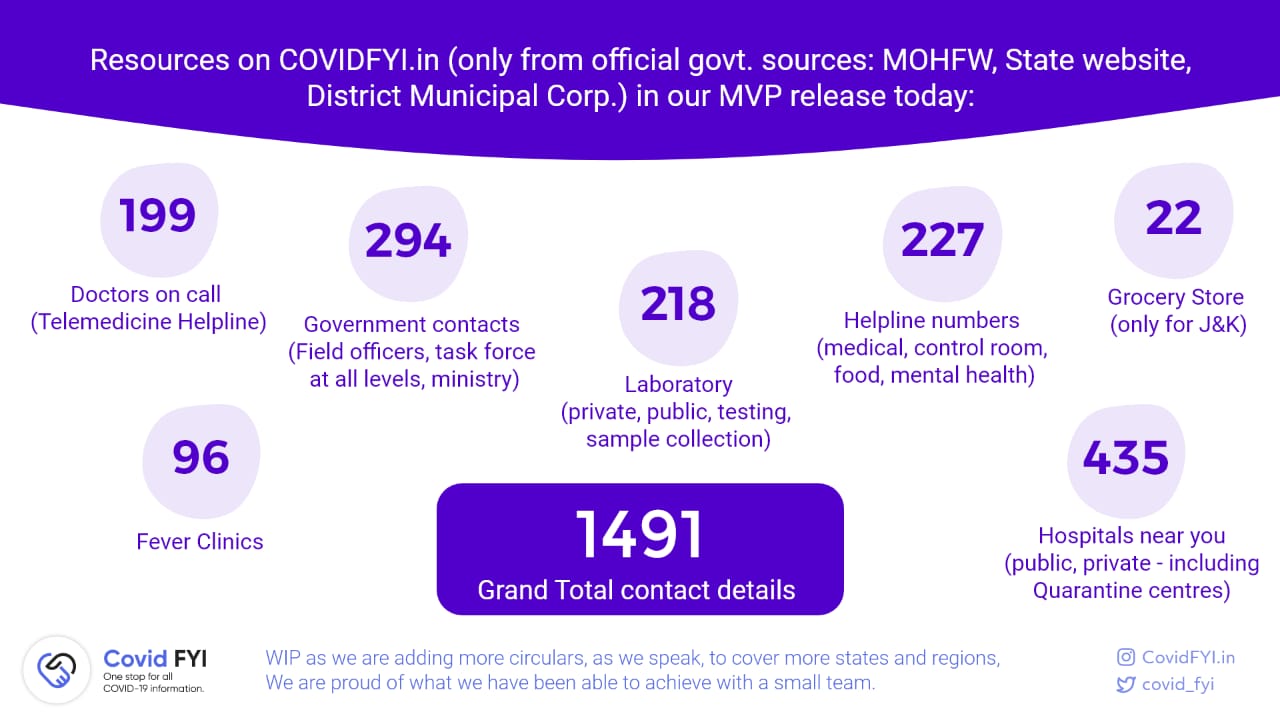 Our focus was to build a simple to use platform that can be trusted and provides all vital information.
---
HOW WE CAME UP WITH COVID FYI?
The team was initially conceived during the Hackathon event "Coronathon" held in the last week of March 2020. We have grown from the initial team of 5 members to a strong number of 30 over the course of 2 weeks. The team comprises of students, working professionals putting in efforts apart from the normal work that they already have. We have people managing multiple roles and taking ownership to get things done.
The driving force behind the team has been the thought that there are still millions of people struggling during the lockdown to get access to the right information. We wished to solve this problem and that was the birth of Covid-FYI
The founding team of Coronathon India have played a phenomenal role that paved the way for the team to meet. They have been a constant source of encouragement and guidance when we hit a roadblock.
We have been receiving constant support from IIM Kozhikode, University of Delhi to bridge the gap between being a "Website" and "Thriving Platform". The tech community, in general, has been a boon with us being able to gather key inputs and help from a lot of individuals at the forefront of their fields. This led us to also be one among the top 300 teams at "HackTheCrisis" event organized globally.
Since the initial launch, we have received positive responses and are looking forward to partner with companies and start-ups such as "MyMapIndia", "Live health" to name a few.
Data is of such varying forms, at multiple places, far away from the reach of the common man - finding them all was a tedious task. Every day these circulars were updated, thus we needed to keep a check. There were so many classifications and sub-classifications, making it all the more difficult to decide on the right user flow (Eg. Labs include - Private, Government, Only Testing facility, Only Sample collection facility etc.)
A lot of discussions was also on "Which type of Information" need to be prioritized and looked into. Searching for information across all the states, translating them and converting it to digital format has been tedious. As we focus on verifying the information, an immense effort has been invested in the databases that we have come up with.
The entire design and shaping of the Website have been carried out by a handful of team members while in reality the Governments and other organizations have TEAMS of people working on it.
---
WHAT ARE OUR FUTURE PLANS?
We wish to make our platform made known to as many people as possible and outreach is what we need right now. The influx of data keeps coming in on a daily basis so we will continue adding new categories and update the data as they come in to keep it dynamic.
Talks are in place with various governments to use our platform and we are also collaborating with other companies to offer a wider range of help services.
In the next days, we are looking at ways to have a "Book an Appointment" feature and the team is always looking out for ideas.