With CAT 2018 just a few months away what shall you do now to score well in the exam? Searching here and there will fetch you fragmented suggestions but this article aims to provide a holistic approach to crack CAT. You will come across multiple blogs which will though share some ideal steps to prepare but will be difficult to follow because there is so much to do in so less time. At this point, it is very important to utilize your time effectively, spend your time in the right direction and define your priorities.
There are 5 realistic things that you all should do. This article might go a bit longer but this comprehensive approach will definitely help you to score better. So, let's begin.
5 Steps Approach To Crack CAT Exam
Step 1: Define an appropriate study plan
Firstly, note down a detailed list of Quant & DI/LR topics and to get comfortable with the absolute basics of these topics, explore the CAT material of any coaching institute (TIME or Career Launcher). Secondly, by this time of the year, it is very important to join a test series and I would suggest you to go with either TIME or Career Launcher. Choose the mock test slot wisely so as to utilize your weekend effectively (I always chose the slots on Sundays and on Saturdays, I used to revise all the concepts for my exam the next day). Also, try to take the slot as per the real CAT schedule. On Monday/Tuesday, you will usually get your test analysis and performance. Analyze your mistakes, weak topics from the test and work on these weak topics by giving the sectional tests before your next mock test.
Assume these Mock tests as your real CAT exam, follow the rules with full dedication and avoid taking breaks in between the test. If you are not aware, I must tell you that in CAT exam you don't get even a 2 minutes break and you are not allowed to pause the exam or leave the examination hall under any circumstances.
Further, you will see many students joining 2 test series but in my opinion, anyone test series should suffice. Joining multiple test series reduces your analysis time and gives you too much material to handle. Always remember, it is quality that matters not the quantity.
DO NOT MISS YOUR MOCK TESTS. Mock tests will help you best to improve your performance.
Step 2: Analyze the Mock Tests
Please note, it is very important to conduct an honest assessment of your performance in the mock test. Analyze each and every question of the test you give and keep the track of the section-wise mock test performance in an excel sheet. Identify your weak areas, strong areas, areas of improvement (speed/accuracy etc.) and aim to avoid these mistakes in the next test. As I mentioned, work towards your weakest topics by giving sectional tests for that particular section which will help you master every topic by the end. Below are the excel templates that I maintained –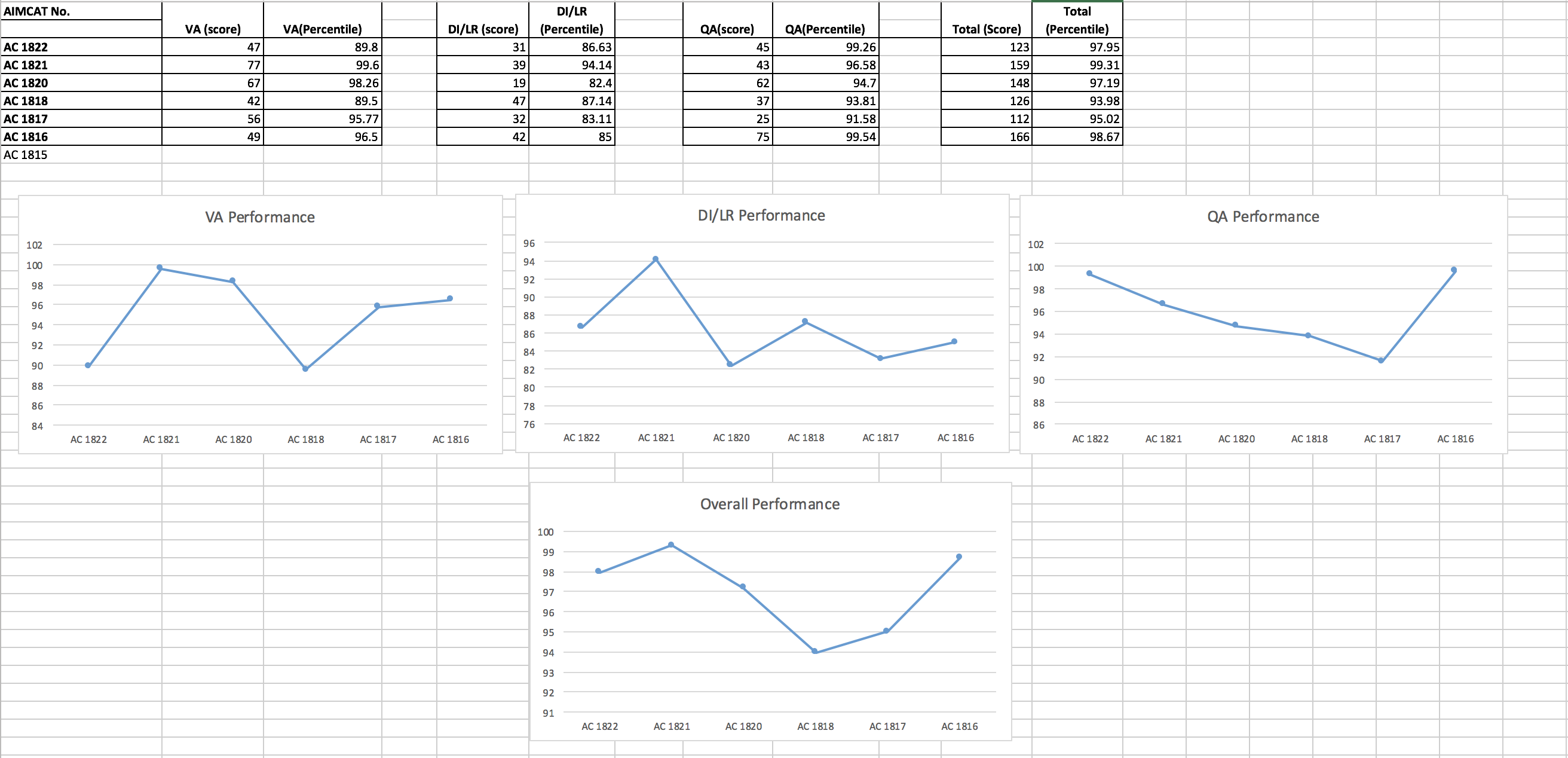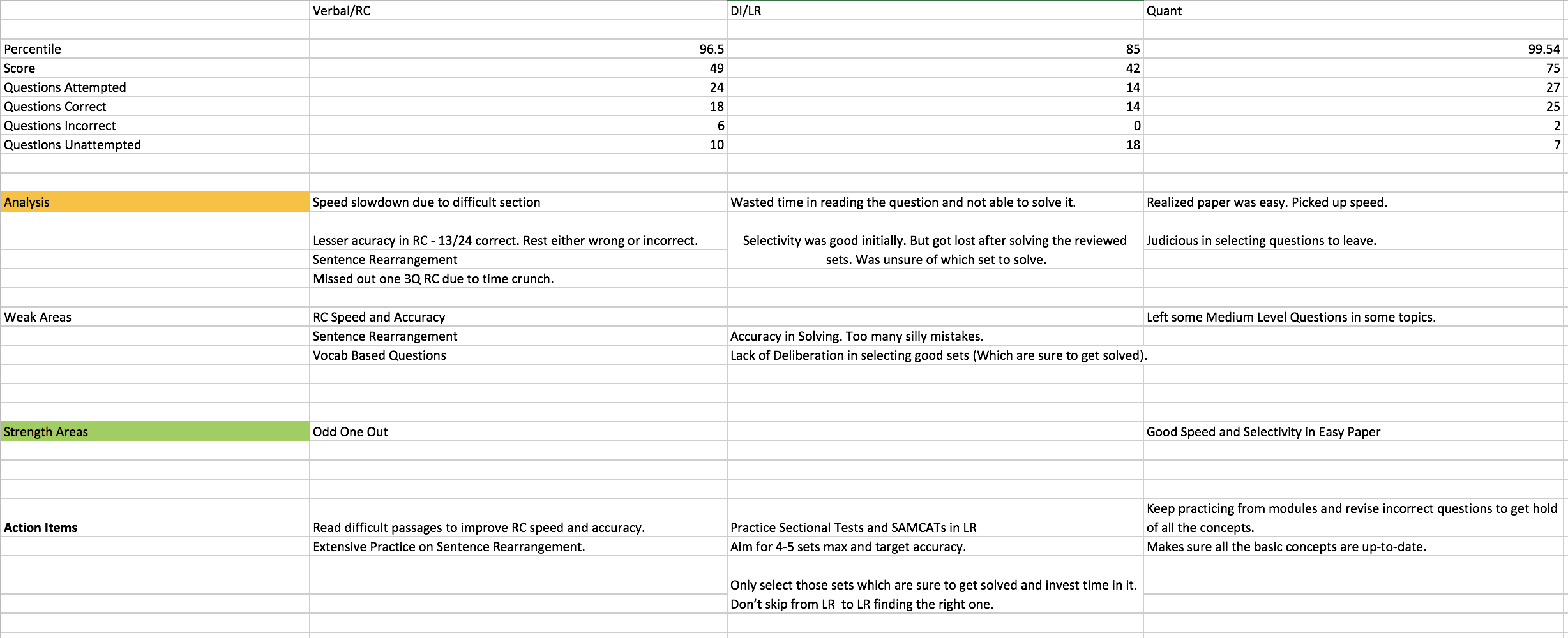 Step 3: Maintain your concepts notebook
This is the most important step. Maintain a notebook where you will write the question and the solution of all the good questions/concepts (I did this for Quant and DI/LR) you come across in the mock tests or sectional tests. In every mock test, you will have at least 10-12 questions to write which I know will be very time consuming but this notebook will help you a lot in last 1 month of CAT when you will be able to revise all the mock tests/sectional tests in only 3-4 hours. Follow this approach till your last test before the CAT exam.
1. Quantitative Ability – Mock tests are more than sufficient to score well in Quant. In CAT exam, the concepts are relatively easier than the mock tests. You need to improve your speed and accuracy in Quant and for that reason, you need to solve more and more questions in a given time. Most of the questions in CAT will be direct formula based so learn the formulae and shortcuts well. In mock tests, even if your answer is correct, browse through the solution once to check if there is any shortcut available to solve the same question.
2. Reading Comprehension and Verbal Ability- In RC, again speed matters a lot. Multiple people will suggest you to read blogs and articles on regular basis, yes that helps a lot but when so less time is left it becomes difficult to follow this approach. So, I would suggest that regular mock tests are sufficient. Along with that, try to solve at least one RC every day. Time your RC. Try to solve a 3-questioned RC in 10-12 minutes while the 6-questioned RC in 14-16 minutes. Reading comprehension in real CAT exam will be much simpler to solve than in the mock tests.
I could never solve VA so I have no strategy to solve VA :P But I have few suggestions to target this section. Look for the odd one out questions in the coherence questions, they have a higher probability to be correct than other VA questions.
Secondly, although there were no direct vocabulary based questions in last 2 years, but do learn the 300 intermediate words from the Maghoosh App. It will help you in both VA and RC.
3. Data Interpretation and Logical Reasoning– This is the only section where the real CAT exam is much more difficult than the mock tests. But still the only strategy to score better in this is by solving more and more mock tests so that you are at least thorough with the basic techniques. The key to this section is to develop the ability to identify the difficulty level of the set.
Step 5: Other key suggestions
1. The most important advice – Don't get disheartened when you score less in any mock test. Everyone scores 85 percentile once or twice in the Mock tests. Do not give up rather push yourself harder and harder.
2. Working professionals should try to see atleast 4-5 quant questions in office. For that reason, you can join a Facebook group where you will come across good questions every day.
3. In your last week before the CAT exam, try to give Mock CATs and sectionals, keep revising your concept notebook, revise the Maghoosh words and be calm even if you are not scoring upto the mark.
Once you have done all this, you will definitely perform well. Forget how many months are remaining, rather design weekly plans and plan each day. This is all you need to do!
Hope this outline helps. Wish you all the very best!