The government of India has in principle agreed to the privatization of Public sector banks (PSBs). This decision was much awaited by the industry but there are a lot of questions and uncertainties relating to this. We will discuss the objectives of privatization, its impact, and whether the desired results are achievable.
It is often said that the employees of PSBs are not efficient and are less productive when compared to private banks. It is also believed that PSBs are overstaffed and thus, it affects their profitability.
Operating Expenses as a Percentage of Advances
Take Your Career To The Next Level. Ask Our Experts Anything. We Will Respond Within 48 Hours.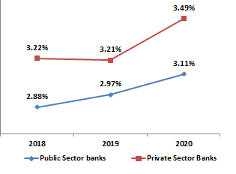 From the above figure, it is evident that operating expenses of private banks as a percentage of total advances are more than that of PSBs. The results are similar when we compare the operating expenses as a percentage of deposits. Further, when we compare the business per employee between the leading PSB like SBI and leading private sector bank like HDFC, the results are astonishing. The business per employee of HDFC is INR 17.49 crores whereas the business per employee of SBI is INR 21.13 crores for the year ended 31st March 2020.
The profitability of PSBs is very poor as compared to their peers in private sector. The profit per employee of HDFC is INR 24 crores whereas profit per employee of SBI is INR 5.81 crores only for the year ended on 31st March 2020.
Few important factors that affect the profitability of banks:
Non-Performing Assets %
Net Interest Margins
Operating Expenses
Non - interest income
The most crucial factor that is creating the huge difference in profitability between PSBs and private sector banks is NPAs. The PSBs are struggling with the problem of huge NPAs which is hampering their future growth as well.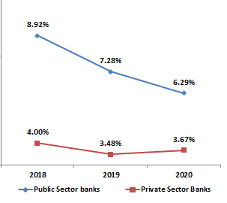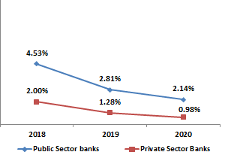 Autonomy to the management of PSBs
As the government holds the majority of shares of the PSBs, the business decisions of the PSBs are affected by the schemes and policies of the government. The burden of implementing the welfare schemes of the government is also borne by the PSBs.
Capital Adequacy Ratio of PSBs
The availability of capital with PSBs is long impending issue which can be addressed only through private investment when we look at the fiscal deficit in Indian budget. The CRAR (Basel III) of SBI is 13.06% whereas it is 18.52% of HDFC Bank.
To conclude, privatization of banks will lead to following impacts:
The CRAR of PSBs will improve which will strengthen their capabilities to lend further and will increase the credit coverage in India
The profitability will improve which will allow PSBs to invest in the latest technology and improve their service delivery capabilities
Employees of PSBs are working under stressed situations which can be eased out by adopting new technologies
Management of PSBs will be more independent, if not completely independent which will lead to better and faster decision making
You may also like to read these articles