Summer internships are like carnivals at B-schools when campuses buzz with chatter and the scene fills with greasy palms, sleepy eyes, and nervous faces. Considered as the entry point to the world of corporates, summer placements are a battleground to train future leaders. It is a means to select prospective employees/brand managers. Oorja Seth (FMS Delhi), a fresher, got picked by Nestlé for her summer internship in sales and marketing for one such training. Intimidated initially, Oorja finally found a way to keep up with the agile work culture of Nestlé. So much so, that she was offered a PPO post her internship. The following is an excerpt of her interview.
From an economics degree to pursuing MBA in FMS and later choosing sales and marketing. How did this shift take place?
When I planned on doing an MBA, I was oriented mostly towards Finance. But with time I gradually realized that my interest lied in sales and marketing. I was interested in consumer science and behavioral economics during my graduation and I think it is at the core of sales and marketing as well. I took my chance and probably that worked for me in cracking Nestlé's summers' interview.
FMS Delhi is one of the most sought after B-schools in the country. You got a few more options to choose from as well. What made you stick to FMS and how do you think it helped you in the long run?
I had admit calls from three B-schools - IIM Lucknow, XLRI and FMS Delhi. After weighing options at my end and post a visit to FMS I was more than certain about going ahead with FMS. I was pleasantly surprised by the culture and the seniors I met on campus. I believe the kind of ownership you get at FMS is really empowering and it prepares you for the future corporate life that you are going to be part of.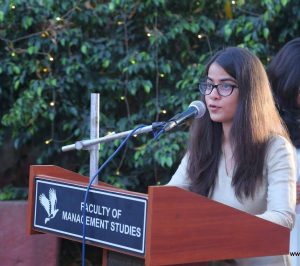 What was your idea about Nestlé before you joined as a summer intern and how did it change through the course of your internship?
My perspective about Nestlé was an overwhelming one. But once I actually visited the Nestlé Head office for the first time it was kind of a revelation for me. The focus on simplicity of things and attention to details in every aspect of the work was something that I realized in the very first day at Nestlé. The overall environment at the company is very humble and homely that makes anyone at ease soon enough. It made me comfortable the day I stepped in to work as a summer intern.
Tell us about the day when you got the call for the Nestlé summer internship. What was your reaction like and how did you go about celebrating the same?
Nestlé was one of the first companies to visit campus. I remember my interview taking place early morning as is the case on most campuses. I waited anxiously while my friends were running from pillar to post giving interviews to other companies, I was perplexed why I am not getting scheduled for any other interviews. And suddenly I got to hear my name when an announcement came floating that I have made it to Nestlé. I remember I was numb for a moment when I heard that. Post that when I came back with chocolates in my hand handed over by the HR, my friends hugged and took them away. This was an opportunity that I was waiting for a long time in my life and it had finally arrived.
Tell us about your inclination towards sales and marketing. When did you decide that it is something you are interested in and how did it align this with your summer internship at Nestlé?
I have had an interest in sales and marketing even prior to my MBA and I used to read a lot of material on this subject. I used to go through a lot of consumer research reports, business world marketing books to understand how consumers and the markets are changing. But I naturally had only a primary understanding of these areas until my internship. Once I went to Nestlé and was part of various processes within the organization, my interest in sales and marketing got validated even more. The best part was that as an intern I got an opportunity to see behind the scenes work that goes into making some of the iconic Nestlé brands – some older than a century.
Share your first week at Nestlé. What is it like to be around the brightest of the minds and connecting with students from other top B-schools of the country?
The first-week induction had a lot of activities planned for us including visits to various Nestlé facilities like their Nutrition factory in Samalkha and the state of the art R&D center at Manesar. The week also included market visit and various sessions with the business heads. This helped us to get a comprehensive overview of the organization in a short time. Besides, the induction week was an excellent ground for breaking some ice amongst us interns and with the senior management. Within a week all of us knew all of us! By the time we started working on our projects we kind of became friends chipping in with ideas for each other's projects while of course having fun in the process.
You don't have prior work experience. How intimidated were you when you stepped into Nestlé and how did you align yourself with the processes?
I think for a fresher when you are assigned your first project in an FMCG giant like Nestlé, it is bound to be intimidating. I had not done something of this sort before in my life and everything around me was new and challenging. This is where the role of a buddy or a guide assigned to each intern became pivotal. The guidance of my buddy helped me a lot during this process since I used to go to her and pester her with the minutest of details and an array of questions. But with time, I sort of fit in and quickly figured out how things were moving around. That then helped me to gradually steer in my project more confidently.
What were the key strengths that you think played in your favor during your internship with Nestlé?
My project involved a lot of strategizing and validating hypothesis proposed by me since it was based on a product launch. I tried proving my logic behind my hypothesis by presenting different perspectives. I used to look at analytics from one perspective and work from another viewpoint altogether. My business head was also very impressed with this approach of mine and pointed it out to me that it was great that I was able to see things from different dimensions.
Tell us something about your project with Nestlé and how you approached it to deliver the most at the end of it?
I ended up working on four different projects. My primary project was the launch of a product yet to be released. My job was to come up with the concept of the launch keeping in mind the product proposition. Along with that I was entrusted with planning and strategizing the geography that the product launch would take place and its pricing. I also coordinated with the people working in the factory to understand the product better. It was like revisiting all the 4 P's while working on this particular project and helped me understand the overall structure of Nestlé better. My other three projects helped me understand digital marketing, external partnership, interacting with alliances and revamping an old initiative of the '70s. So I got a 360-degree perspective of the way Nestlé works in the market and helped me grow as a professional. The exposure I got through my projects was indeed something anyone keen on making a career in Sales & Marketing would dream of.
Sales and marketing involve stakeholders at many levels and managing them become a priority. What were some of the challenges that you faced in this front while working on your project?
Getting the first point of contact is the toughest for any sales and marketing person working in any industry. On top of that, I was doing all this for the first time, which was making it all the more challenging for me. Working my way around to strike a perfect balance while meeting with business heads of other companies/clients and pitching my ideas was the biggest challenge for me. But I gradually worked on my interpersonal skills and struck a balance as I went on meetings with more and more such clients.
What were the three things about Nestlé during your internship that made you accept the PPO?
The flat system and openness in the work culture is something that I really liked while working at Nestlé. Regular interactions with your seniors and the openness towards walking up and speaking to people when you need to understand something is an everyday thing at Nestlé. The ownership and flexibility is another aspect that you would like the most while working at Nestlé, where your ideas would be taken seriously. The third thing would be the humility in the system, where everyone co-exists like a family.
How is Nestlé as a workplace, especially for Millennials? Is there anything about the workplace you were not aware of before?
When you are working with an MNC like Nestlé, you have to follow a set of processes. It can sometimes be a challenge for millennials, who want instant gratification and are a part of the one-click culture. But once you spend some time here, you understand why the processes are in place and how it all, at the end of the day, culminates into something bigger and better for the organization, its employees and the consumers ultimately. You then naturally tend to incorporate them as essential work principles. Other than that, the decision making part is not very complex. If an idea is good, it gets selected in a day.
A great demonstration of having a "set process" in place is the Nestlé factories. I was pleasantly surprised and honestly impressed by the kind of measures Nestlé takes to ensure the safety of its employees. You cannot rush with "safety". Everyone (I mean "everyone") has to follow the set rules and precautionary measures that ensure safety. There is a substantial investment and thought put behind it.
When you got to know that you were selected for the coveted Nestlé PPO, how did you react?
I honestly did expect a PPO after my internship at Nestlé. But till the time you actually get it you are always anxious and sceptical about it. For me, the wait for the news was even longer as I was on a vacation with no mobile network during that time. When I came back I was welcomed by an email from Nestlé confirming my PPO. Nothing would have been a better gift right after a vacation and a lot of anxiety, to be honest! Right now I am super excited to be joining Nestlé soon.
*This is a promoted feature