All you need to know about PGP Finance by IIM Kozhikode!
A GOLDEN RULE: WHEN IN DOUBT, CONTACT ADMISSIONS OFFICE
Mission: Nurturing dependable, capable and fair-minded professionals conversant with the latest models and techniques of the finance
2 Year- Master Level Program – Degree Awarded – M.Sc Finance (Tentative)
Expected Industry catered to: core finance, fintech, banking and financial services industry
First batch of 60 students
Immersive international visit as part of the course of 1-2 weeks in financial hubs such as London (Tentative)
---
Course Structure
This course delves into all aspects of Finance necessary for the Industry. The course will offer courses primarily in Finance with limited electives in other fields. A comparison of subjects taught to PGP vs PGP-Finance is detailed below: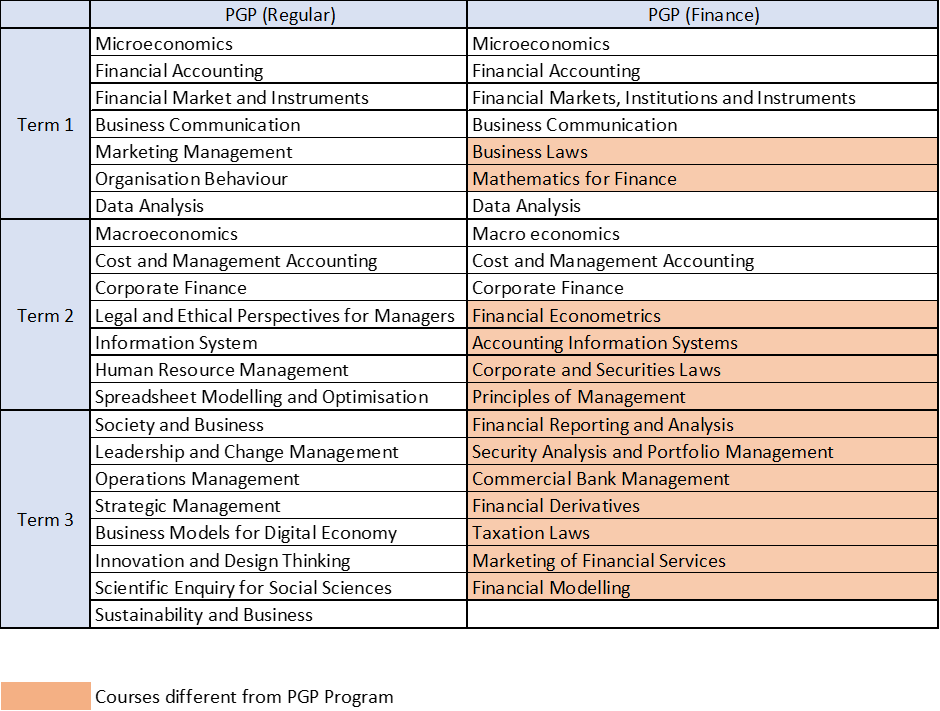 What must be noted, many subjects that are compulsory in the first year for PGP Finance are available as electives in the PGP course. Secondly, the electives offered in the second year for PGP Finance are specialised and there are a few overlaps with PGP course in the second year.
Candidates must satisfy the minimum criteria given:
Graduates in any discipline with minimum 50% marks or equivalent CGPA
Must possess a valid score in CAT 2019 /GRE/ GMAT (In the case of GRE /GMAT the test has to be taken between 1 Jan 2019 to 20 March 2020)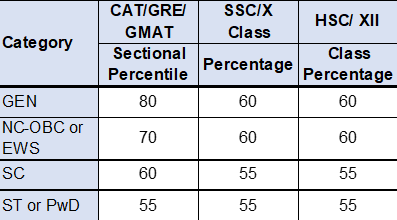 For getting an interview call, the following parameters are considered:
Stage 2 Shortlisting Criteria: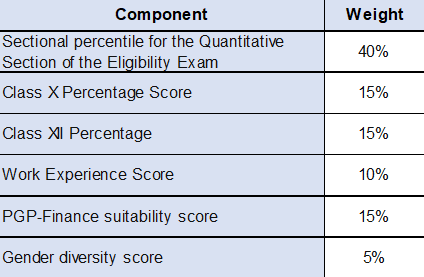 With weightage to only Quant, people with high QA scores are advised to apply. Secondly, suitability scores give high marks to CA(and equivalent), CFA and FRM certification holders. The suitability score is calculated using the matrix:

Final Shortlist Criteria:
For final selection (WATPI process) following parameters are considered: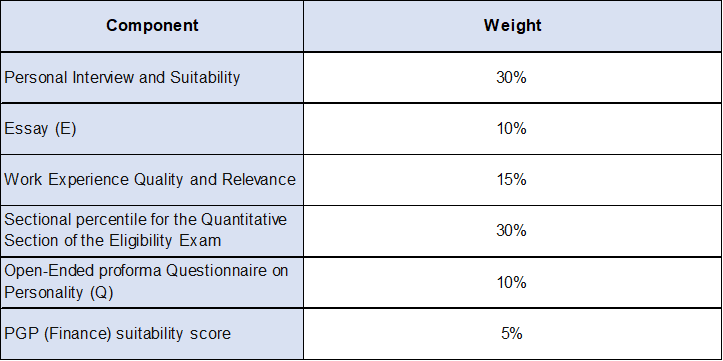 An estimated guess for percentile required would be 99+ for general engineers and 97+ for CA and equivalent graduation. This estimate is based on high volume of applications expected for low number of 60 seats (30 general) and is merely a conjecture.
This programme is ideal for the young professional who wishes to provide uplift to their careers in the banking and financial services industry as well as fresh graduates to stimulate their careers in finance. Students will be placed as financial analysts, financial engineers, traders and other positions in risk management, Financial Engineering, Fraud detection, and Forensic Accounting, portfolio management, etc. in India and overseas.
IIMK will assist in placements and internship process.
Being the first batch, there is no data to give perspective on the same. There will be separate placements for PGP-Finance students not along with PGP Students. Being a small batch, one can expect decent placements (this is merely conjectured and nothing can be said with surety). If pattern is to be followed like PGP-BL, there will be a separate Placecomm for the same.
DISCLAIMER: All views are of the author's regarding placements. For any further clarification, please route your queries through official channels.
---
Fees
Application Fee: Rs 2000/-
Program Fee: Rs 20,50,000/-
For a detailed breakup, readers are encouraged to read this.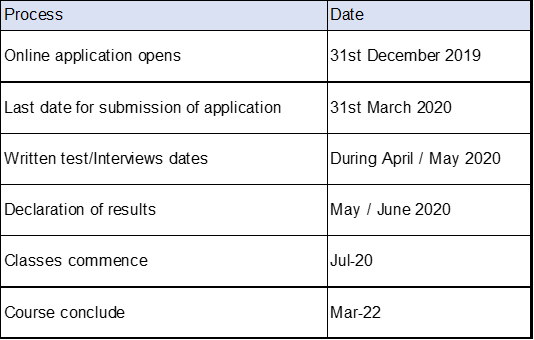 ---
Helpful Details and Links
For any further queries, aspirants are urged to contact:
Team PGP-Finance Office
IIM Kozhikode
IIMK Campus PO
Kozhikode 673570
Tel: 0495-2809131, 626, 9895098960,
8281821723
Email: pgp-finance@iimk.ac.in
Using the query system in the admission portal also will help. The queries are dealt within a few hours. The query addressal is very quick.
Helpful links: https://iimk.ac.in/academics/pgpfinance/faq.php
---
A gentle reminder
GOLDEN RULE: WHEN IN DOUBT, CONTACT ADMISSIONS OFFICE
DISCLAIMER: All inputs have been collated from the information in the public domain and the email communication from the admission office of the institute and the author takes no responsibility of any deviation in terms of information disclosure and any matter which is directly or indirectly related to the admissions. The requirements in the process might be changed, so all the stakeholders are advised to check the IIM K website or contact the IIM Kozhikode's PGP- Finance Admission office along with the above views of the author. In case of any clarification, the candidate is urged to contact IIM Kozhikode's PGP- Finance Admissions.