Have you ever volunteered to help people from a less privileged background to yours? If you ever did, you would realise the immense time and attention commitment it entails. In this scenario, to juggle your own education or work, while teaching orphaned children to fulfill their dreams by showing them the basics of math, science and English, is not an easy task. Further to realise the value of education and opportunities it provides is an even tougher fact. But Prakhar from MDI Gurgaon did just such an act. Among various other reasons, this is one of the things that makes him stand out as InsideIIM's Best 50 - The Most Employable Graduates of 2018-20. Read on to find out how Prakhar leveraged his hobbies and made them into full fledged opportunities to shine!
The following is Prakhar Raghuvansh's set of responses to a questionnaire floated amongst MBA graduates to determine the top-50 most employable MBA graduates of the Class of 2020. Amongst the massive number of entries and responses being evaluated by the Founder of InsideIIM-Kampus Konversations, Prakhar's story and profile stood out. Here's his own story in his own words.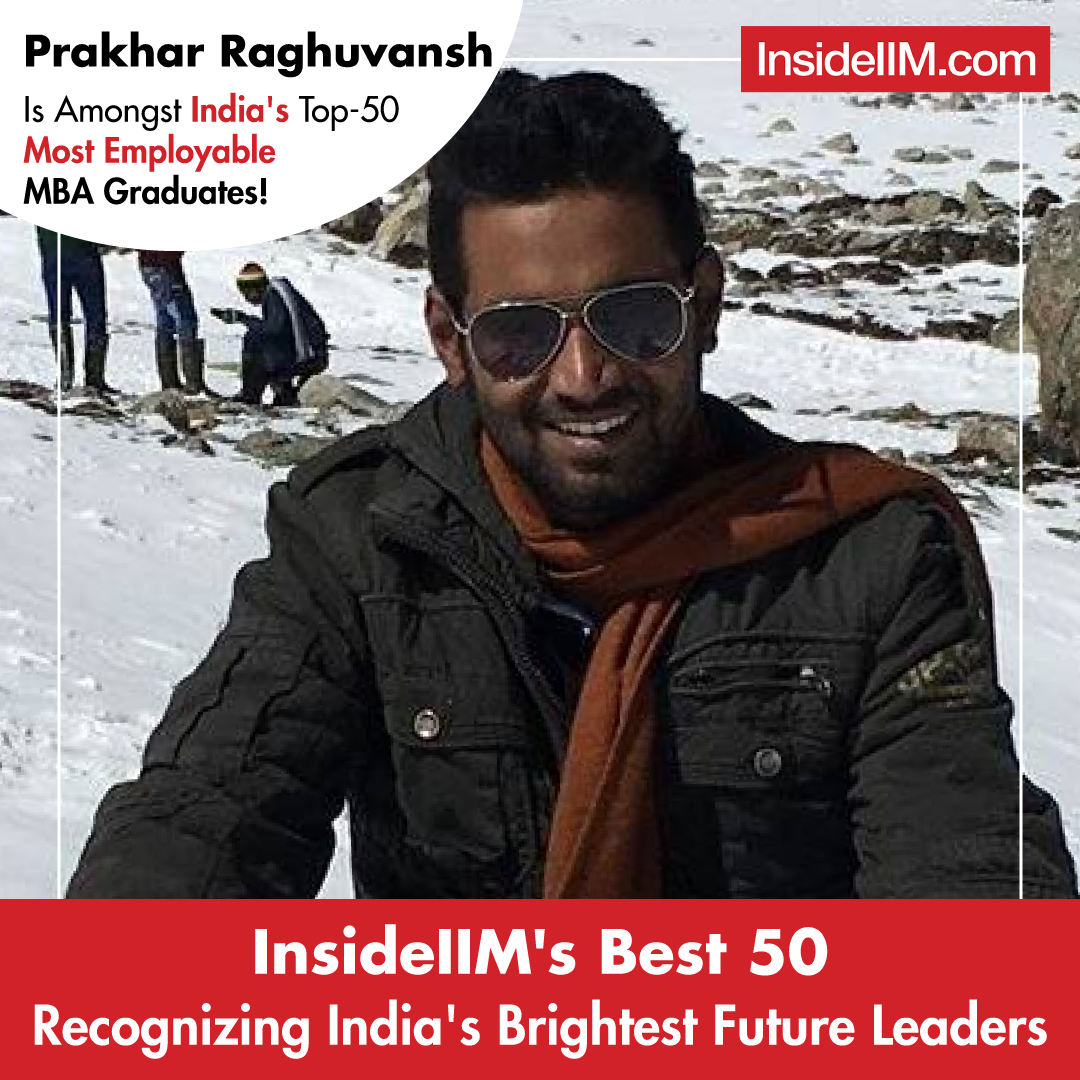 "I hail from Ranchi, the city of waterfalls. Before pursuing management studies, I worked as a senior manager at Tata Motors, where I secured Gold Standard at Tata Business Excellence Model practitioner's workshop and was appointed as the youngest Business Excellence officer for the year 2017-18. I have always believed that academics alone can't result in the overall development of an individual. Thus, I try to indulge myself in a plethora of extracurricular activities. I have held multiple positions of responsibility during my professional career. Adaptability has been my biggest strength and has been ingrained in me ever since childhood when I have had the opportunity to change six schools altogether. Learning to adapt to new cultures and make acquaintances at each new place has made me flexible and open to new ideas. During my free time, I love to play and watch cricket. Trekking injects huge doses of adrenaline in me and I have also pursued adventure sports such as bungee jumping, river rafting, etc. as and when the opportunity has arrived."
Name an instance where you wanted something and went out of your comfort zone to achieve it OR Tell us the biggest risk you have taken so far in your life.
Hailing from Bihar, known for its ever-lasting romance with the Civil Services examination, the buzz, and hype surrounding the entrance examination was immense. Also, being born and brought up in a family of civil servants, I had always seen the perks of working as a government officer. But the boy in me had always dreamt of big cities and behemoth structures. Also, I was inspired by stories of the Tatas and the Birlas and the way they shaped and influenced modern India that it is today. Growing up, I also read about the success stories of young entrepreneurs following their passion; leading and growing MNCs and global firms.
Hence, I decided to prepare for the Common Admission Test (CAT) to obtain both the theoretical knowledge as well as the psychological mindset of shouldering important tasks for a workplace and eventually leading firms to make the world a better place to live in.
I could have gotten all the help and resources that one can ever need for cracking the esteemed Civil Services examination right at my home. But I stepped out of my comfort zone and decided to tread on the path unknown. I burnt the midnight oil, optimised my schedule in order to manage both the job and the preparation. After toiling hard, finally, the struggles bore fruit and I was able to crack the coveted CAT. Now, after the completion of my MBA and before the beginning of my corporate journey, I look back upon the decision and I can't help but quote Robert Frost's epic verse from 'The Road not Taken', which goes by," Two roads diverged in a wood, and I, I took the one less travelled by, and that has made all the difference."
When was the last time someone relied on you? OR What did you do which was purely for someone else - a truly selfless act.
The smallest of acts can sometimes make the biggest impact. In the year 2015, during the summer vacation of my college, I volunteered for the NGO, "Jan Jagran Kendra", an organisation based in Hazaribagh, Jharkhand. The founders and members of the organisation work selflessly for the upliftment of the tribal people of Jharkhand through the establishment and running of community health activities and informal education centers. During my first visit to the orphan school opened by the NGO, I found children who were enthusiastic about learning and developing their skills. These children had faced the curse of losing their parents at such a small age, but the intent of these children made me realise that the boon of education should be provided to one and all.
Initially, I started teaching these children a basic level of Mathematics and Science. Gradually, in addition to the two subjects, I started inculcating in them basic verbal as well as writing skills in English. I began interacting with them on a personal and informal basis, trying to know more about them by getting to know about their hobbies, interests, and aspirations in life. For those who could not see any merit in pursuing their interests, I made them realise the benefits of following their passion, be it academic or not. Eventually, I started spending a lot of time with them day and night. After school, I spent hours chalking out the syllabus and list of books required. I spent evenings with them playing sports. I procured a projector and got them to watch movies and documentaries of significance.
After over 2 months of effort, the children had started to communicate in English apart from being good in mathematics and science. The NGO also provided them football and cricket gear so that they can take a keen interest in extracurriculars as well. The children are now growing up and some have even joined government schools. I stay in regular touch with them and try to take up their issues as and when I can.
This experience had a significant impact on my life as I could visualise and comprehend the changes in the lives of these children. This was the foundation stone for my further involvement in social activities. I actively participated in the Tata Motors Volunteering Programme as well as Tata Volunteering Week, an initiative of Tata Engage.
Tell us about a time when you disagreed with an opinion/idea/decision. What did you do about it?
During my initial year at Tata Motors, I was part of the vehicle assembly line where I was handling my duties as the shift in-charge. Due to a sudden increase in demand for Heavy Commercial Vehicles owing to a good monsoon season and favorable government initiatives, daily production targets were pretty high and the company did not want to lose on its high market share. But during my shift, I had made the quality testing of the assembled vehicles mandatory. This drew flak from not only my manager but also other senior officers of the plant as quality testing took away some valuable time and manpower, which could have been utilised to produce more vehicles. Since the vehicles were built with Standard Operating Procedures, the probability of quality defect was pretty slim. But, I did not want to compromise on quality at all. After all, the safety of the vehicle is its most important aspect.
So, I took up the act to make them realise the values in my action. While in a meeting involving my manager and other officers, I presented my plan of action to accommodate both the high production targets as well as quality testing of the vehicles while maintaining the manpower and shift duration by focusing on critical safety areas of the vehicle. I took up their valid queries and answered them until they were convinced with the merit of the action plan. After getting a go-ahead with them, I continued the quality testing of the vehicles and motivated the line workers and supervisors to put in more effort to meet the production targets as well. At the end of the hectic season, I was praised by my manager and even by the Plant Head for the work achieved in my shift.
What is the one thing you can claim to have some level of expertise or depth of knowledge in - it could be anything - a subject, a sport, a hobby, a venture, an initiative which has led you to do deep work in that field?
While in my undergraduate, my friends introduced me to rock music. I started with the classics, listening and humming all day to the likes of the Beatles, Pink Floyd, and Led Zeppelin. I was immediately attracted to it, the magical melody, mixed with lead, rhythm and the bass guitar, the drums, the keyboards, and the extraordinary heart-touching lyrics always made me get a supernatural feeling inside of myself- as if I just want to break free and live in the present with no fears and inhibitions.
Gradually, I turned into a religious follower, trying to emulate the style of larger than life artists such as John Lennon, Freddie Mercury, Jimmy Page, etc. Eventually, I experimented with different genres of rock, such as Progressive Rock with bands such as Opeth, Porcupine Tree, and Tool, Alternative Rock with the likes of Nirvana, Pearl Jam and Foo Fighters, Metal Rock with heavyweights such as the AC/DC, Black Sabbath and even the newly emerging Post-rock genre with soothing songs of Mogwai, Explosions of the Sky, etc. I learned about the technical differences and the origin of each of the sub-genres of rock. But, my love for rock music did not stop there. I began collecting famous memorabilia such as buying out the original albums, merchandise and hung posters all over my hostel rooms. I also started spreading the rock music fever to my friends, introducing them to new bands and turning them into rock fanatics.
But, all this while I had dreamed of attending live rock show festivals and watching these artists perform in front of my eyes. Watching these shows on the internet, I had always imagined being in such concerts with the electric atmosphere, the crazy fans, and the enthralling performances. Finally, in 2016, I saved up enough money to attend the NH7 weekender music festival held in Shillong, Meghalaya. Watching Steven Wilson perform was one of the best moments of my life. I attended other rock music festivals held in Pune, witnessing artists such as Joe Satriani and God is an Astronaut perform live.
Now having seen such breathtaking performances with grand stages, perfect surround sound, and eclectic stage lights, I now started dreaming of organising a rock music event at a huge scale. As soon as I got elected as the event coordinator of WHEELS-2018, the annual techno-cultural fest organised by Tata Motors for the residents of the city of Jamshedpur, I felt that this was the perfect time to work on achieving the dream of conducting a rock-concert. I convinced the senior authorities of the company, gathered enough sponsorship for the event, contacted and negotiated with multiple artists managers, spent sleepless nights coordinating the artists' hospitality and traveling arrangements and dealing with stage decorators and technicians so that every minute aspect was perfectly covered and there was no scope of any error. The show turned out to be an ultimate hit with famous artists such as The Local Train, Indian Ocean, and AsWeKeepSearching performing for a crowd as huge as over 22,000. Organising the event gave me an ultimate sense of achievement and satisfaction as I felt I had finally done justice to my passion for rock music. I maintain regular touch with lots of these artists and performers. But, rock-music is a very deep ocean and I believe there is still a lot to explore and learn. I regularly listen to new discographies and albums. Recently, I have started learning guitar by following online lessons. I hope that this passion for rock stays in me for a long long time.
If 10 Million Dollars (approximately INR 75 Crores) is given to you to use it any way you deem fit what would you do with this corpus?
If I ever had 10 million dollars given to me, there are two major ways I would like to spend this amount on:
Investing in a health-tech startup: With the novel coronavirus bringing the entire world to a standstill, there is no doubt whatsoever that major reforms in healthcare services are an immediate need. While the world was moving forward rapidly by leaps and bounds and major technological innovations were happening in almost every sphere of life. Yet when Covid-19 spread across the earth, humans were left wanting for life-saving technology that could provide breakthroughs to save lives and losses. Hence, the need of the hour is to invest in e-health, diagnostics, mobile health, remote health services and similar technology that would contribute to prevention and cure of such an epidemic, if it occurs. Startups such as OneBreath, HealthCode AI, Biobot Analytics, etc. have risen to the cause of assisting in the pursuit of thwarting the virus. But, for building a sustainable future, we need to invest much more in holistic health-tech solutions to wipe out any future epidemics and make our planet safe and healthy.

Hence, I would be willing to assist any startup that could provide a holistic solution regarding, first, prevention of such a pandemic happening through early detection, isolation and containment and, second, its early mitigation and cure through breakthrough R&Ds, proper surveillance and effective techniques, providing remote health services and spreading relevant information and education. I would be very interested in buying out equity shares in a Health-tech startup that focuses on pandemic prevention and control by contributing 5 million dollars funding for the startup to be financially able to carry out major technological breakthroughs. I would be looking at those startups whose business model is sustainable and whose value proposition matches that of mine. Not only would I provide them financial assistance, but I would also be willing to help them in whatever way possible.

Having traveled to a lot of places in India, the one thing that attracts me the most is a quaint café located at a serene spot, perhaps with a view depicting the grandeur of a mountain or the immensity of an ocean. Hence, opening a café of my own is a dream that I have always cherished. I would be willing to invest the rest of the 5 million dollars in opening a chain of cafés in India and then expanding it to different locations across the world. Owning and operating a café chain will not only allow the 5 million to grow into much more but will also fulfill my dream of having my own signature space where one can appreciate the relaxing atmosphere and enjoy delicious cuisines. I am already in talks with regards to renting a space in Pulga, Himachal Pradesh for a lease period of 2 years with the concerned landowners and have already been saving a lot to invest in the same. Once the revenue starts flowing in and brand awareness of the café increases, I will be looking to expand it further to different exotic locations in India, namely, Yumthang (Sikkim), Arambol (Goa), Triund (Uttarakhand), Patnitok (Jammu & Kashmir), Pushkar (Rajasthan) and Munnar (Kerala).

The café will have vibrant themes keeping in mind the geographical location of the spot and the different cultures surrounding the space. But, there will be some common themes in each of them such as the ambiance, which will be relaxing and refreshing with a delightful view in every direction, with books and magazines related to a vast array of topics and soothing music to help one relax. The café will have lots of delicacies on its menu, including, but not limited to, Italian, Continental, Thai and Indian dishes. Once this chain of cafés will be up and running in different parts of India and the cash flow gets stronger, I will be looking to expand it in different parts of the world. I have already thought about the possible dream locations to expand to, namely, Santorini (Greece), Pamukkale (Turkey), Nosy Be (Madagascar), Reykjavik (Iceland) and Charles Bridge (Prague). There is no major café chain in India that has set foot across the globe and investing the 5 million in the "Café Nirvana" project will be like a personal and professional dream come true.
---