A McKinsey report showed that major firms across the globe accelerated tech adoption by 5 years because of the pandemic. Product Management, which was already one of the most in-demand sectors of the decade, is seeing the demand for PMs far outstrip the supply.
So here we are, with a series; Product Manager In A Digital Age!
Let's start by answering the most basic question; What exactly does a Product Manager do?
The answer lies somewhere between product design & tech, business strategy, consumer behavior, marketing, communications, etc. To put it simply, a Product Manager (PM) decides what products to build next and leads research, design, testing, and go-to-market strategy & metrics. Product Managers are the driving force behind the products and services
According to McKinsey PM Index, as you can see in the pie chart below, an average PM spends close to 32% of his/her time collaborating with different stakeholders. While concentrating on the Product, a PM will spend approximately 34% of the time on product strategy, requirements, pricing & packaging.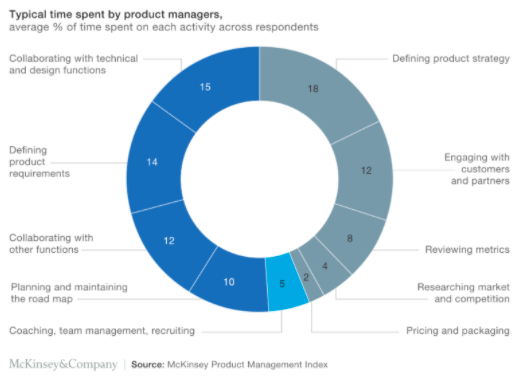 A lot of this is subject to change though. A Product Manager in this digital age can no longer be meddling with just planning and strategizing. Over the next 5 years, we will see the Product Manager role become more and more reliant on data, fluent with analytics and data science including tools like Machine Learning, Big Data & Hadoop. This, however, by no means can be construed that the role will move away from the consumer. In fact, the data at the disposal of a PM should only augment consumer understanding.
So now we know that Product Managers are powerful, are certainly in demand and are definitely evolving to become one of the most important clogs of any organization in the future. So what is it that we still need to know?
How do you become a Product Manager?
Well, obviously, we are not going to answer that here because who are we to tell you that when we've got an entire lineup of Expert Product Managers led by Ellora Nath, Senior Product Manager at Booking.com?
In this 2-month long, well-rounded program,
You'll learn all of the advanced frameworks, tools and techniques that successful product managers use in their day-to-day lives
Lectures will be delivered by Ellora Nath with real-life examples, case studies and interview preparation in EVERY session
There will also be 4 guest speaker sessions by Expert Product Manager from organizations like Flipkart and Microsoft
You will have the opportunity to get 1-on-1 Career Coaching & do Mock PI with Expert Product Managers!
At the end of it all, you'll have the tools needed to transition to Product Management and become a successful Product Manager!
Watch this space & keep checking your mail for the next edition!