Shalabh Agarwal has an interesting story of quitting his career in marine engineering and finding success in selling custom merchandise online. He acclaims that his close association with students from IIMs and other elite B-Schools has helped him in learning nuances of management which in turn had a huge impact in building his custom merchandise business.
Shalabh completed his engineering in 2016 and was placed with Chevron Corporation but due to some medical issues, he had to quit his job and bid adieu to the career he had always envisaged for himself before it even took off. While figuring out what to do next, he was advised to pursue MBA from any of the IIMs like most engineers do, it seemed a perfectly logical thing to do at the time. A month into preparing for the management entrance examinations, he decided to follow his heart and turn into an entrepreneur rather than pursuing an MBA.
Thus began his hunt for a startup idea, one of his juniors from the college discussed the challenges he faced while ordering customized t-shirts for their batch. Doing extensive research of the market and industry, he decided to start a custom merchandise store LabKet along with his co-founder (and college friend) Saket Jain who, like Shalabh, did not find his career in the shipping industry as lucrative and was also searching for new avenues to explore.
They got their first order from IIM Lucknow which was of 17 hoodies. It was the beginning of their association with the IIMs. Shalabh recalls that when he visited IIM Lucknow for the first time for delivering the hoodies, he felt a very close connection with HelL and since then it has only grown stronger. Slowly they started approaching other institutes and companies for orders and people began to like their products. Like every other great thing, LabKet team has faced their fair share of challenges in building their business.
During the initial 2-3 months, Shalabh learnt about different aspects of the garments manufacturing business. He started by outsourcing the manufacturing to various vendors. The early-stage was full of struggles and hardships. It was difficult to get the sales going and once an order was received, it was imperative to ensure that everything went right starting from getting raw materials to ensuring desired quality to delivering the products on time, all of it had to be well coordinated. The fact that manufacturing was outsourced to a third-party vendor made operations all the more challenging. "Entrepreneurship is a mental battle more than anything else. You can accept defeat in the beginning and in the middle but not at the end. One must believe that if it's not a success, it's not the end" believes Shalabh. By learning from the challenges faced and improving every day, they now have their own manufacturing facility in Lucknow and are able to supply fine quality custom merchandise consistently.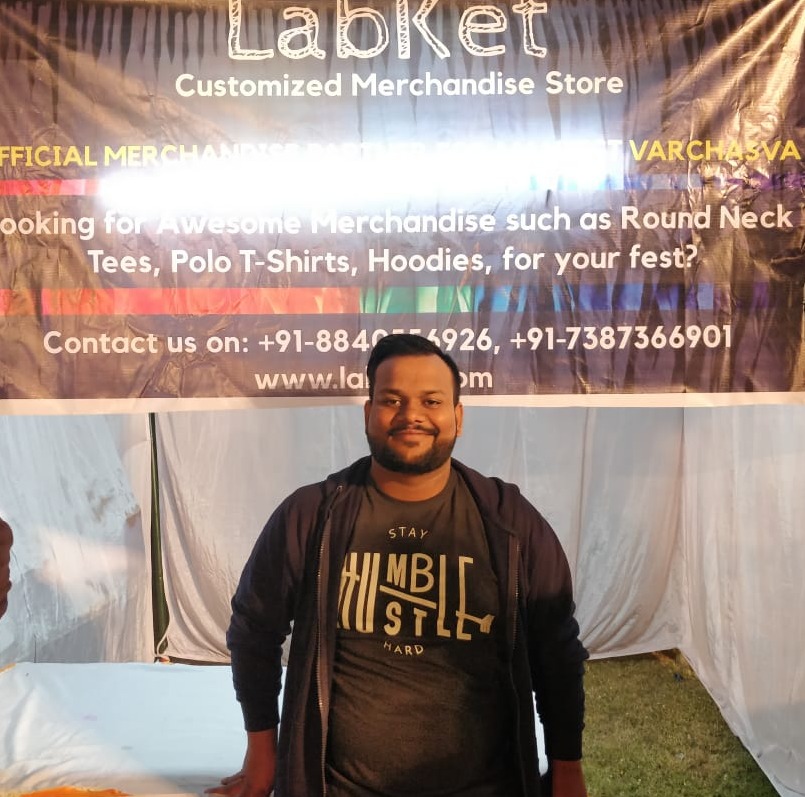 Shalabh shares, "One day I was sitting at the Amul café at IIML with a couple of students. We were having a discussion regarding their upcoming merchandise order. Soon the conversation shifted to our business. Out of curiosity, I asked them about the most basic yet fundamental principle that they had learnt till now at their B-School which could help us to structure our business even more. They told me about the "4 P-s of Marketing" also known as the Marketing mix. It really helped me understand the significance of 4P-s (Product, Place, Promotion, Price) and how these four P-s can be used for a mutually supportive marketing plan. It helped us to understand the importance of product differentiation in an exceedingly competitive industry and how promotion has to be in parallel with product placement and pricing. A small visible change that came into our products post this was its packaging and branding."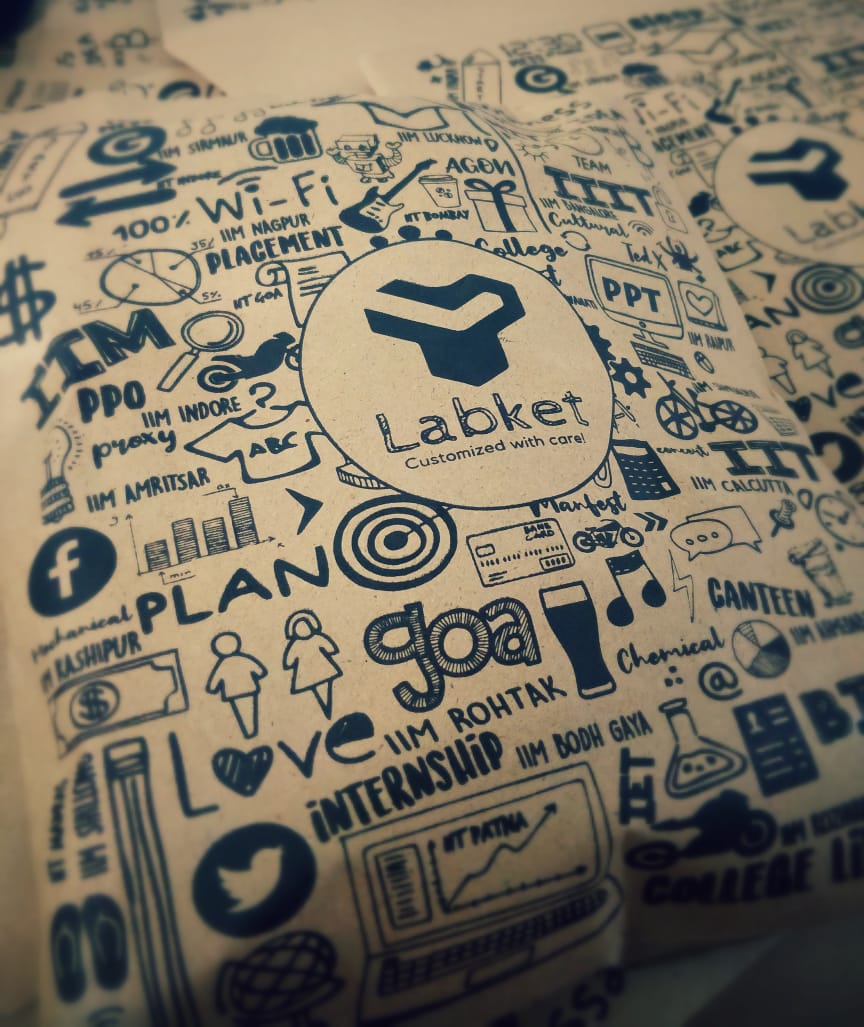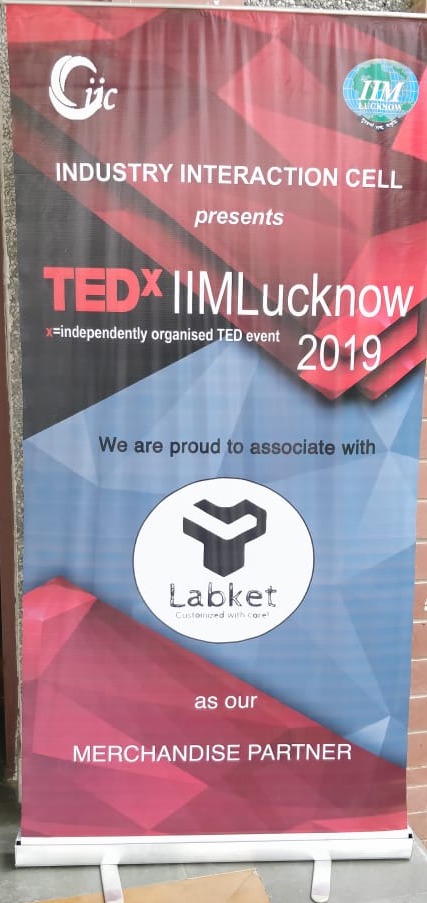 Their vision is to deliver fine quality custom t-shirts to students at an affordable price and faster than the other competitors. They found out that other vendors faced challenges with respect to ensuring good quality of t-shirts and consistently delivering them on time so the quality of t-shirts and printing along with the timely delivery of the orders became a top priority for LabKet.
Gradually, their business prospered and they bagged orders from not just new institutes but also repeat orders from the existing clientele of institutes. LabKet's strength has been their ability to retain their customers by establishing long term relationships with the students which gives them an edge over their competitors. They believe that 'people buy with emotions and then they justify their emotions with appropriate logic,' so they focus more on the UBPs (Unique Buying Points) for their customers than the USPs (Unique Selling Points) of their company. Shalabh emphasizes the importance of building healthy relationships with their customers, suppliers and employees as he believes that business is all about people and relationships.
"It is important to build a relationship with people you do serious business with as it motivates them to stay loyal to your brand," says Shalabh.
Slowly, they started scaling up their operations and closed bigger deals every other month but as a large part of their operations was outsourced, the profit margin for LabKet was very thin and the company was facing the problem of not having adequate liquidity to be able to support the existing growth of the business. In order to become independent, they decided to start their own manufacturing unit in Lucknow.
As of today, they supply to a large number of reputed engineering and management institutes pan-India such as IIM Lucknow, IIM Kozhikode, IIM Ranchi, IIM Calcutta, IIM Sirmaur, IIM Rohtak, IIM Indore, XLRI Jamshedpur, MDI Gurgaon, IIT Delhi, IIT Kanpur, Goa Institute of Management, NIT Jamshedpur, BITS Pilani, BITS Goa, BITS Hyderabad, MICA Ahmedabad, Nirma Institute of Management (Ahmedabad) etc. They have also become the Official Merchandise Partners with various cultural, management and sports festivals such as Manfest Varchasva and TedX (IIM Lucknow), Echoes (IIM Kozhikode), Agon and Rush (IIM Ranchi), Cognito (NIT Jamshedpur), Illumina (MDI Gurgaon), Horizon (Tolani Maritime Institute), Encore and Pravah (IET Lucknow) and many more.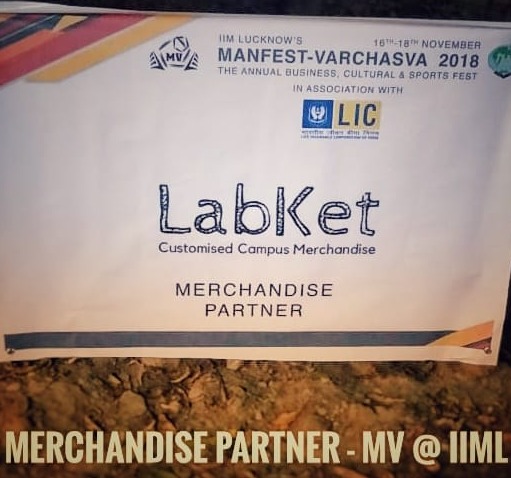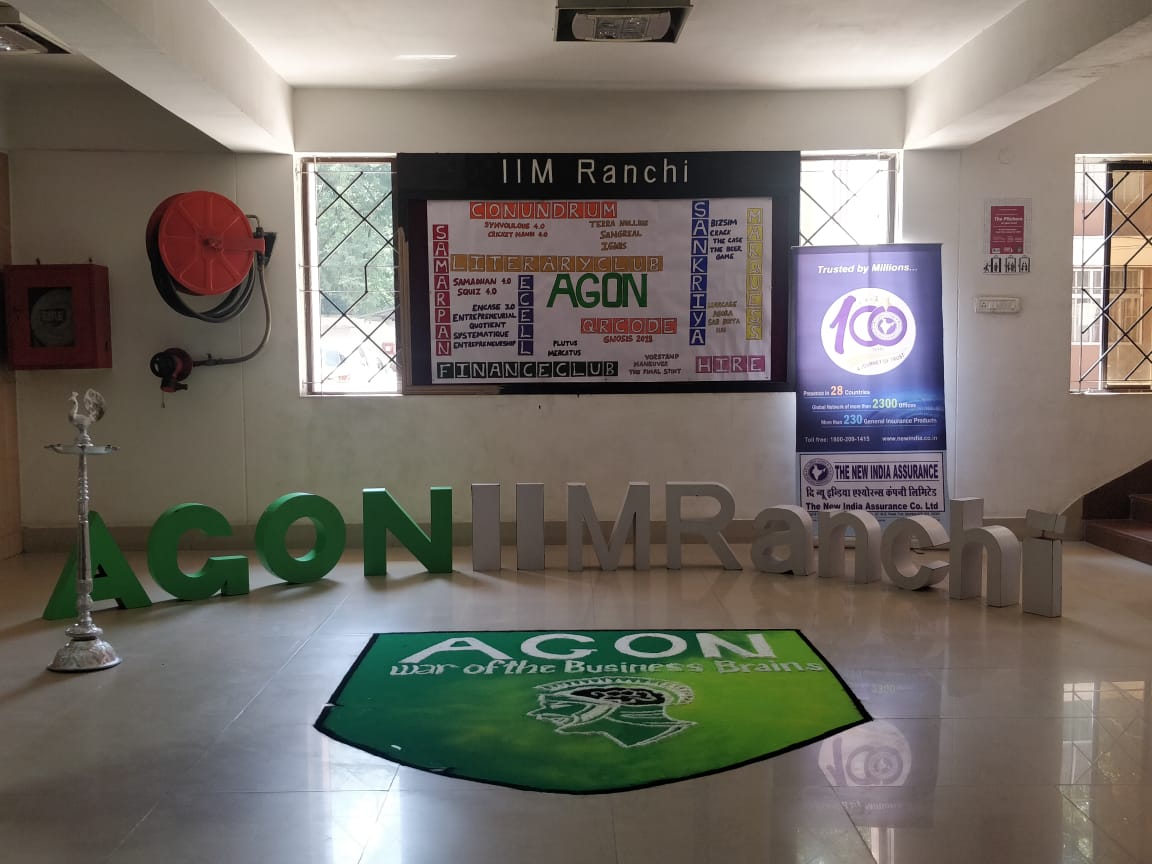 Shalabh Agarwal also visited IIM Ranchi as a merchandise sponsor for Agon 2018 – The Management Fest of IIM Ranchi. During the 3 day event, he attended a number of seminars, presentations and competitions. There he figured out several important concepts such as SWOT analysis, Goal congruence, Expectancy theory and the Seven S Model which helped him in improving his business.
Pratik Ranjan (an IIM-L graduate and one of the members of IIM-L Store) shares, "While MBA for many is about theories and principles, I was among the fortunate few who actually got the opportunity to apply them in real life. Thanks to Labket which helped us fuel our student venture – The IIM-L Store.
The seamless execution of complex orders and timely deliveries are things that are unique to Labket. More than any other thing, the drive to excel ingrained in Mr. Shalabh is unparalleled. I wish Labket the best for the future. Thanks for being a great stakeholder in The IIM-L Store's journey."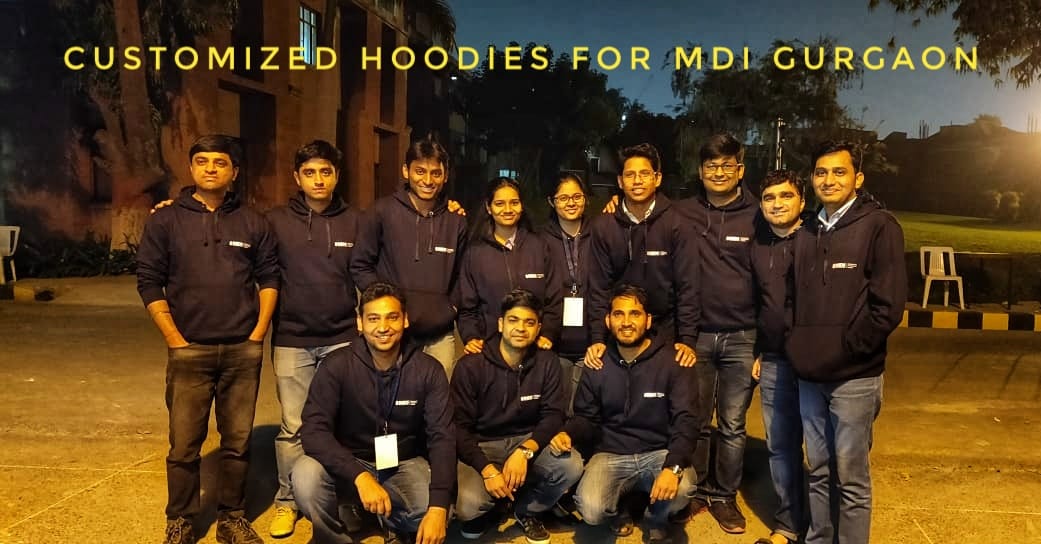 "Our aim is to become the most preferred brand for custom campus merchandise. There are only milestones in an entrepreneur's journey, but no destination," says Shalabh. They aim to target campuses as their key customers as they feel that working with students can help them in product innovation and also it is a faster and easier way to get feedback on their products and services. This, in turn, will help their company to have a Unique Competitive Advantage (UCA) ahead of its competitors.
From dreaming to study at an IIM one day to supplying merchandise to so many of them is a triumphant journey in itself and the founder feels that it has been an amazing learning experience for him to work closely with students from some of the most reputed B-Schools in India.