The syllabus for the Quantitative Aptitude section in CAT might seem vast at first, and quite daunting especially for those from a non-engineering background. With the exception of CAT 2018, this section has been easy to moderate in terms of difficulty. And there is no doubt that this section is a major contributor to your overall percentile.
So, how does one go about preparing for this section? Perhaps this strategy could help.
There are a few topics that are almost always tested in CAT. Namely:
Geometry
Averages, Mixtures, Alligations
Simple and Compound Interest
Time and Distance
Numbers
It is of utmost importance that you master as many of the above topics as possible in order to safely attempt 50% of the questions.
The other topics include:
Time and Work
Percentages-Profit & Loss-Partnerships
Permutations & Combinations
Probability
Progressions and Series
Quadratic Equations
Ratio Proportion
Functions & Graphs
Inequations & Modulus
Trigonometry
Statistics
Indices-Surds
Simple Equation
Leave No Concept Unturned
It is important that once you list down the topics, you understand where your strengths and weaknesses lie. Do not make the mistake of spending too much time on your strong topics and neglect the weak ones. Each topic in this section is a different ballgame altogether, so it goes without saying that one must be above average in all topics and great at few, in order to succeed.
Finish going through all the concepts and solve Level-1 questions from Arun Sharma by mid-August. This would mean, you will need to devote an hour and solve at least 30 questions on a daily basis.
Maintain notes of all the concepts and revisit them on weekends.
Accuracy, Accuracy, Accuracy
There are three elements to securing a good percentile in QA: Accuracy, Selection and Speed. Let me show you how improving your accuracy will impact your overall score.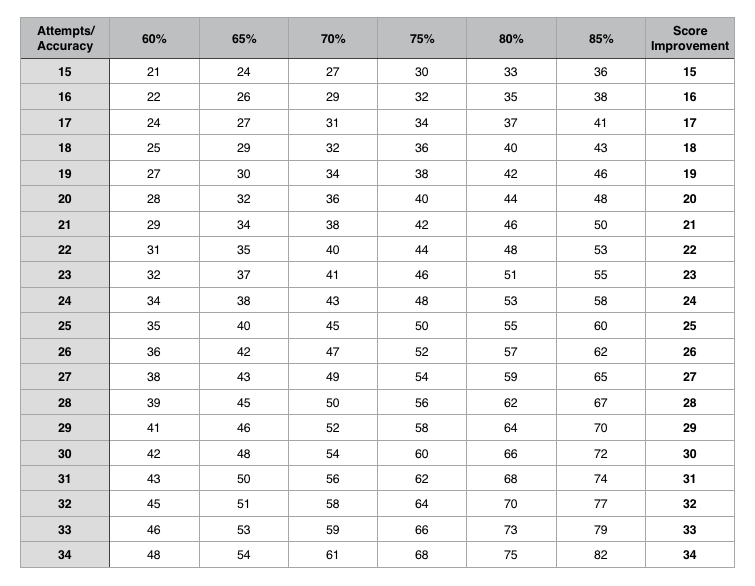 It is clear how improving accuracy will help one improve their score.
Drop Your Ego And Move On
The key to accuracy is selection. Do not spend more than 30 seconds on a question at the first glance. If you think a questions is going to take more than 60 seconds for you to solve, mark for review and move on. You can come back and solve it once you have glanced through all the questions at least once.
Attempt all the easy questions at first, move on to moderate questions during your second round and keep difficult questions for the end.
One of the most important advantages of CAT as opposed to GMAT, is the freedom to revisit questions. Make use of it. This applies to all sections, not just QA.
More Mock Tests, The Merrier
The best advice anyone can give would be to give as many mocks as possible before attempting the CAT. Practice as much as you can. For QA, sectional tests by any of the coaching institutes would be the right way to go about it.
Keep track of your attempts and accuracy in each mock test. Analyse the mocks to diagnose the reasons behind your accuracy.
Analyse the mocks even if you have secured good marks in this section. It is always good to know alternate and faster methods to solve a problem.
Note, the key to scoring more is owning your mistakes and improving. You cannot expect to score more if you do not rectify your mistakes.
I hope these tips will help you in your preparation for the CAT. All the best!
Do leave your queries in the comments below. I'd be happy to answer them.
Preparing for CAT 2019? You may also be interested in reading these: