---
On joining the company as an intern, how has your onboarding experience been like?
Even though my internship was online, the onboarding process was as smooth as it would have been in an offline setup. We received regular communication directly from the company - right with getting the offer letter a week post SIP to notifications on our goodies and the online nature of the internship.
The recruitment team was very warm and welcoming. The first week consisted mainly of getting us onboard the company culture, work environment, access to help and resources, and internship evaluation. Considering the COVID scenario, special emphasis was placed on conveying the benefits and help that one could avail in case of any need.
---
How has your interaction with the team members and colleagues been like? How will you make sure to leave the best impression on your supervisors by the end of the internship?
My introduction to teammates was initiated by my manager's manager. This not only meant I got to interact with my immediate associates but also teams working on related problems. I took the brief interchange as an ice-breaker to talk about my problem statement with the idea that it would help in quickly setting the context of future chats should I need any assistance/suggestion in my project.
I believe what supervisors really look for is a proactive candidate keeping them updated about his/her work. I started my stint by drawing a week-by-week deliverable chart along with a project charter post discussions with my mentor. Since my manager is already handling an upcoming product launch, I intend to use the classic stand-up call format on a weekly basis to provide him bite-sized updates. It'd be in form of a mail detailing the work I achieved, what I plan to do next, and blockers/requirements (if any). I've scheduled bi-weekly connects with my supervisor and monthly connect with his supervisor to keep both of them involved with all the developments. When faced with a blocker, I intend to leverage my connections in the team and outside as means to ask for help. This would not only help in professional development but also showcase that I'm willing to collaborate and exhaust all sources of help before asking for their intervention.
---
Tell us in brief, about the project you are currently working on and how is this project going to help the company?
Because of the NDA, I can only say that the project is an attempt at enhancing Microsoft's product and services for a largely untapped market in emerging economies. I'm glad to be assigned a project that sits close to the role I was hired for - that of a program manager. My work involves taking interviews for primary research, charting out user pain points and expectation, and coming up with ways for Microsoft to access those users while keeping their socio-economic realities in context. If successful, the product will lay the grounds for Microsoft to foray into the large yet impenetrable market.
---
Give us an overview of how you prepared for your summer placement season.
Summer Internship processes across B-schools can be quite random with a lot of variables determining where one actually ends up. As such, excessive preparation for a particular role can backfire. Companies too understand that students might not have in-depth knowledge on the role/jobs they're applying for and thus, show some leniency in terms of technical expertise.
A product management role does, however, demand some domain-specific knowledge. A tech background with work-ex significantly increases your chances (I'm myself a civil engineer but have 3 years of tech consulting experience). If you don't have this but still aspire for prodman roles, try getting internships/case comp wins in this domain.
The first step into preparing was to have a grip on keywords used for this industry (think about MAU, MVP, Agile, etc). Idea is to not get stumped by terms you're expected to know. ProdMan preparation channels such as Exponent, The Product Folks, Learn PM with me, etc) helped in understanding concepts through case examples. Taking help from seniors who had successful internships in prodman roles was beneficial in gauging the expectations of recruiters and presenting answers in a structured format. Finally - this goes without saying - taking up prodman and software domain competitions on D2C.
---
Based on your internship experience till now, what are some necessary skill sets one must be prepared with before starting an internship?
Research skills - research methods, preparing comprehensive surveys, interviewing skills - help if you're put into an early stage product role, where focus is more on developing a good research model. A product only succeeds if it gauges the customer requirement properly.

Technical skills - basic programming and jargons - although one is likely to have coders for assistance during internship, it does help if you're comfortable talking in their language and understanding technical limitations/potential. Eg: SQL knowledge helps if you're working on and refining datasets.

Wireframing - Again, it'd be great to have a UX designer for aid but in case they're not, one should be able to create basic wireframes. One can pickup design ideas/etiquette during internship but ability to functionally use tools - figma, balsamiq, even powerpoint - comes in pretty handy.

Presentation skills - At the end of day, a PMs role is to get everyone onboard their idea of what/how a product should do/look; and this can't be achieved if you don't have good story-telling skills. Presentation here isn't limited to powerpoint but is indicative of creating a gripping narrative for your project/proposal.

Delegation skills - A key success driver of internship will be delegating between teams and going through iterative loops of improve

ments. Good, strong relationships with all stakeholders is imperative in that regard.
---
What are some new skills that you have developed while working in the company?
I've come to know about qualitative and quantitative research at a deeper level with their specific use-cases.

Interviewing as an art is something I picked up while shadowing experienced interviewers at Microsoft.

Understanding the emerging markets required a lot of research and shedding some preconceived notions. The internship exposed me to a lot of new information and collating them into insights/pain points while avoiding blind spots is something I picked up during the internship.
---
What are some of the challenges that you have faced in your internship and how have you overcome them?
The online mode with the ongoing covid situation made it very difficult to delegate between teams and get requisite information from them - I managed my way around by repetitively noting down the order of availability I needed from the team members and setting up time well in advance.
Since I had a large body of existing research and videos to leverage, I found it tough navigating my way through what is important and what is not - the only way it was possible was to grind my way through it. Data refining techniques using excel and power BI that was taught to us as internship prep modules came in handy
I'm not great at PowerPoint and faced issues in delivering a crisp presentation during mid-review. Taking inputs from multiple senior PMs helped in improving the story-telling aspect of my presentation.
---
Tell us about a situation where you were complemented by your Manager for your work.
The emerging markets are a tough nut to crack (and understand). Past research had given multiple insights but all that couldn't be bundled into a narrative to understand whether a new product was required or an improvement over the existing one. I was able to sift through the interviewee's verbatim statements and bring out the need to have a new product. Hailing myself from a small town helped in understanding the problems first-hand.
Being grounded in customer reality along with using my personal anecdotes to determine the future course of action was well received by both mentor and manager.
---
What have been your major learnings during the internship?
The overall exposure to the PM role is my most valuable takeaway from this internship. Thanks to my mentor, I got introduced to almost all the steps - right from primary research to deriving insights to understanding product fit into the company's strategy to finally, delivering mock-ups of what the final product would look like.
The fact that my suggestion has been sanctioned to be taken up as a pilot project is a great confidence booster as a PM.
---
Tell us about your final presentation of the project to your manager in brief. What was the toughest question asked during the presentation and how did you answer it?
My final presentation was well-received overall - thanks to the multiple demos I gave to the different team members and incorporating their suggestions. Since I had a lot of content to deliver, a lot of effort went into deciding which parts to present. Since I ended up suggesting a new product, the toughest question asked was how was the solution different from a particular type of (competitor's) product that already exists in the market.
I acknowledged the significant overlap and took my time to think over it, as the answer had to satisfy two conditions - showcase some novelty of product while adhering to the key research insights about the need of such feature. Having insights and verbatim statements in the appendix section helped here as I was able to answer the question while pointing to the pain-points that weren't addressed by the competitor's product. Acknowledging that there is a good chance that we end up competing with the said market leader and understanding the key differentiator was appreciated by my manager as an indication of good market awareness.Some advice that you would like to give to your juniors based on your internship experience.
Stay Positive and Be Yourself. Doesn't matter whether you are a fresher or someone with work experience. The internship opportunity in MBA gives you a chance to start afresh. It lets you witness the real corporate world closely which is different and way ahead in terms of what we study in books. So, make the best out of this precious opportunity. Try finding your strengths and areas where your interests align. There will be times when you are lost, feeling helpless and frustrated but trust me you are not alone. Hard work and perseverance will help you find your way out and win over the situation. Most importantly trust the process and enjoy it to the fullest.
---
Some advice that you would like to give to your juniors based on your internship experience.
Going back to the skills and traits I had mentioned as important, I'd say that Microsoft (and other PM firms) have a preference for people with work-ex. And that is because they're expected not to require as much hand-holding and be able to take up ownership. Being prepared with the key core skills can vastly fasten up the speed at which you work.

Be proactive in seeking opportunities where you can contribute - this not only shows you're going beyond the bare minimums but also gives you more exposure to the work that you may be assigned in the future (if you choose to work full-time in a similar role).

Understanding if the job/firm is the right fit for you is as much important as understanding if you're the right fit for them. Grab chances to interact with as many possible and get a hang of the company culture and setup.

Finally, constant communication with your mentor, manager, and other team members is a MUST. This not only helps you in line with the project goal and expectations throughout the 2 months but also find the right people to approach for any given problem.
---
What was one of the best moments according to you during your internship?
I don't have a particular moment as such because the entire experience was quite enriching. However, I will say that I couldn't have asked for a better project. It was not only relevant and impactful but also something that appealed to my core values. It exposed me to many realities and the design brainstorming sessions were deeply insightful. I will cherish these the most!
---
Final Week Picture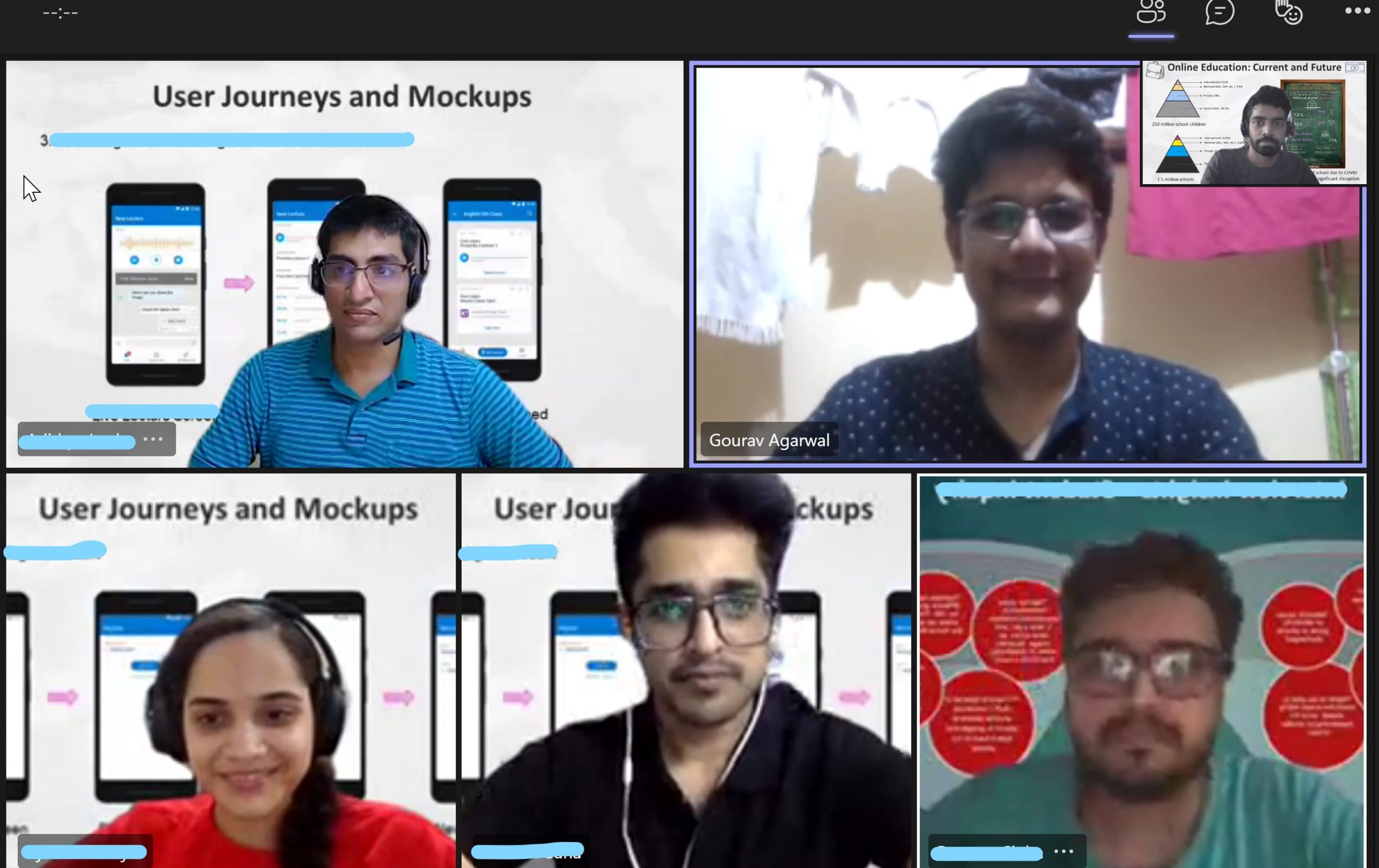 ***