(The companies below are in no particular order and the list is not exhaustive.)
If you have to be in a batch of 400+ in a business school in India, you better be at IIM Calcutta, one of India's best campuses when it comes to recruitment if not the best. Few other campuses can pull off such a high number of quality internship offers.
In our opinion, IIM Calcutta also has one of the strongest alumni networks among all business schools in India which is reflected in the long term association of companies with the institution. There are certain roles exclusive to IIM Calcutta and their hold on Banking & Finance is unmatched in the country.
IIM Calcutta, like IIM Ahmedabad has released day-wise list of top companies visiting the campus during summer placements. It is a great practice making things extremely transparent for companies and current students/aspirants. InsideIIM would like to congratulate both the institutions for doing it and is looking forward to seeing other top institutions doing the same. There are many institutions listed on this website who refuse to reveal even the day on which summer internships actually started!
What is striking is the kind of international stints and the locations where internship opportunities have been presented. There are offers across every continent in the world! While there are the usual I-bank and Consult stints and offers from Duferco (Switzerland), Frost & Sullivan (Singapore) etc. What caught our eye was the Berlin based gaming company 'Plinga' (founded in 2009) and the Singapore design consultancy firm Space Matrix. While the exact nature of the stint is unknown but sounds very interesting from the outside.
For all those who feel having a lot of women in the batch attracts better companies, please look at the table at the bottom. There are 33 girls in batch of 458 who participated (PGDM and PGDCM combined). Clearly, that correlation is someone's figment of imagination or is based on extremely weak data points.
Clearly, among all the reports published by us so far IIM Calcutta seems to have had the best Banking & Finance Placements. A look at the table below will tell you why we say that. FMCG space is perfect and there are great options in the technology space. Broad based opportunities are available at IIM Calcutta and it must have been a problem deciding which companies to apply for and what domain to do the internships in. In short, 'joka' is the place to be. Let the data do the talking!
Banking & Finance : Royal Bank of Scotland (15 offers)
Consulting : McKinsey & Co. (8 offers)
Slot-wise No. of offers accepted details :-
Slot 0 - Day 1 : 90 offers acceptance ( 64 Banking & Finance, 26 Consulting)
Slot 0 - Day 2 : 127 offers acceptance (across all domains)
Slot 1,2 and rolling placements (all the remaining)
Note that the domain break-up is only available for Day 0 offers.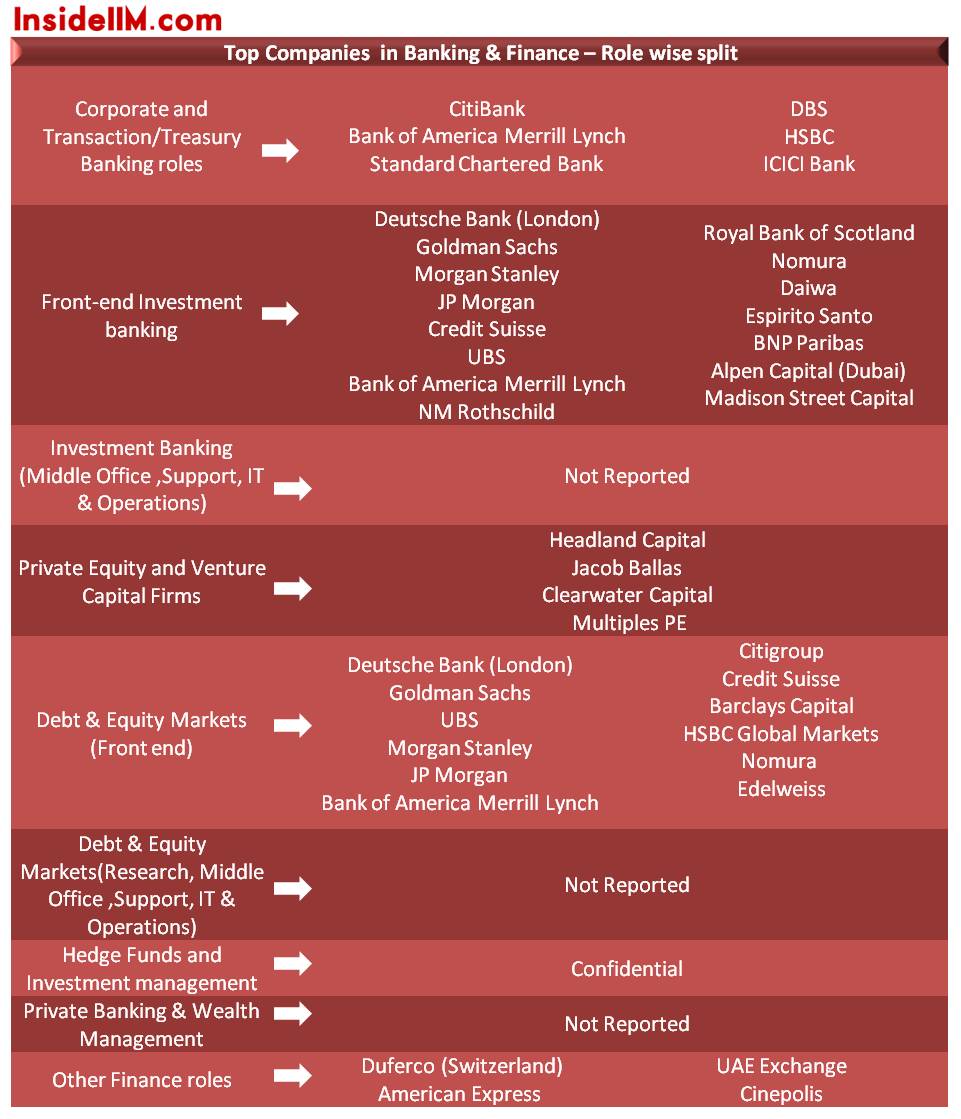 The below slot-wise details (text in green) have been provided by the placement committee of IIM Calcutta and we have reproduced the text below without any editing.
2 day Slot Zero (7th & 8th November)
Slot Zero saw a total of 217 students accepting offers for their internships, an unprecedented number of offers in Slot-0 so far. This number is in fact higher than last year's number in-spite of concerns of downturn this time, primarily owing to the participation of new recruiters many of whom have recruited for international locations from India for the first time.
Some of the big names that participated for the first time in Slot 0 are: Deutsche Bank( London – coming after a hiatus), Daiwa, Espirito Santo, Alpen Capital (Dubai) ,Headland Capital, Duferco(Switzerland), Global eProcure, Frost & Sullivan( Singapore) ,Cairn Energy, Supermax(International), Cinepolis
In addition to this, the first day of Slot 0 saw the participation of all our established long-term recruiting partners including bulge-bracket investment banks such as Goldman Sachs, Morgan Stanley, UBS, JP Morgan (all of which have hired for multiple locations including London, Hong Kong, New York, Singapore, Mumbai); Consulting majors such as AT Kearney, Bain, BCG, McKinsey; Private Equity firms including Jacob Ballas, Clearwater Capital Partners, Multiples Private Equity etc. The first day of Slot 0 saw 64 students hired in Finance (Investment Banks, PE firms) and 26 students in Consulting.
The second day of Slot 0 was dominated by some of the aforementioned new recruiters and our regular recruiting partners such as consulting firms Accenture, Deloitte, Feedback Ventures; FMCG majors including Hindustan Unilever, Proctor & Gamble, Kraft Cadbury, Nokia, Nestle, Pepsi, Coca Cola, ITC, J&J Consumer India etc; and other highly reputed organizations such as Tata Administrative Services (TAS), Amazon, Middle-east based Alshaya, Aditya Birla Group (ABG), Aon Hewitt, Hay Group, American Express, Microsoft, Edelweiss among others.
Slot One and Slot Two (9th-11th November)
Slot One which included the 3rd and 4th and Slot 2 which included the 5th day saw a never before seen diversity in terms of sectors.
 Internet based phenomena including Flipkart, GroupOn, Plinga (Germany based Social Gaming firm) were seen on campus for the first time along with regular recruiters like Yahoo, Infoedge on the 3rd day establishing the dominance of this sector in today's scenario.
 Consulting offers were given out by firms like KPMG, Cognizant, Wipro, Synergy Consulting while ICICI, Madison Street Capital, UAE Exchange and others gave out offers in finance.
 FMCG firms that participated include Marico, Heinz, Glaxo Smith Kline, Perfetti.
 Telecom majors including Airtel, Vodafone, Aircel along with Media firms like Times Group (which offered roles in Marketing and Brand Capital), Medical devices firms like Medtronic, Becton Deckinson and Singapore-based design consultancy firm Space Matrix added to the variety of roles that were on offer on the 3rd day of Placements.
 The 4th and 5th Days saw companies like RIL, RPG, Tata Steel back on campus to recruit in big numbers while new recruiters like Dr. Reddy's, HDFC, NIIT, Cummins, Raymond, Novartis, Cleartrip, Helion VC, Indus League, Edenred, Citrus Payments, Channelplay, Genesis Colors, Hector Beverages, Youth4Work among others made their presence felt.
 Slot One also saw an unprecedented number of International offers including some locations wherein students from Indian B-schools are being hired for the first time.
Rolling process (11th November onwards)
Following the Slot-based process, the rolling process was commenced. The rolling process saw a participation of 30 firms. The rolling process initiative was implemented for the first time keeping in mind the huge number of first-time recruiters on campus to ensure that both students and firms get ample time to interact so as to result in the best possible student-firm fit. The rolling process added to the diversity of roles in. Some of the firms that participated include McDonald's, Sharekhan, StoveKraft, Future Capital, Hanmer MS&L and General Mills. NGOs that were invited include Teach for India and CRY. On the expression of interest of interning with the public sector by the students, Bank of Baroda, SIDBI, ONGC and NTPC also participated.
Team InsideIIM.com wishes to thank IIM Calcutta placement committee representatives for sharing the role wise classification as per the insideIIM format and also share with us day-wise details. All the role-wise splits and top company mappings were run through the Placement Committee of IIM C before this story was published. The commentary around every statistic (except the text in green) is strictly by people at InsideIIM.com and the IIM C placement committee has not played any role in it.
This is the seventh in a series of reports that InsideIIM.com will bring to you. We are committed in bringing you a complete picture. We will also ensure that no irresponsible reporting is done on this website. Attempt will be made to verify the data with the institution before any publishing is done. However, lack of response from the institution will not prevent us from providing insight to our readers.
You may also like to read: