"No 2 fingers are the same" goes the popular adage. For years together, Indian B-schools especially the IIMs, through their procedure, have ensured that the 'fingers' remained the same, thanks to their fascination for fresh engineering graduates (which is as deep-rooted as Angelina's love for child adoption). But given recent changes in the admission and selection criteria of the top management schools in the country (which some may protest as "forced diversity"), it does provide for some mix in terms of age, background, colleges, past profession etc.
Having spent a few months in one of the premier management institutes of the country, it is fun observing this diversity exhibited by the different denizens of the college who cut out all the 'sameness' and make the campus the place it is. Listed below are a few of these "types". Read on:
Take Your Career To The Next Level. Ask Our Experts Anything. We Will Respond Within 48 Hours.
The placement obsessed type – This guy's sole objective for being on campus is to lap up a job in a company which fills his deep pockets as much as the executive coffers. He has already worked out his 'ROI', finished calculating his opportunity cost for being in the institute and has reached a ballpoint figure of the package he ought to receive from his prospective job. His CV and HR questionnaires, for him, are worth their weight in gold. He is more vocal in the company pre-placement talks than Sushma Swaraj in Parliament. As he dines along with his friends in the mess, he is busy analysing the Dove ad commercial on TV before the summer placements. Life for him is one big GD, where he has to grab his chances and ace it to perfection.
The networking type - Mostly seen lurking around during college functions, alum cell events, business competitions etc. carrying a fake sweet-talking accent; he doesn't let go of an opportunity in latching on to company executives, alumni of the institute to 'network' and have a fruitful (painful for the others) discussion. He is quick to pounce onto any influential tuchcha or senior (preferentially a PPO holder) in his quest to get into their good books, stand out and be shortlisted for company interviews. His presentation skills are awesome and he believes that presentation in everything is paramount and mere performance is insufficient to get you 'up there'.
The wacko – Dirty Torn jeans, a T shirt featuring "Ruck Fules" or a Jim Morrison picture, long hair, a beard begging to be shaved for ages and the body pleading for a bath. These are some typical attributes of a classy 'wacko'. He prides himself on being a rebel and believes in living for the moment. Nicotine and Hard Rock are his perpetual partners. His dorm room looks ravaged His table is a cacophony of wires, speakers (blaring with metal), case materials and books, the brimming ash-tray and the 'jhola' in which he carries his books to class. He is the main guitarist/ singer in the music club of the college/star quizzer proficient in word games and jamming, enthralling his dorm and class mates once in a while. Floyd is god for him and he keeps a safe distance from books until the mid-terms are a few days away.
The 'uncle' – This is an entity who commands the same position in campus as a senior citizen drawing regular pensions. These are the guys who have spent a sizeable ( Definition of sizeable time: > 3 years) time in working hard and earning enough before they decided to apportion a month's salary for buying forms and test series, slogged their back-sides off to prepare, gave CAT/other exams one final time and eventually got through to an IIM . An uncle is considered an epitome of sagacity, calmness, 'know-it-all-ness' and perceived maturity which is an antithesis to coolness. The tuchchas or seniors, who are much younger in age, have a hard time acknowledging him as a fachcha, have no clue how to 'interact' with him (or address him), or even give him a dorm name. He is one who cannot distinguish between Stochastic Calculus and Cantonese since he is past his 'prime'. His work-experience largesse invariably goes against him during the summer placement interview short-listing.
The 'bachcha' (mostly an IITian) – Fresh out of grad school, he is one who has just forsaken a million-dollar offer from FB/Google for his management college admission. He has a slew of winning achievements against his name including international Olympiads, medals, inter-collegiate basketball/cricket/football tournament. He is confident, open, brash, has a theoretical view about things and still feels insecure of his JEE AIR which is way below that of his batchmates . He went to IIT with the dream of making it to the IIMs. He considers management as a 2-year extension of his grad life and tops all the courses which are even closely related to numbers. He romances the prospect of getting finance/consulting jobs and worships i-bankers, which is his way of keeping 'all options (and mind) open'.
The analyst – He is the air of an intellectual about him. Invariably an engineer, life for him is more about thinking, recommending, stating, analysing, reporting..errr.. The execution part?? Never mind ! He is reasonably good with numbers. and words. He dissects Sachin's batting in the boxing day test to the point enough to put Richie Benaud to shame.. He prides himself on knowing everything from Financial markets to vegetable markets, from costing to the casting couch, from cricket to corporate as others around him listen with awe. His love for numbers extends to the cut-throat decimals of the CAT score as he juxtaposes his rank with that of the others and wears it on his sleeve. B-school rankings are ultimate fodder for his animated discussions as he diligently compares the current institute with its 'competing' institutions and comes up with his list of improvements needed for it to ace the rankings.
The knowledge seeker (the least found species) – He is here to learn. At least that's what he tells people. He maintains a relatively low profile; His actions are not clouded by talks of record-breaking pay-scales, base salaries or CTCs. For him placements are just one of the many things in the institute and he wonders what the fuss is all about. He portrays an austere image about himself. He is a participant of every class participation in every course from Organizational Dynamics to Financial accounting and clutches on to every titbit of data.
The stud - He is suave, sharp, has a hint of arrogance about him and a swagger to go with it. Armed with a flawless profile, he has just arrived after quitting his high-paying analyst/trading/associate job at the GS or the Big Mc India office. This is enough to inspire awe among the less-gifted junta around him who, in whispers, question his motive for leaving his job and coming her to compete with lesser mortals. He is clear about his intentions; he is here for the sheer 'brand IIM'tag and not the 'learning and value-adding' part. He is sure that he would be the toast of any Day 1 recruiter for summers. He cares not for Class participation CP marks and wears a sly "you poor losers" smile on his face when there is a bout of arbit CP in marketing/organizational dynamics class. Studs preferably find it easier working and networking with other studs, will form their own stud study groups given a choice
The muggu - Bespectacled, side-parted hair, an abnormally thin/fat frame and a look in his eyes which suggests that he was looked in a room with books for the past 6 years of his life. These are some striking features of a muggu. The look of sheer surprise on his face while watching a badminton game from his room or other worldly activity, also gives this away. He has the history of having aced all the draconian exams starting from his 10th, 12th, the JEE (an AIR which can be counted on your fingers) and is the department topper. Given a choice to discuss between Katrina Kaif and the technical festival back in college, he would choose the latter. He comes to class prepared with all the cases, loves CPs, is excited about quizzes and his remedial sessions serve as the ultimate source of refuge for the entire class during trying times (mid-terms/ end terms)
The patriot/the leader - A netaji of sorts, he is a no-nonsense guy. He will not take lightly to anything negative said/printed/written/heard about his institute, in any form of media. He goes about his job with the air of a political party spokesperson (due to some sophistication picked up during the days in the institute) and rebuts these supposedly false claims about his institute. He is very active on the PG pages, doling out truckloads of advice on preparation for CAT, GDs and interviews to the starry-eyed aspirants thus becoming a demigod in their eyes. His patriotism further extends to the social networking domain in the form of a separate group to promote his institute and its legacy of the past many decades. He is the first to jump into the fray ofthe elections for every possible position, the most vocal campaigner (with talks centred around 'collective responsibility, serving the batch at large etc.). He worries not about his grades as long he is able to get his share of eyeballs.
(This article was updated on 29th December 2011)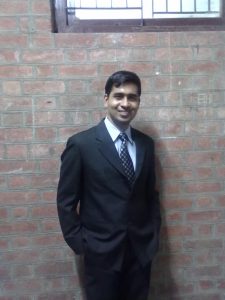 The author is a graduate of IIM Ahmedabad (Class of 2013). He graduated from NIT Trichy in 2007 and worked for nearly 4 years in Mahindra & Mahindra, Automotive Sector in the vendor management function. Besides travelling & trekking, his interests include yoga, reading (fiction) and blogging. His blog page is http://my-newsense1.blogspot.com.