Practice does not make perfect. Only perfect practice makes perfect.
During the course of my preparation, I had taken about 60 mock tests for CAT in a period of about three months. Most of the learning I had was from analyzing these mock tests, identifying and working upon my weak areas and making strategies for the next mock based on the analysis of these mocks. I used to take the mock tests of all the big three coaching institutes – TIME (AIMCAT), IMS (SIMCAT) and CL.
The process of analyzing mocks and deriving benefit out of it is a circular one which starts before you start attempting the mock. How is that?
Things To Do Before Taking A Mock Test
Before you begin taking your mock, these are the things that you should be doing :
Go through the analysis of all your previous mocks, identify your areas of strengths and weaknesses so that you can attempt questions accordingly.
Maintain a proper rough sheet so that you can go through it while analyzing the mock. This will enable you to figure out where you are committing calculation errors and other silly mistakes.
Once you have taken the mock, make sure that you do the analysis within 1-2 days of the results and solution getting published. As the results come out typically after 2-3 days of taking the mock (depending on how soon or late in the mock window you attempt it), it's imperative that you analyze it as soon as the results come out.
Now comes the most important question - how do you do the analysis?
This is what I used to do while analyzing the mocks :
- Solve all the questions that I couldn't solve or got wrong during the exam without any time limit. This enabled me to reach the solution on my own, which helps in retaining it for a longer period of time.
- Bookmark the problems which had a different kind of question, a novel method of solving it or had anything which I would want to revise again.
For the questions I could solve correctly –
a) Going through the solutions provided to check if the solution had a better/quicker/different method of solving it.
b) Comparing the time taken by me and others in solving the problem. If it was more for me, I went through my rough sheet to figure out why I took more time than others. If l had taken lesser time than average, then I would pat myself on the back and move on.
c) Checking the statistics on the percentage of people who had attempted the questions, and the percentage of people who could get it right. If these percentages were too small, then I made a note of not attempting such type of questions as they tend to be difficult and time-consuming.
For the questions that I couldn't get right -
a) Going through my rough sheets to figure out where I did mistake in solving them. This is where the importance of maintaining a neat rough sheet comes in.
b) Trying to solve the question or set again and checking the solution, if required bookmarking them.
For the questions that I didn't attempt -
a) Trying to solve them again for some time and then checking the solutions.
b) If it was an easy question that I had missed, then figuring out why I had not recognized it as easy and attempted it.
c) Noting down the number of questions I got right, wrong and didn't attempt in an excel sheet. Over the time, I had an excel sheet from where I could see which are my strong and weak areas (For those who are wondering how to do this, use the Pivot function of excel to get a consolidated summary of the individual mock tests data that you had entered.)
d) Noting down the rank, percentile and mark that I obtained in the mock for every section in the same excel sheet. Again, this enabled me to keep track of my performance over time and take some action if it was falling.
Tracking Mock Test Percentiles: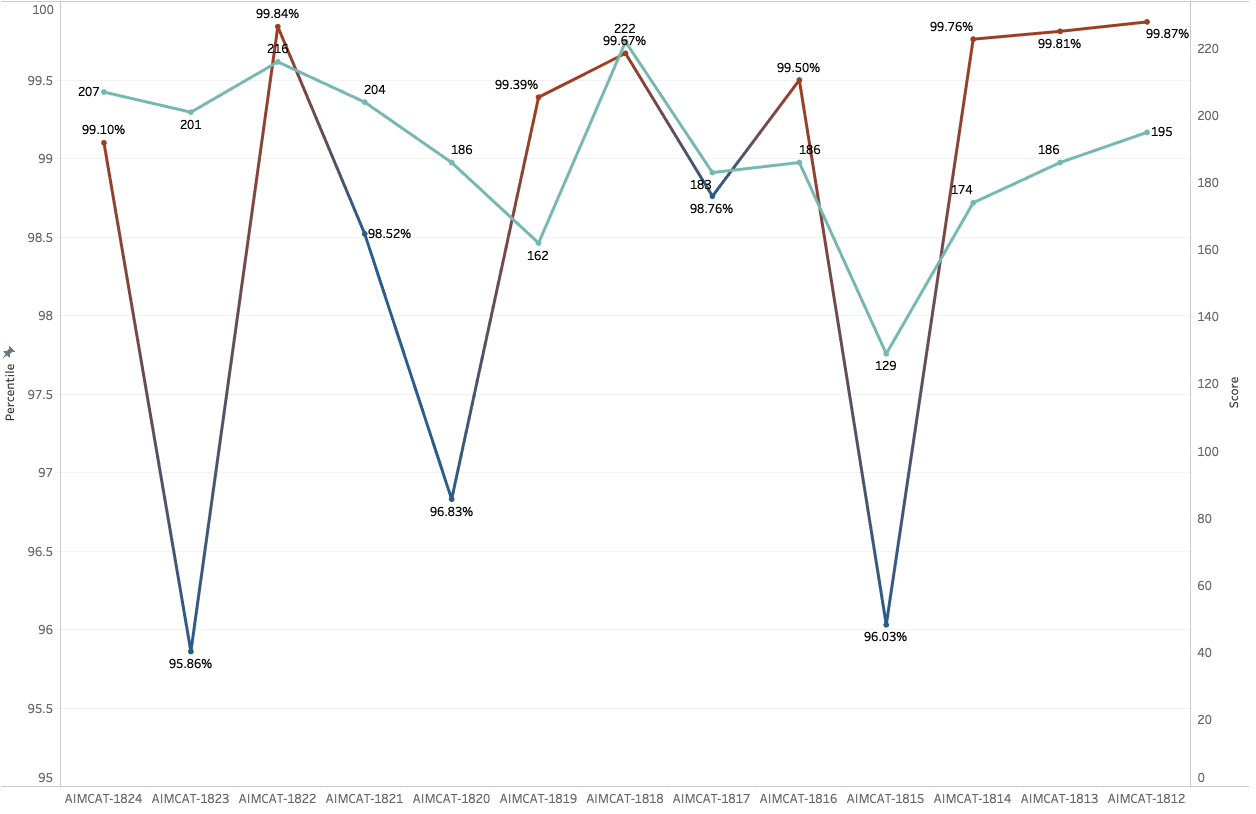 Hope these suggestions help you in analyzing your mock.
All the best for the upcoming mocks and for CAT 2019!