Haven't we all seen those Wall Street or Dalal Street movies and awed at the characters and their smart, calculative moves? Or read about Warren Buffet's simple rules of investment and thought that "Well, I could do this". Or heard yelling and commotion in their heads while picturing a stock market trading floor?
Picturing yourself standing on the trading floor? Finance is inspiring sometimes, but intimidating most of the time. Envisioning those highrises of the Wall Street or Dalal Street, fancy suits, inimitable flair or the frantic stock market tickers, can be nerve wracking. But what we're here to tell you is that it need not be that way. Stock Markets, Investment Banking and Finance are cool and you know that!
Take Your Career To The Next Level. Ask Our Experts Anything. We Will Respond Within 48 Hours.
Why Finance? The myriad worlds of Stock Markets, Investment Banking and Finance have always been construed as dog-eat-dog and yet they are the powerhouse of all organizations, industries and commerce and even your life. Think about it. It drives everything from personal finance & insurance to savings and investments to healthcare and retirement planning and what have you!
Technicalities, jargons and constantly changing trends make Finance seem much more complicated than what it really is. Break it up and things become really simple and start to make sense. We're here to do exactly that for you; untangle things, like we always do.
Introducing again, on popular demand, the upgraded & renewed
2nd InsideIIM Finance Festival!
This 8 day festival, we deep dive into the world of finance with fundamentals of finance, stocks and markets, investment banking and trading. Here, you will learn from industry stalwarts who will deliver this knowledge with real life examples of their careers along with the nuances of the industry.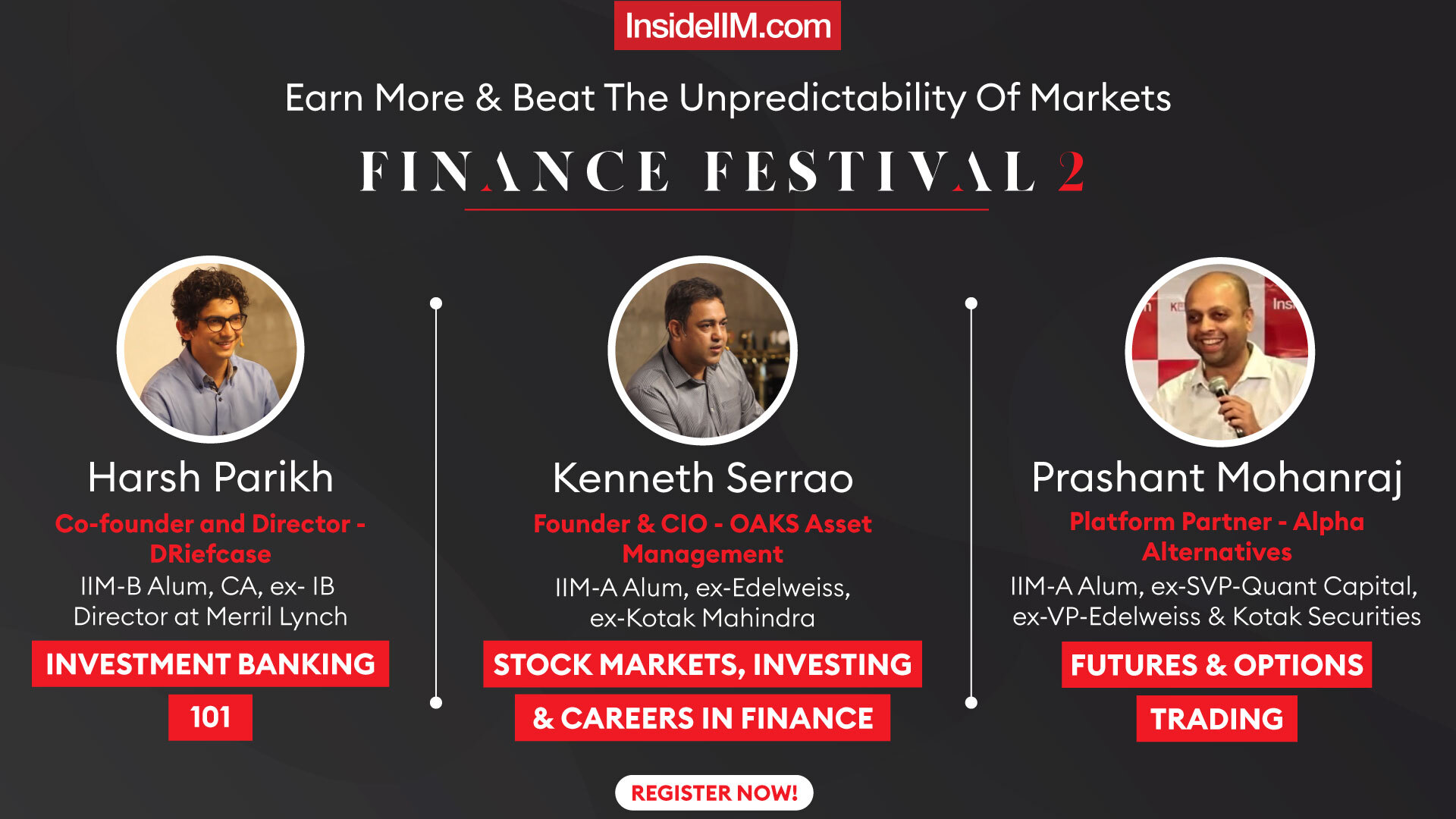 Who Should Sign Up For The InsideIIM Finance Festival 2020?
Finance, Investment Banking, CA and Trading professionals - Learn to grow and invest money more profitably. Add to your managerial skills and stand out among fellow professionals

MBA Students - Get ready for your dream finance recruiter interview

MBA Aspirants interested in Finance or Consulting - Get ahead of your peers by getting practical, real-world finance knowledge

Entrepreneurs - Unlock the true potential of your business by getting a strong handle on finance
What will happen at the 2nd InsideIIM Finance Festival?
Dec 6th - 8th - Stock Markets, Investing & Careers in Finance - Masterklass with Kenneth Serrao
Kenneth Serrao, an IIM Ahmedabad alumnus, has been a wealth manager, stock trader and is now a venture capitalist. He was the former Vice President - Kotak Wealth at Kolkata Mahindra India and UK, and the Senior Vice President at Edelweiss Capital.

Dec 11th - 13th - Investment Banking 101 - Masterklass with Harsh Parikh
Harsh Parikh is an IIM Bangalore alumnus, who has worked with Bank of America Merrill Lynch as Director - Investment Banker for a decade. He is also a Chartered Accountant.

Dec 18th - 20th - Futures and Options Trading - Masterklass with Prashant Mohanraj
Prashant Mohanraj is an IIM Ahmedabad alumnus and is currently Platform Partner at Alpha Alternatives. Prashant has 18 years of experience across MNCs and large banks in trading and capital markets. Prior to this, he ran prop trading desks at Quant Capital, Edelweiss and Kotak Securities.

Access to Fundamentals of Finance - Recorded Course by Miti Vaidya
An online recorded module of 4.5 hours that you can take up anytime you want to build the basics that will help you for an interview for any finance job or just to understand finance to make better business decisions. This course, created by Miti Vaidya, who is a Chartered Account, a former TAS employee and an XLRI alumna. Take a look at the modules -