Did you know - a study by GMAC has revealed that a whopping 35 percent of MBA graduates at the world's leading business schools want to pursue a career in Finance. The story is not dissimilar in India, where MBA students have revealed that the BFSI sector is amongst the most desirable sectors and roles to work in - case in point being IIM Ahmedabad, where Finance emerged as the second most in-demand function for the MBA batch of 2021. So, which BFSI companies do MBA students flock to? Which international and Indian banks and finance companies do IIM students aspire to work with? To find out, we asked them!
---
The Usual Suspects - Goldman Sachs, JPMC, Morgan Stanley Top-3 BFSI Companies In 2021
In 2021, the top banking and finance companies that MBA students want to work with are Goldman Sachs, JP Morgan, and Morgan Stanley - the big three of Wall Street. These leading investment banks are some of the largest in the world, and also notoriously difficult to get into - Goldman Sachs has a lower acceptance rate than HBS.
Take Your Career To The Next Level. Ask Our Experts Anything. We Will Respond Within 48 Hours.
One of the biggest gainers as compared to last year is American Express, which finds itself amongst the top five finance companies to work with after MBA - a huge leap as compared to last year's rankings. Other big gainers include Blackrock, Aditya Birla Capital, and Avendus Capital - all of which have made their debut in the top-10 club. Companies/organizations that have slipped include the World Bank, Deutsche Bank, Citibank, and Credit Suisse.
This year, two Indian companies - Aditya Birla Capital and Avendus Capital - feature amongst the top 10 finance companies to work with after MBA. In recent years, there was a slight uptick in preference for VC firms, but that trend appears to have been transient.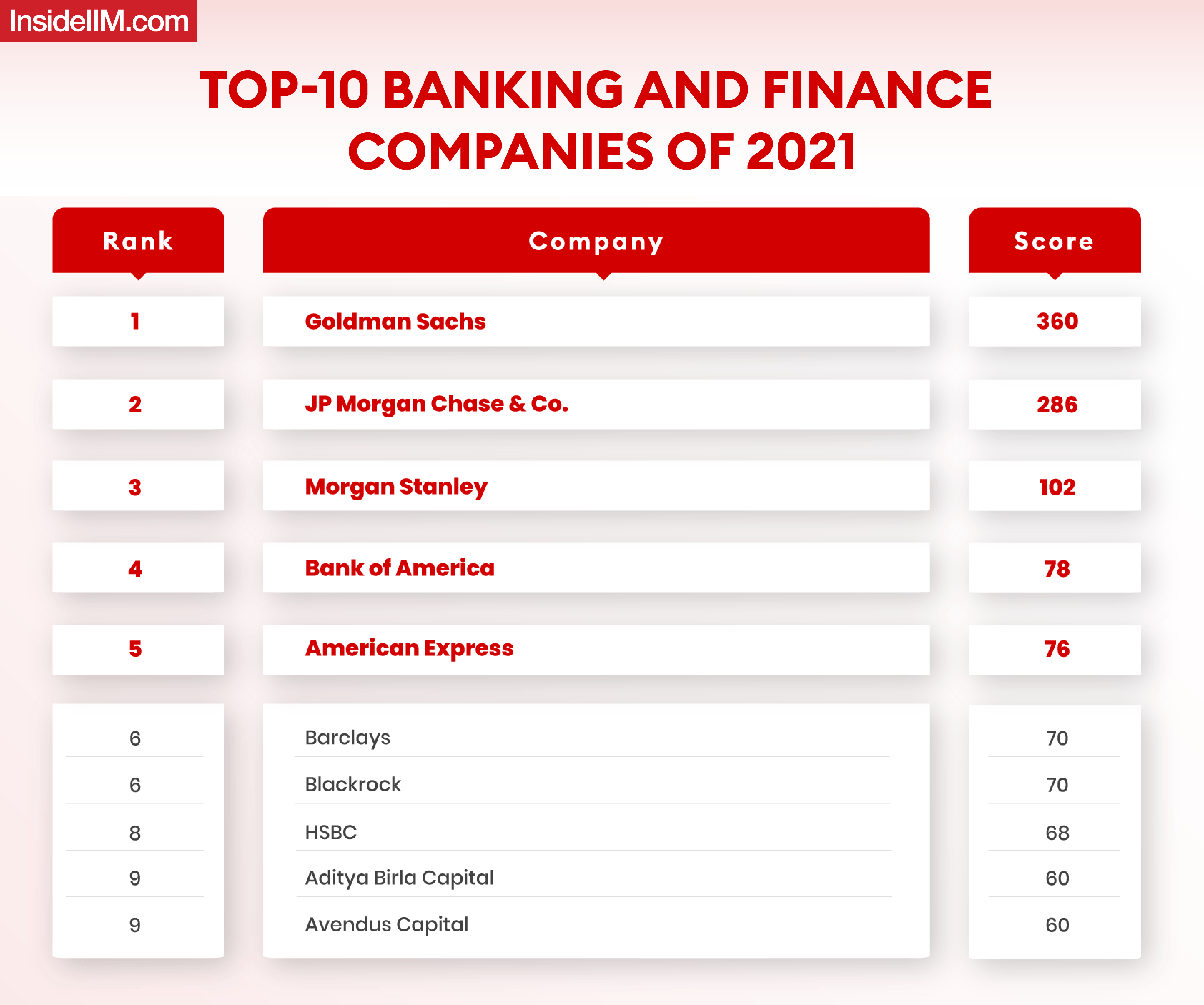 ---
Aditya Birla Capital, Avendus Amongst Top-3 Indian BFSI Companies To Work With After MBA
Amongst home-grown companies, the pole position has been taken by Aditya Birla Group's financial services arm - Aditya Birla Capital. The recently listed fintech giant PayTM also features amongst the top five Indian BFSI companies to work with after MBA. Other companies featuring in the top finance companies in India include Kotak Mahindra, L&T Finance, and Tata Capital.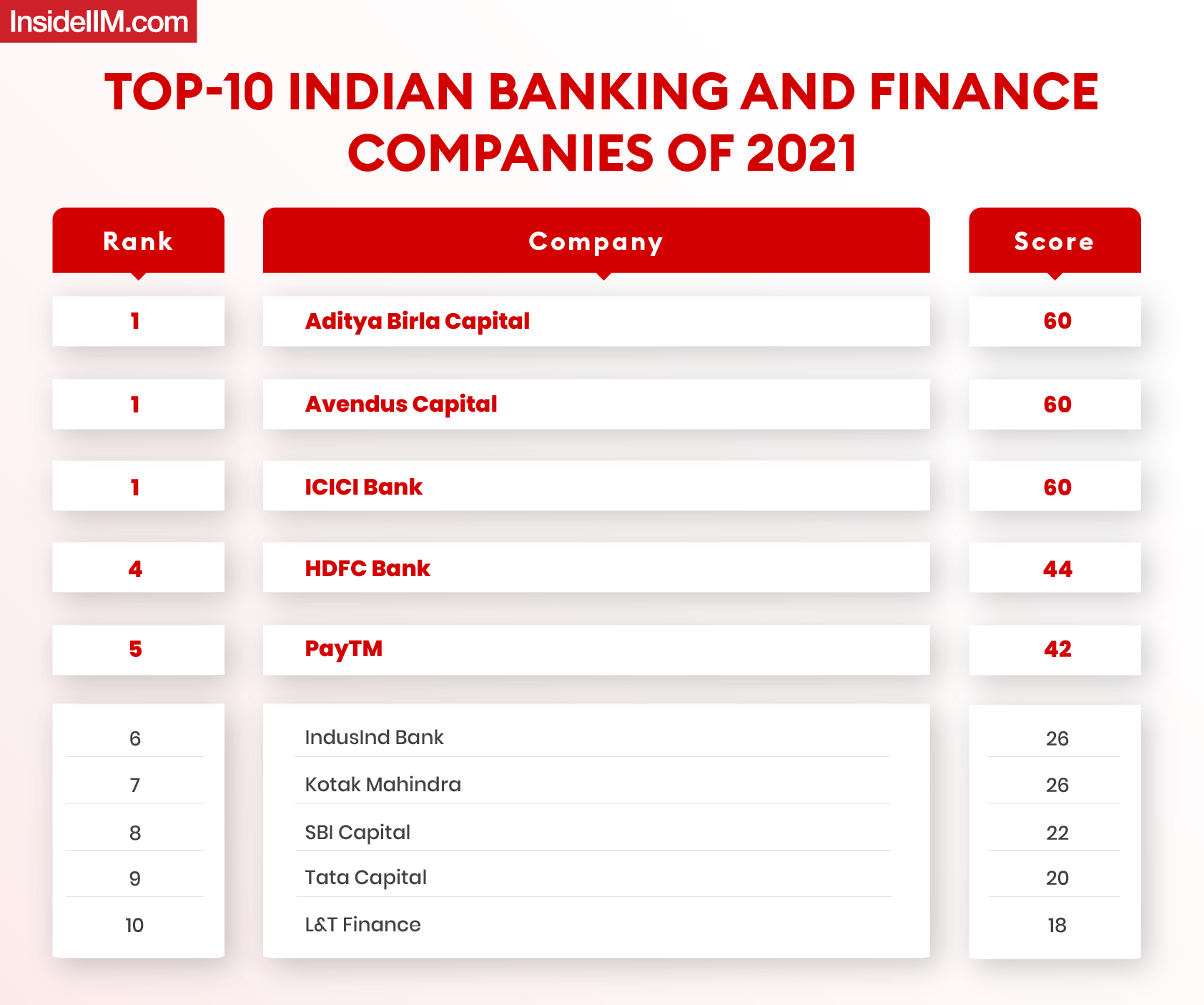 ---
How Did We Make This Report?
In 2021, we reached out to students from India's leading business schools to understand their thoughts and preferences when it came to the campus recruitment process. In the process, we gained some incredibly valuable data, including MBA students' most preferred BFSI companies to work with after MBA. To arrive at this list of top finance companies to work with after MBA, a weighted score was computed.
Students responding to this survey belong to business schools like IIMs ABCLIK, as well as second and third generation IIMs. Respondents also belong to campuses such as FMS, XLRI, SPJIMR, ISB, MDI Gurgaon, SIBM Pune, IIFT, and NMIMS Mumbai amongst others. Other campuses include IMT Ghaziabad, SCMHRD, Welingkar, KJSIMSR, XIMB, IMI New Delhi, and the IITs.