In this story, 99.95 percentiler and FMS Delhi student, Moinack Shaikh shares various tips for cracking the VARC section for all CAT 2019 aspirants. He first analysis the trend in the reading comprehension section through CAT 2017 and CAT 2018 and then focuses on tangible tips that you can adopt in the last few days!
Finally, it's that time of the year again. This year it's 24th November, and in my case, it was 25th the previous year. I am sure almost every CAT taker is anxious to face the D-Day. And let me tell you, with stakes this high, it's absolutely right to feel this way. But let me tell you, remove all the anxiety and fear by 23rd November and reach the centre with a fresh and calm state of mind. I followed this philosophy, and it worked out well for me. I feel, one of the best ways to relax and prepare for CAT is to read. This will create a flow which will help you be fast, accurate and also conserve mental energy for the next two sections.
Now coming to VARC, in this post I'll focus on Reading Comprehension because it holds maximum weightage as a topic – 72 marks.
CAT 2017 and 2018 Reading Comprehension Analysis
First of all, let's see the topics which have been asked in the last two CAT papers.
CAT 2017 SLOT 1
1.) Misconceptions about Vikings being only plunderers – (300-320 words) – History based
2.) Creativity is a social concept – (550 words) – Concept information based
3.) Utility of typewriters in the digital age – (350 words) – Modern and Old Tech-based
4.) Ramifications of the end of the internal combustion engine – (350 words) – Automotive based
5.) Subnivium and how it is impacted by climate change- (550 words) – Climate & environment based
CAT 2017 SLOT 2
1.) Ancient Maps and the positioning of North – (550 words) – History based
2.) Comparison between the printing press and I-phone- (550 words)- Modern and Old Tech-based
3.) Economic viability of hosting of Olympics by a country – (350 words) – Economics based
4.) Development of species – (350 words) – Anthropology based
5.) Social effect of Malls in the USA. – (550 words) – Social perspective of the author
1.) Happiness and Economics – (500-520 words) – Economics based
2.) Human elephant relationship- (500-520 words) – Nature – human relationship based
3.) Absence of WWII memorials in India – (510-530 words) – History based modern perspective
4.) Problem of single-use plastic – (800 words) – Environment based
5.) Influence of parental gene in mice. – (600-620 words) – Biology based
CAT 2018 SLOT 2
1.) Evolution of white-lipped snails – (550-575 words) – Biology based
2.) Saturn's rings and several of its moons – (600-620 words) – Astronomy based
3.) Evaluation based on metric fixation – 500-525 words) – Statistics based
4.) Access of the poor to government Services- (700-725 words) – Authors opinion-based
5.) Fallacy of Meritocracy- (650-700 words) – Opinion based
This analysis shows us that in CAT 2017, we had a total of 2200 words and CAT 2018 a total of 3000 words in RC. Hence, if we add the questions and options a safe estimate would be approximately a total of 4000-5000 words of reading processing and analysing in 40-45 minutes. You will like to leave 15-20 mins for Verbal ability.
Now in the last few days, I suggest reading from these websites
1.) The Economist - This magazine has a good mix of Economics, Political affairs, world affairs and editorials.
2.) Aeon- This website has a rich collection of topics from science, philosophy to technology and culture. Infact, CAT 2018 slot 2 had 2 RCs from this website itself.
3.) Arts & Letters Daily - This website comprises of Book reviews, literary articles, Essays and Opinions. It will help you understand the perspective of the author which is extremely crucial to tackle CAT RC's as they are opinion and inference based.
4.) Economic times - To stay in touch with the finance world of India and the world.
These websites will provide for an exhaustive list of related topics which are easy to read and quite a few times the passages are from these websites itself so that's an added benefit. I suggest that one must spend 2-3 hours reading every day, it is the same concept that one must practice running for 10 kms to be fast in a 5 km marathon. Keep switching topics and read topics which make you uncomfortable, on D-Day you should be indifferent to the passage no matter what comes up you tackle it with equal concentration and enthusiasm. This practice will help you set a tempo for D-Day and in five days you will find yourself in a flow and comfortable with any topic that comes your way.
Now solving RC questions, it is all about catching the author's intention in between the lines by locating the negation words such as But, however, nevertheless etc. Second is to understand the question and the intention behind the question. Many a time we tend to mark the answer we feel is being repeated from the passage and end up getting a -1 and also waste 1–2 minutes. We need to be really careful as to what the question is specifically asking.
Example: X liked pizza at this restaurant Y.
The question asks about X's choice in food. One option says X likes Pizza, you will have a high tendency to mark it but that's incorrect, the paragraph said he liked pizza in Y not necessarily in general. So never assume things to be universal, they are situational and questions trick us with options which dupe us into ticking the universal option. This is classic stuck between 2 options and marking the wrong answer dilemma.
Next tip would be to use the Question paper mode. It will be on the top right-hand corner of the test interface. You can see the benefits of it in the pictures below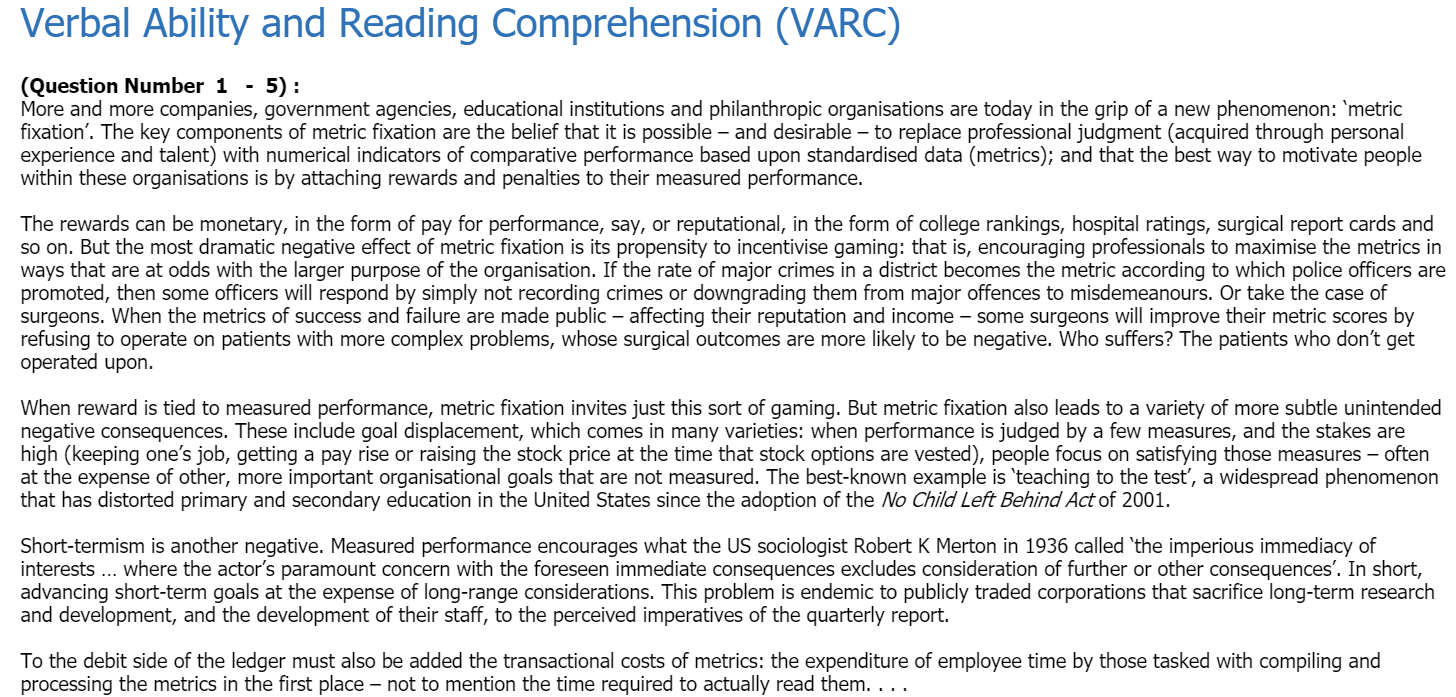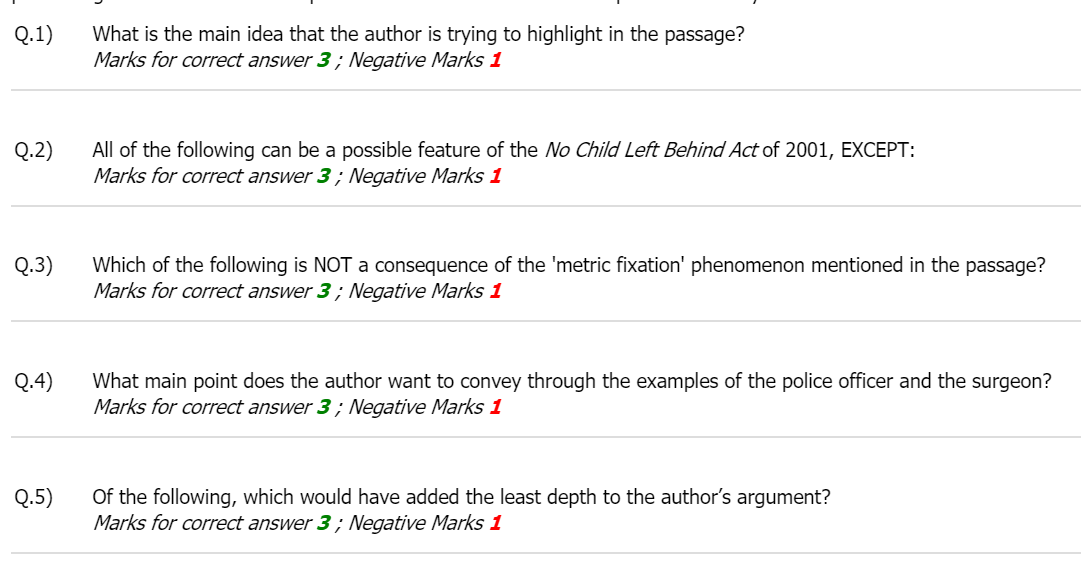 The passage and questions are visible to you in one go which enhances speed and retention. But never make the mistake of reading the questions first, it's always PASSAGE FIRST then QUESTIONS.
So just read well, give a few tests and mocks using the question paper mode and set the strategy. If your scores dip a little overall do no worry at all. Mocks don't define anything, rather it's the mindset you have on D-Day. I have seen 94 percentilers in mocks score 99.9 in CAT and 100 percentilers in mocks go as low as 97.2 percentile in CAT. Hence, relax and give it your best shot.
All the best for CAT 2019!
Hoping to see quite a few of you at FMS!
This is for everyone who wants to crack CAT 2019 exam. There are just 7 more days until one of the most important exams of your MBA career. All the hard work and countless sleepless nights spent perfecting your strategy will see the light of the day. On this page, find tips, strategies, how to calm your nerves, analysis of previous CAT papers to help you in your mission to crack CAT 2019.
The largest-ever batch at IIFT (Delhi & Kolkata) was placed across 96 companies with average stipend seeing an upward trend. While the highest stipend remained at Rs. 3,20,000, the average stipend stood at Rs. 1,68,000 - a staggering 13.5% increase despite a 5% increase in batch size. The average stipend offered in IIFT placements for the top 50% of the batch was Rs. 2,42,000 for 2 months. READ THE DETAILED REPORT HERE.
With just 10 days left for CAT 2019 exam, it is imperative that the candidates have a repository for the Checklists and Reference Material that can come in handy for their last-minute preparations. Keeping this in mind, here is a complete list of resources recommended by an IIM Indore Student that can aid the candidates in their preparation for CAT without them having to waste their time scanning through the tons of resources available online. READ HERE.