When you study business, you can choose from a variety of specialisations based on your interests. The possibilities are practically unlimited, ranging from accounting and business management to finance and business administration. In this process of a choosing a good institute and a career with global giants makes the study worthwhile. Lovely Professional University, recognized for its path breaking placements in global markets offers us a chance to engage with such giants.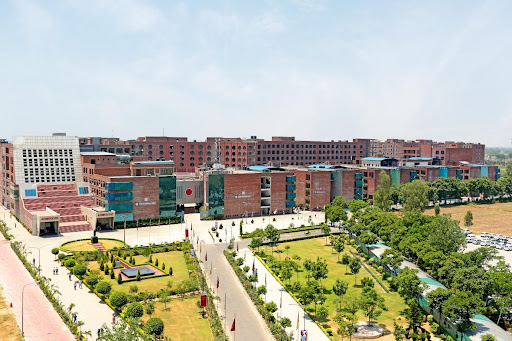 The kind of academic curriculum, placement drives, quality teaching, world-class infrastructure, global exposure, LPU has it all under one gigantic roof. It not only teaches its students cutting edge research methodologies but also prepares them to become professionals that top companies and conglomerates would love to hire. When it comes to management and business it exceeds the limits of Excellency.
LPU Placements | Vertos Placed in Leading Companies, Watch the video here!
Within two decades, the growth and development LPU achieved made it one of the largest and renowned universities in this country. Its global tie ups, innovation and placements drives have made it a one of the most popular universities especially in business and management studies. Microsoft and Google like big giants have considered its students who are working there and making LPU proud.
To know more about the program, visit here!
Why Choose LPU's Mittal School of Business?
With ample opportunities sprouting in the business sector, the MBA (Hons.) program offers brilliant scope and is opening doors to success for potential and passionate students who are eager to represent and thrive in management sector. Mittal School of Business provides opportunities to thrive, hones skills and moreover introduces to world class teaching. There are many institutions offering this program, but why one must choose Mittal School of Business at LPU, ranked among the top 40 B-Schools in India as per the most trusted NIRF ranking and 2nd best in India in the global Times Higher Education (THE) Business & Economics rankings. This article will help you answer this question.
Remarkable Academic Rigour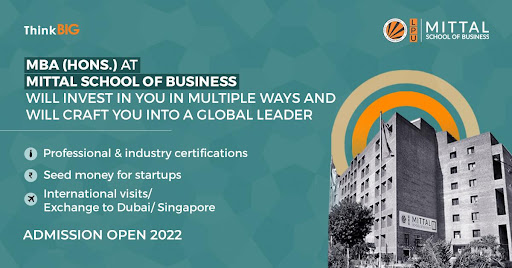 The technology-infused MBA (Hons.) the programme is a powerful blend of classroom learning and hands-on experience that offers new-age specializations in association with the industry, preparing thoughtful leaders and entrepreneurs for today's ever-evolving world.
There is the involvement of top industry leaders in both designing and teaching the curriculum. The program is based on a completely hands-on approach such that MBA (Hons.) students at LPU learn finance by investing in the financial market or launching their business with the seed money provided by the university.
Also, understanding that managers and leaders would need to know technology well, MBA (Hons.) students at LPU get a chance to take new-age specializations that are developed with industry collaboration. Various options include:
Financial Consulting & FinTech with KPMG
AI, ML & Analytics with 3AI
Digital Marketing with Digital Marketing Institute, Ireland
Every MBA (Hons.) student is mentored by industry leaders through learning and guidance sessions. Students get first-hand experience of the industry's expectations while studying at the university.
Also, to ensure that every student gets a global relevance, he/she gets a chance to spend a week-long immersion program in Singapore/Dubai. This has been made an integral part of the program and students don't have to pay anything extra for this immersive program. Students would also have an option to spend a semester abroad at LPU's partner universities in the US/UK/Canada/France etc.
All of this leads to building the finest careers of LPU students. Thousands of MSB students are working in top companies at coveted leadership positions- from consultancies to top FMCG companies, start-ups to financial giants and from Indian conglomerates to that of world's best companies.
Placement Stats
LPU's Mittal School of Business is recognized for holding an unrivalled placement records. For MBA students, the highest CTC lies at Rs. 21 LPA and average CTC stands at Rs. 5.5 LPA. Top brands on campus included Hafele, Optmyzr, PUMA, Asian Paints, Scaler, Federal Bank, NTT DATA, Planet Spark, MRF Tyres, EXIDE Industry Ltd, Hindustan Unilever, Bajaj Allianz, Aditya Birla Group and many more.
How can you apply?
Admission to MBA (Hons.) program is based on the CAT/XAT scores along with a personal interview. The application process has already started. You will have to apply for LPUNEST. Your performance in LPUNEST exam will decide your eligibility for a lucrative scholarship of up to Rs. 6 Lakhs per student (depending on the selected programme). LPUNEST, an exam that's bound to bring the best out of a student, is an eligibility and scholarship test for admission in various programmes at LPU.