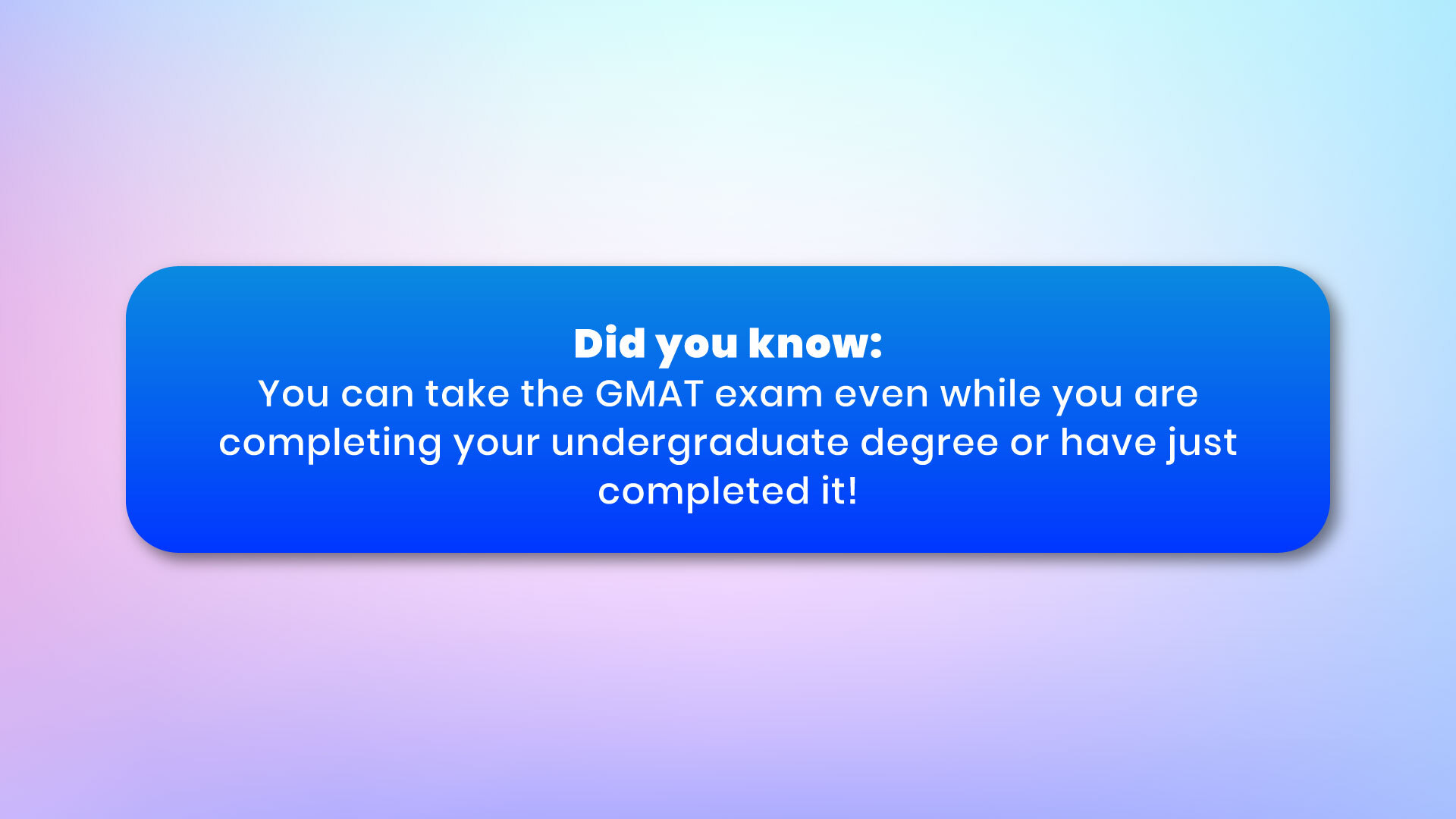 In fact, all your concerns can be summarised into a single petrifying question - "is this the right time for me to pursue an MBA?"
The answer to this is a simple and resounding yes. Let's explore ten reasons why this is the case.
But first, for the uninitiated, let's gain an understanding of the very first and highly critical step in your b-school admissions process: the GMAT exam.
What is the GMAT exam?
Business schools across the world receive thousands of unique applications annually for admission to their MBA programs. To identify candidates best-prepared for the rigour of their curriculum, schools look at standardized test scores as evidence of academic readiness. This is where the GMAT exam comes in.
Since 1953, the GMAT exam has been a gold standard for assessing candidates qualified for business management programs. The test checks for candidates' critical and analytical thinking abilities, quantitative and reasoning skills, and prowess in understanding written material and drawing valuable conclusions.
Beyond full-time MBA, universities also accept GMAT scores for pre-experience Master's programs such as Master in Management (MiM), Master of Business Analytics, Master of Finance, and Master of Accounting.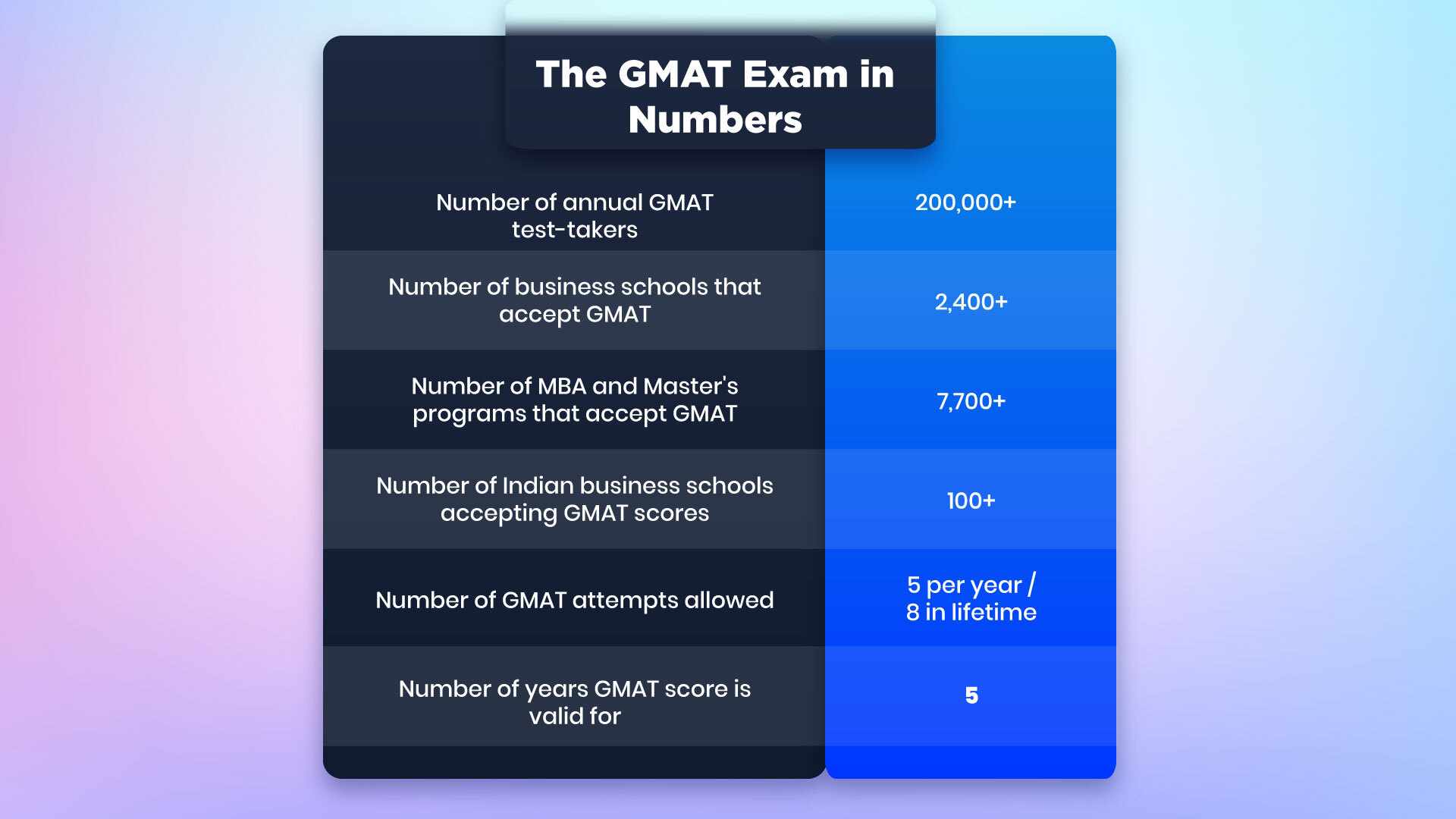 GMAT, comprising 80 questions across four sections, takes just under 3.5 hours to complete, including two optional breaks.
What makes the GMAT exam unique is that the test is computer-adaptive, i.e., the test algorithmically adapts the difficulty level of questions in real time as per the ability of the test-taker.
GMAT also offers tremendous flexibility. Test-takers can either take the GMAT online from home or at a test centre. They can also choose from multiple options for the exam's section order.
Should undergraduates or fresh college graduates take the GMAT?
It is often recommended that an MBA be pursued only after accruing a significant amount of work experience. This reflects in the average age of a GMAT test-taker— about 25 years—as well as the average age of an MBA student at any one of the world's leading business schools—also typically about 25 years.
For fresh college graduates and undergraduate students, this information can be an indication that an MBA is not on the cards for them—not in the next 3 to 4 years anyway. However, this couldn't be further from the truth.
Though work experience indubitably enriches the MBA experience, lack of it does not hinder business education. Fresh graduates and those still at college have many reasons to take the GMAT exam and begin pursuing management education.
Let's take a closer look at ten key reasons why undergraduates and fresh college graduates must take the GMAT and go for a Master's program.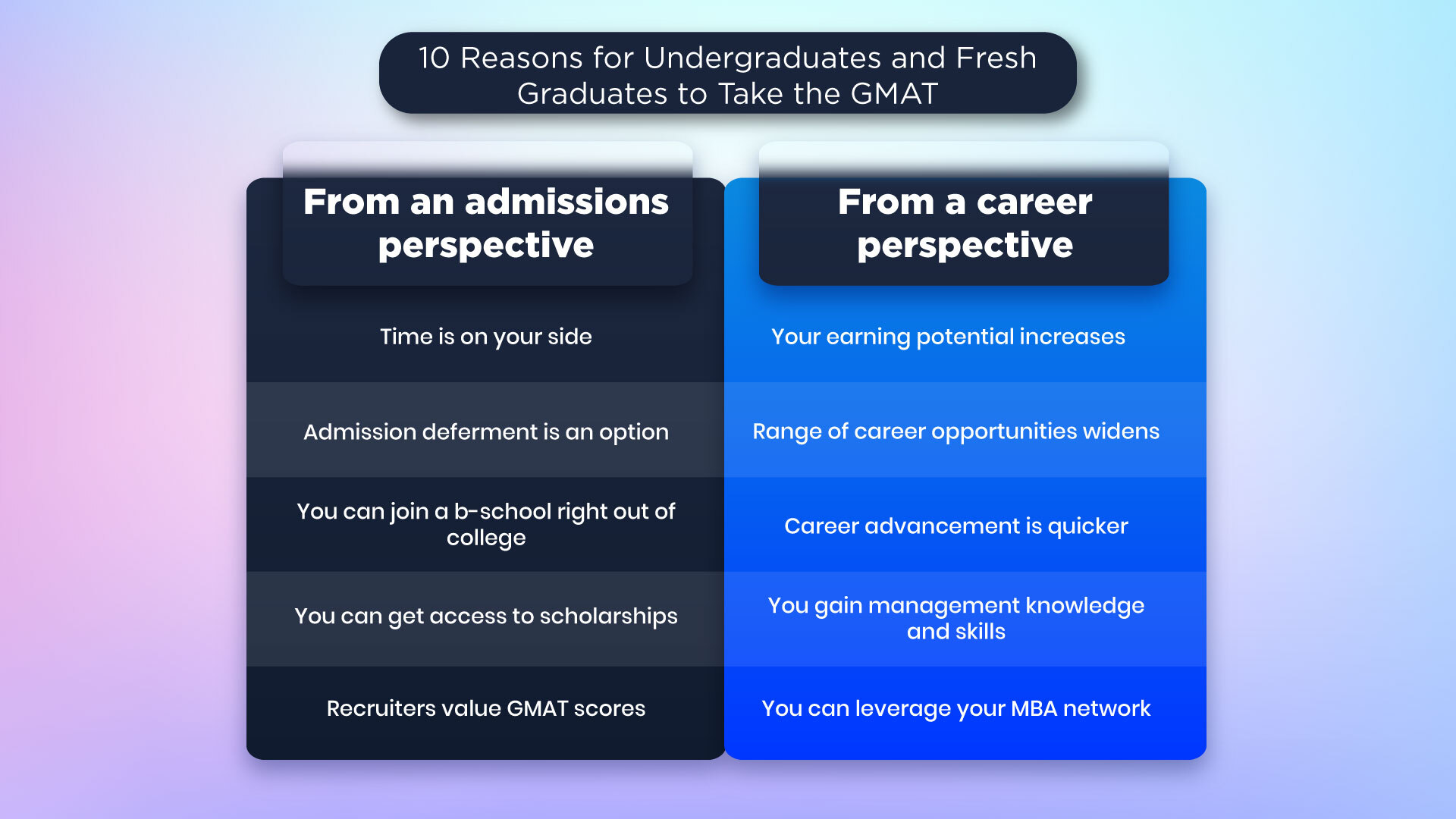 From an admissions perspective:
From an applications and admissions standpoint, freshers and undergraduates have a distinct edge over their more experienced professionals. As a non-experienced MBA aspirant:
1. Time is on your side
Preparing for GMAT as a working professional is very challenging. Applicants with jobs have to juggle GMAT preparation, b-school applications, and their workload without compromising on any front. This is where undergraduates and freshers have an edge.
Students who take the GMAT while in college have more time to prepare for the exam—experts believe that for every 20 hours per week an employed MBA applicant spends preparing for GMAT, undergraduates can spend 30 hours accomplishing the same task.
Additionally, already being in 'school mode', college students may also find it relatively easier to polish their quantitative reasoning and verbal skills compared to the rusty skills of their experienced counterparts.
Further, once you're done with the GMAT and have acquired your target score, you are free to focus on making your b-school applications shine—all while working professionals focus their energies simply optimizing their week to fit in time for test preparation and applications.
2. You can defer your admission
Business schools around the world usually require applicants to have a minimum of 2 years of work experience before applying to their MBA programs. But many of these management institutes offer deferment, i.e., a future seat at the institute while the applicant accumulates work experience.
The primary advantage of deferred admissions is the ability for fresh graduates to take career and even entrepreneurial risks early on, enabling them to figure out their preferred (or unpreferred) career paths. Further, in this period, college graduates can also build on their savings and finance some part of their management education.
The world's leading business schools, including the Harvard Business School, Stanford GSB, Yale SOM, MIT Sloan, Columbia Business School, and ISB offer deferred MBA programs.
3. You can join a business school right out of college
Instead of deferring your MBA to a future date, you can even pursue your MBA right out of college.
Contrary to popular belief, many management institutes do not require prior work experience. These include pre-eminent institutes such as Stanford GSB, the Haas School of Business, The Wharton School, Booth School of Business, Columbia Business School, and the UC Davis Graduate School of Management, to name a few.
In India, institutes like SPJIMR Mumbai, IMT Ghaziabad, MICA Ahmedabad and many others that accept GMAT scores do not require prior work experience for application to their MBA exams.
Further, institutes offering Master's in Management (MiM) programs do not require any work experience whatsoever and accept GMAT scores for admission—and sometimes not even that!
Check out the list of the world's top MiM programs here.
4. You get access to scholarships
Management education requires significant financial investment.
With merit-based scholarships that consider high GMAT scores among other criteria, college students and fresh graduates who cannot finance their management education just yet can reduce their financial burden and increase the return on investment of their education.
Candidates have been known to land $50,000 per year in scholarship money with high GMAT scores. Institutes such as the Tuck School of Business, Smurfit Graduate School of Business, ESMT Berlin and others offer scholarships to applicants with high GMAT scores.
A high GMAT score also offsets other areas that may be lacking in your application, primarily work experience. This will then bring your application to the forefront in the running for scholarships.
5. Recruiters value GMAT scores
As a fresh graduate or a college student, applying to business schools with your GMAT score is an indication to business schools about your strong commitment to a flourishing career in management. It showcases your clarity of thought and planning skills—core personality characteristics business schools are on the lookout for.
But did you know—recruiters also value GMAT scores! Top investment banks and consulting firms have been known to have competitive test scores as an evaluation criterion.
Further, notable GMAT scores—usually in the top 10th percentile—can make your resume stand out during job applications, as success in GMAT is an indicator of above-average quantitative, reasoning, and verbal abilities, all of which are highly desirable traits for recruiters.
From a career perspective:
The primary objective of taking the GMAT is to enroll for a business degree. But what value can a degree like an MBA or MiM deliver to your career? Here are five key benefits of business education.
1. Your earning potential increases
In a survey of 11,000 individuals, MBA graduates reported an average salary of $36,742 more than their co-workers without a Master's degree.
According to this post-MBA salary calculator tool, in India, MBA graduates with no more than 24 months of experience can receive a 62 percent hike over their pre-MBA salary.
Further, according to another survey of the long-term implications of an MBA on salaries, MBA alumni of prestigious business schools earned close to $5 million more than their peers with just an undergraduate degree.
With these numbers in mind, it's clear that an MBA can significantly elevate your salary and increase your future earning potential. Therefore, as a fresh graduate, the earlier you start the better!
2. Range of career opportunities widen
Business management degrees open up doors to working across a plethora of roles at companies of any size: from early-stage startups to Fortune 500 companies around the world. Entrepreneurship itself is a career option that management graduates can explore.
Career change is an added advantage of an MBA or MiM degree and is a common reason for enrolling in a management program. Nearly 33 percent of IESE Business School's graduating Class of 2020 made a "triple jump," i.e., a change in the function, sector and geographic location all in one go. At the University of Cambridge, 47 percent of the Class of 2022 made a triple jump. At Wharton, 54 percent of the Class of 2021 changed their industry and function after an MBA.
For these reasons, college graduates with anywhere between 0 to 24 months of work experience can tremendously benefit from an MBA or MiM degree.
Find out more about the jobs you can land after an MBA here.
3. You advance quicker in your career
Here's an interesting correlation between an MBA and career advancement - according to an in-depth survey of 283 company leaders, 54 percent of North American and South American CEOs hold MBA degrees. Further, CEOs of six of the top ten Fortune 500 companies hold MBA degrees.
Further, 7 in 10 MBA graduates agree that they couldn't have obtained the position they were in without their business degree.
This is why career advancement is amongst the top-most reasons why individuals want to pursue business master's degrees, including MBA.
With employment in management positions expected to grow rapidly in key markets within the next decade, the scope for MBAs is very bright.
4. You gain management knowledge and skills
Business schools—especially those amongst the world's best—have highly comprehensive curricula that focus on building knowledge of various business verticals and functions while also helping students hone their managerial skills.
Classroom learning will primarily comprise experiential learning and detailed feedback from your classmates and coaches. As you progress, you will also be able to pick courses that strengthen your areas of development and allow you to explore new subjects to ensure well-rounded learning.
To understand what is taught in an MBA classroom at the world's best business schools, check out the curriculum at The Wharton School's 20 month MBA program.
5. You gain a massive network to leverage
Did you know—networking is a key driver of job offers: surveys suggest that around 80 percent of jobs are filled through networking. And business schools are a playground for those looking to create networks that last a lifetime.
During your MBA, you will gain access to a wealth of experience from your peers, guidance from a vast alumni network, and leading-edge management education from expert professors. These components of your network can be instrumental in knowledge exchange, finding better career opportunities, and gaining prominence amongst prospective employers.
Kick-start your MBA journey with GMAT
By now, it must be evident to you that the GMAT exam and business education isn't intended just for professionals with years of experience under their belts. The exam can not only be taken by undergraduates and fresh college graduates but may actually be advantageous for them in the application process.
If you aspire to study at the world's leading business schools, schedule your GMAT exam, start preparing today and embark on your journey to a career in business management!
---
To get the latest and exclusive MiM Guide, click here