(It is Friday and it is time to hear from Kunj on his unique journeys! All of you who wish to know the background to this 'Baazigar' column on insideIIM.com please read here)
To read other posts in this series click here : Baazigar
My upbringing has always made me uncomfortable in pre-dominantly Muslim areas. My dad's office is in Masjid Bunder in Mumbai which is essentially two ghettos – one Hindu and the other Muslim and I was always skeptical when I was in the Muslim one. Only in my more recent years have I had Muslim friends and colleagues whom I have grown close to.
When I was leaving for Kashmir, my mom asked me to avoid revealing that I was a Gujarati because she was scared the Muslims might have particular ire against Gujaratis thanks to Godhra – I know its one of those paranoid things moms say when the son is going away. But I would be lying if I said it didn't play on my mind.
After an ardous 32 hour train journey with a 'bhajan mandali' which sang bhajans for a total of 24 hours out of 32, I was glad to have reached Jammu and being surrounded by jovial Sardars and bearded Kashmiris. When you make your way to Kashmir from Jammu, you have to cross this terribly long, claustrophobic 2.2 km long tunnel called the Jawahar tunnel. But when you have crossed it, you feel like you have entered another country. That is how different the topography of the valley is compared to Jammu. Also, the Sardars and everybody else dwindle drastically and you know you have entered the home of the Kashmiris. I was on my way to Srinagar but my driver suggested maybe I should go to Pahalgam first as it was only a small detour on the waty to Srinagar. I think I trusted him because he played Mohd Rafi songs throughout the journey. My first stop was Anantnag (called Islamabad by the Kashmiris because it's the seat of many Maulvis), where I ran into Muzafar "John". Now this guy was the more masculine version of Orlando Bloom and was adorned with fake Raybans and Levis and when we had a chat he told me that he lived in a place called Aru 12 kms from Pahalgam. He ran a guesthouse there which was only visited by firangs as it had "no telephone network, no dosa-pav bhaji, no boating" – so, obviously, Indians were out. I don't know why at that moment I trusted this man and asked him to take me there in that late hour. But once I set foot at Aru, I didn't regret it for a single second.
Over the next 4 days, I felt I was in the midst of a different kind of magic. I met such an eclectic mix of people. Right from this really old shepherd who had been for Hajj and thought that people in Mumbai also reared sheep and that from what he saw from above in his plane, only half the city gets electricity, and the other half does not – he was referring to the sea. To the cook of my guesthouse who had himself sheltered militants many years ago in the same guesthouse and then concealed it from the army – only to be beaten to pulp by them. He still regrets the fact that he concealed it; as far as sheltering is concerned, well, the people in the valley never had much of a choice. I met this guy who picked up that I am Gujarati from the way I spoke my Hindi. He had studied in Bharuch for 5 years and was sheltered by Hindu Gujaratis for 8 days during the riots. I promptly made a call to my mom.
[caption id="attachment_3525" align="alignleft" width="579"]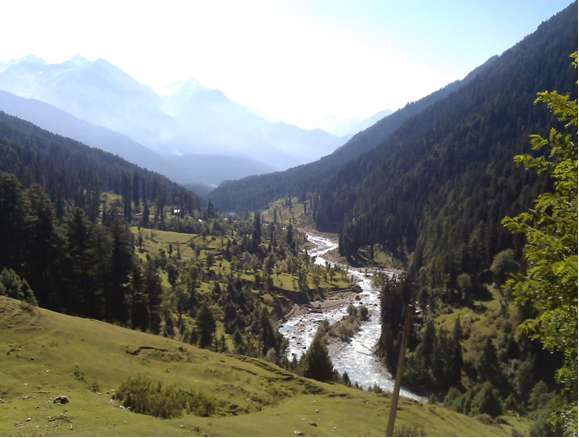 View from my room in Aru[/caption]
[caption id="attachment_3526" align="alignleft" width="575"]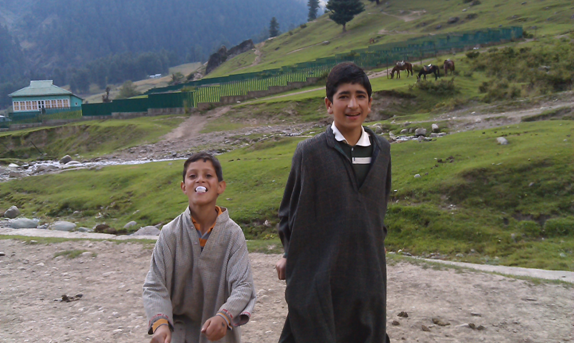 Ubaid and Faizan - My cool guides in Aru[/caption]
I watched the India-Pakistan match with 12 Kashmiri youngsters my age in their own Kashmiri home and it was, well, out of the ordinary to say the least. When Imran Nazir fell, I instinctively clapped and realized nobody really shared my enthusiasm there. Slowly as the Pakistani wickets tumbled, people got more agitated – Muzafar even said to Hafeez that even he can play Kohli better than him. I felt awkward – but soon realized that when Akmal and Malik were going at it, there was no enthusiasm either. I realized they weren't watching the match with a team to root for. They just watched it looking for a good match. And the elders took pains to explain this to me, lest I understand otherwise. The ads fascinated them. Axe ad was first looked at with rapt attention, Next time they joked about having the deo and trying its effect in Pahalgam. Ireo living ad was watched in quiet wonder as they see the kind of home people in India are living in – they asked me if I live in a home like that. The Pepsi ad where they pee into potted plants in front of them during T20 was liked a lot and there was a hesitant identification with the ad. Muzafar told me whatever maybe the case,India must be number one in making ads atleast – as if its someone else's country.
As you would imagine, very little writing happened in Pahalgam. Off to Srinagar and Gulmarg then where I managed to live royally in a 1 BHK houseboat in Dallakeinspiteof my shoe-string budget thanks to friends I made in Aru. Srinagaris more liken how I imagined Karachi to be. It's a massive bustling city, with the small matter of snow-capped mountains presiding over the mad market places and stern government buildings. If the army/CRPF wasn't present in every nook and corner of the valley, one wouldn't know that this is a disturbed region. I feasted on the sights of the Dal lake for 3 golden evenings and found time to witness the snowing in Gulmarg and the flowers of the Mughal gardens.
[caption id="attachment_3527" align="alignleft" width="580"]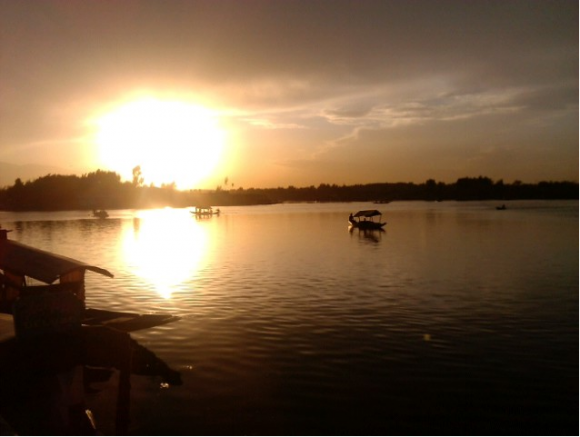 Dal Lake in the evening - no photoshop/instagram[/caption]
[caption id="attachment_3528" align="alignleft" width="560"]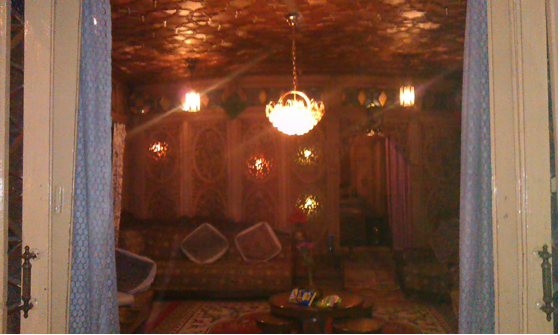 The living room of my private houseboat #likeaboss[/caption]
I also got invited to the family home of a former Pakistani diplomat for an awesome Mughlai dinner and we watched the Sri Lanka-Pakistan semi final together. It was full of good-natured banter over some very fine scotch. The one thing he told me was that you remove the religion angle from Kashmir, and it is inwardly more Indian than Pakistani – and that's a huge statement for a Pakistani diplomat. And if you discuss Mohammed Rafi or Shammi Kapoor or Sachin Tendulkar or A R Rahman or Bombay with them, you would agree too.
I realized I am an early morning writer and I believe I have managed to do a good job with my first story. I have managed to also get my protagonists from among the people I met. I leave Kashmir today with less bias in my head and more confidence in my heart.
Epilogue – There was this 7 year old girl I met in Aru whose name was Inshah. Her cheeks had the red of Kashmir's apples and brick rooftops and roses. Her eyes were of a colour which was impossible to define. She would blush every time I would mention Salman Khan. She wouldn't let me photograph her because her Quran teacher had told her it was a "Gunaah". She would hide her face in a hijab every time someone local passed by, then pull it back to show her golden hair when they were gone. She wanted to become a teacher when she grew up. I saw her practicing salsa with her elder sister in the fields one morning. Thank you,Kashmir.
(All of you who wish to know the background to this 'Baazigar' column on insideIIM.com please read here)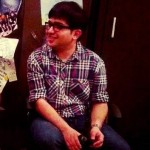 (Kunj Sanghvi will be writing about his experiences in each new city every week on InsideIIM.com. At various junctures on this trip, he'll be found working over cups of coffee in coffee shops across the country. He'd love to meet, talk, discuss with anyone who'd care to meet him; just to know the city and its people better. Follow him on twitter here – @kunjsanghvi. He blogs here.
About Kunj - Kunj Sanghvi is a B.Com graduate from Narsee Monjee College of Commerce and Economics and MBA from Mudra Institute of Communications, Ahmedabad(MICA). Prior to plunging into this adventure he was a Senior Manager at Hindustan Times. He has also worked with whatsonIndia.com in the past. )
You may be interested in :