Moving to Mumbai for work? Or to study? You're gonna love it! And just so you don't feel lost or stranded in this burgeoning city, we created something special for you. Here's introducing the Mumbai Starter Kit. Wondering how to find a home in Mumbai? Or what items you'll need to get settled? Want to unravel the train travel conundrums out here? We've got you covered. :) Click here to check out just what you'll get a feel for in the Mumbai Starter Kit...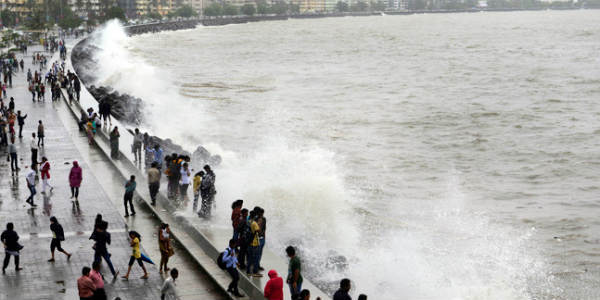 One of the best and worst times to be in Mumbai- the monsoons. Collectively, we love rains. But in Mumbai, rains can bring the city to a halt. You may have to swim through certain low lying areas. Just kidding! Or not :P.
The city is brought to its toes during the monsoons. Heavy rainfall means late trains, waterlogged roads, and sometimes, and impromptu holiday. Collectively, Mumbai pauses during the rains. And it's beautiful. Take a little time out to yourself. Get a piping hot chai, vada pav, corn and kanda bhaji and watch the rains.
Or head over to Lonavala for the weekend. Drive up to Tiger hill and Aamby Valley and experience the lush greenery and the cool mists of the mountains.
Want to get updates when a new part of the Mumbai Starter Kit is launched? Subscribe here:
Meanwhile, here's a few things you should keep in mind if you're facing a monsoon in Mumbai.
Invest in gear: sturdy umbrella, durable footwear and covers for your bags.

Carry an extra pair of clothes with you. If you get drenched, you can reach your destination and change.

Be careful and selective in food. Don't want to catch infections, do we!?

Boil water if you're not sure of its source.

If eating outside, eat cooked food.

Keep an SOS of medicines you may require handy
While you feel scared, excited and overwhelmed in the monsoons, you'll never feel alone!
You'll get updates on traffic situations on Twitter, the radio or various news channels. So be sure to tune in if the weather looks uncertain to you. Oh, and stay away from beaches during high tide.
And if you've done all this, just have fun! Because Mumbai can be real fun in the rains.
Go to the beach and eat "bhutta." Grab spicy soups from street stalls. Eat momos. Hang out by Marine Drive or Worli Seaface or Carter Road (not on high tides though).
And best of all, this is the time you get out of Mumbai and go to various waterfalls, hikes, getaway.
In the next part, we talk to you about festivals in Mumbai!
Here's what you get in this kit:
Introduction To Mumbai Starter Kit
How To Find Accommodation In Mumbai
How to Feed Yourself When Living Away From Home
Dressing To Impress - Mumbai Style
Shopping Destinations in Mumbai
How To Train Travel In Mumbai
Don't Drink & Drive - Local Travel In Mumbai
How To Have Fun In Mumbai - I
How To Have Fun In Mumbai - II
How To Beat The Rains In Bombay
Festival Time In Mumbai