Getting into an IIM or a top Indian b-school promises you immense exposure. But what makes a b-school student an exceptional talent that recruiters vie for? What are the qualities that make a b-school student employable? If you are asking these questions, we've compiled a list of India's Best 50 - the 50 Most Employable Students From The Class of 2018-20. These students stand out because they show, focus, determination, courage and leadership. One of our Best 50 featured in today's story, Dinesh R, found himself out of an offer 2 days before his internship started. Find out how he bounced back in this read.
The following is Dinesh R's set of responses to a questionnaire floated amongst MBA graduates to determine the top-50 most employable MBA graduates of the Class of 2020. Amongst the massive number of entries and responses being evaluated by the Founder of InsideIIM-Kampus Konversations, Dinesh's story and profile stood out. Here's his own story in his own words.
Take Your Career To The Next Level. Ask Our Experts Anything. We Will Respond Within 48 Hours.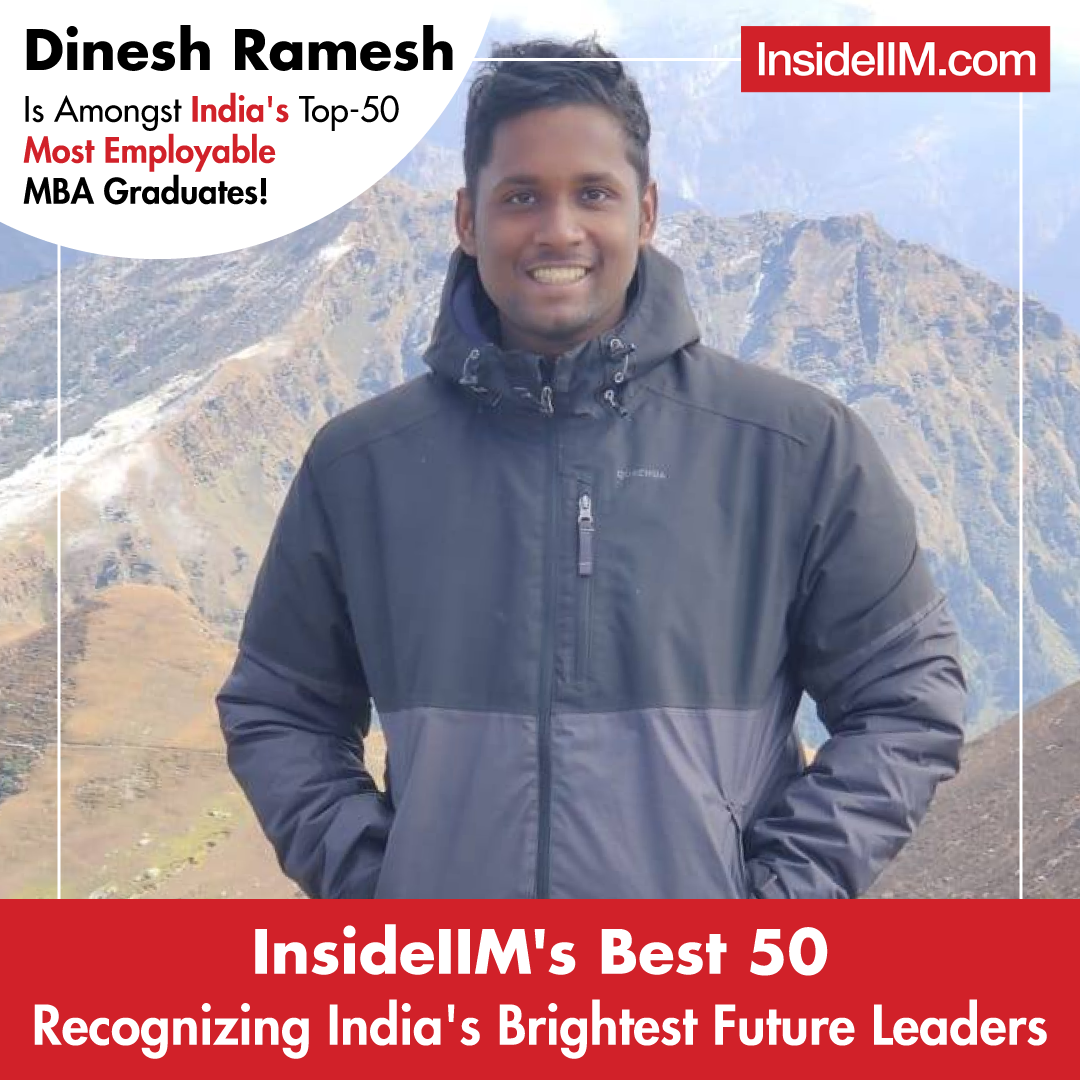 "I am the fourth generation in a small scale textile retailing family hailing from Tamil Nadu. I am an avid food traveler, I started learning about food at the age of 6, where I was inducted as an apprentice into my mother's kitchen to wash utensils. I have traveled over 17 out of 29 states that my country is made of. I have amazing stories and experiences to share and tell the world, someday I hope that I will travel it all, and most definitely finish my book. Throughout my undergraduate, I was an active member of Bhumi, an NGO, that worked towards providing education and sports for underprivileged children. I even received the "Bhumi EARTH Award" an honour bestowed upon coordinators who showed exceptional engagement into the work Bhumi did in terms of community building."
Name an instance where you wanted something and went out of your comfort zone to achieve it OR Tell us the biggest risk you have taken so far in your life.
"As a fresher entering into IIM Indore and securing a marketing internship in a firm which got revoked just before 2 days of joining, I have a lot to say. It made me evaluate myself as a person, getting thrown into a job/internship race with limited time. After a few days, I landed up at a startup where I've been allotted projects on digital marketing which is my go-to subject interest. At that time I realized that things do happen for a reason and I gave my best during my summers followed by which I was given the responsibility of setting up a digital marketing team and continuing my internship remotely. Taking up that opportunity was a big challenge to me, keeping in mind my 2nd year academic and projects schedule along with final placements preparation. But I also knew, in order to overcome my weakness of being a fresher, I needed to work smart. So I took that offer and it was nothing less of a hell ride but with great learning for me. Viewing my work, I was also approached by another startup to set up a digital marketing infrastructure for them, which turned out to be greatly helpful for me during the summers. Working with these 2 projects along with academic rigor would definitely be an effort for me to come out of my comfort zone."
When was the last time someone relied on you? OR What did you do which was purely for someone else - a truly selfless act.
"It was a close friend who had to drop-off from the course. Things didn't go as planned so it was a tough phase for him. It was especially difficult for him to get back on track. Though I wasn't in a position to help him financially, I was constantly in touch with him talking frequently so that he didn't feel left out, discussing his future plans and getting things done for him."
Tell us about a time when you disagreed with an opinion/idea/decision. What did you do about it?
"I served as a coordinator for a marketing fest at IIM Indore. We had multiple events that year as a part of restructuring due to new rules & regulations as well as for cost cutting. So the core team wanted my event to be merged with another event at the fest, losing our uniqueness. When I showed resistance to their decisions, there were multiple conditions imposed on my team to conduct our event. But at the end, my event turned out to be the highest fundraising event with the maximum number of participants and also turned out to be a flawless event. It was not easy convincing a team of 8-9 members holding a decision against 1 member/team."
What is the one thing you can claim to have some level of expertise or depth of knowledge in - it could be anything - a subject, a sport, a hobby, a venture, an initiative which has led you to do deep work in that field?
"Digital Marketing - Carried out freelancing activities (by definition), but my role was there to develop digital marketing setup & practices for the companies (2 clients), hire people and train them to make my department standardized."
If 10 Million Dollars (approximately INR 75 Crores) is given to you to use it any way you deem fit what would you do with this corpus?
"1 Million dollars to be given back to society, in terms of setting up skills upgrading facilities for the students who are not having enough exposure to jobs, 2 million dollars to establish my startup (preferably in the field of digital marketing), 4 million dollars as an investment or backup for my future. Also, it is my long time dream to travel abroad which I have never got to do until now. So I would spend 1 million dollars on myself travelling across countries. In addition to this, I'm an avid food traveler. I wanted to establish an unique food spot in my hometown, eventually developing the business across the country by investing 2 million dollars in this idea."
You might also like to read: