JBIMS has never yielded to any of our requests for placement data in the past. We published an unverified report for the same batch 18 months back during summer placements here. It is the most sought after MBA school for CMAT takers and also has a rich history of producing CEOs for Corporate India (CEOs of ICICI Bank, Hindustan Unilever are JBIMS alumni). There are some companies that swear by JBIMS in the toughest of times. It is also the one of the best 'ROI after MBA' schools with a 2 year outlay of less than INR 1 Lakh (INR 100,000). We had to do an unverified report.
JBIMS has a batch size of 120 and always has ample opportunities for a small batch. There are many types and levels of reservations at JBIMS and it is very difficult for an Outside Maharashtra general category candidate to get in. Even for General category candidates within Maharashtra only about 40 seats are available. One must note though that, this has not always been the case.
There was a time when JBIMS was among the top 3 institutions in the country and its location in the financial capital of India, within the old financial district (the new financial district in the country is Bandra Kurla Complex) gave its students great advantage vis-a-vis schools located in places like Ahmedabad and Calcutta. However, over the years that position has declined. More dynamic schools in other parts of the country have surged ahead. JBIMS is still very fortunate to have a great list of recruiters due to its alumni legacy and its location in the city of Mumbai (Bombay) but it will not be wrong to say that despite its legacy, placements have not evolved at JBIMS in the same vein as they have at many other younger schools.
Here is the unverified report for the Class of 2013. All data has been compiled from media reports and the JBIMS website. We have not heard from the placement committee at all. Media reports talk about a lot of companies 'participating' and 'visiting'. We do not know if they actually recruited. Please speak to students at JBIMS to confirm this.
Franklin Templeton, Standard Chartered Bank, Citibank, HSBC, JP Morgan, Nomura, Yes Bank, ICICI Bank, Ratnakar Bank, Tata Capital, Indiabulls and Fidelity.
A lot of the above roles are for Corporate and Retail Banking profiles. Roles offered by companies like JP Morgan and Nomura are middle office roles. Some of the names above also include PPOs being offered. However, it is an impressive list of companies in this domain if the batch size is only 120 and looks better in the final analysis when compared to some Old IIMs.
JBIMS claims Morgan Stanley offered a front end investment banking role.
Assuming 25% of the batch opts for Finance, the list above provides ample opportunities. However, do not expect many front end Investment banking or Markets roles at JBIMS especially from bulge bracket international banks.
Consulting & General Management
For years now, JBIMS is the 5th campus after IIM ABCL that Mckinsey and Co. recruits from. It is interesting to note that JBIMS students have beaten IIM I & K, XLRI, FMS students for the coveted role at the batch day process in Mumbai with alarming regularity. It is interesting that Mckinsey & Co. never adds JBIMS to its list of campuses to visit but almost always recruits a JBIMS graduate from batch day.
Accenture is the other big name that recruited from JBIMS. Deloitte and JonesLang LaSalle (Real Estate consulting) are other names. There are no other noteworthy names in consulting.
General Management line up is very impressive except that TAS does not visit JBIMS any more. JBIMS was dropped a few years back by TAS. JBIMS press release claims Reliance Industries Ltd, Schlumberger, Bosch, Lodha Group, General Electric, Mahindra & Mahindra, Larsen & Toubro, Tata Steel, Jindal Steel and Power, Shree Renuka Sugars Ltd, Godrej & Boyce, ACG Worldwide, Alfa Laval, BASF, Cummins recruited for General Management and Strategy roles. We would like to state again that for a batch of 120 this is a very impressive line up. International profiles were offered by Petrofac and SADIG Group.
JBIMS has always had top FMCG options. HUL and P&G have always recruited from JBIMS and will continue to do so. Nitin Paranjpe, CEO of HUL is a JBIMS alumnus. Colgate-Palmolive, L'Oreal, PepsiCo, Hindustan Coca-Cola Beverages, General Mills are other names.
Amazon and Flipkart in the E-Commerce space. Jumbo Electronics offered an international profile (Middle East). Castrol is also in the list of recruiters.
The pharma space was well represented by Cipla, Ranbaxy, Glenmark Pharma, Abbott Pharma, and Janssen Pharmaceuticals.
Microsoft, Zycus, HCL Technologies, Wipro, Cap Gemini, Accenture Tech, TCS and Infosys were names in the IT space.
Companies that offered PPOs/PPIs
Abbott, Accenture Management Consulting, Castrol, Citibank, Colgate-Palmolive, Flipkart, General Electric, GSK Consumer, Hindustan Unilever, JP Morgan, Janssen Pharmaceuticals, Jones Lang LaSalle, Kotak Mahindra Bank, Mahindra & Mahindra, Nomura, Procter & Gamble, Reliance Industries, Standard Chartered Bank and Vodafone.
22 PPOs + 33 PPIs with overlaps where PPIs some PPIs got converted to PPOs. We dont know the exact number but assuming the number to be around 40 (removing the overlaps), 1/3rd of the batch landing PPOs and PPIs is a decent statistic even for a batch as small as 120. (This stat was provided to us by a student claiming to be from JBIMS in the comments section below.)
They claim that the highest salary offered through PPOs is INR 24.22 lakhs (INR 2.4 Million). We are still trying to figure out which company they are talking about and how exactly the calculations have been made.
Median Salary - INR 1.4 Million ( INR 14 Lakhs)
Average Salary - INR 1.53 Million (INR 15.32 Lakhs)
Highest Domestic Salary - INR 2.6 Million ( INR 26 Lakhs)
Total number of recruiters - 88
Total number of first-time recruiters - 36
We hope that we can manage to get JBIMS to share the report in the InsideIIM format in the future. As mentioned before, this is an unverified report. Please take adequate caution before believing any claims.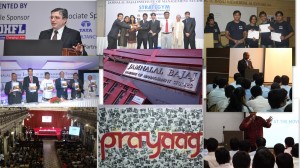 You may also like to read :