Introducing The Newest Members Of InsideIIM Student Team 3.1 – 2017-2018
We, at InsideIIM.com, strive to keep the content fresh and relevant for all our users. One set of people who help us do this is our Student Team! Like us, they are hell bent on making a difference and helping our community of users with their experience and their expertise on different topics such as CAT Preparation, B-School Life, MBA Life, MBA Subjects, and so much more. Oh, and they even try to make the content engaging and interesting by adding Pop Culture References and Personal Anecdotes wherever possible! They also serve as great guides and mentors to the next crop of students about to enter business schools. They help us to keep the content young and fresh!
This is the second Student Team of the year 2017! To read about the Student Team 3.0, please click here.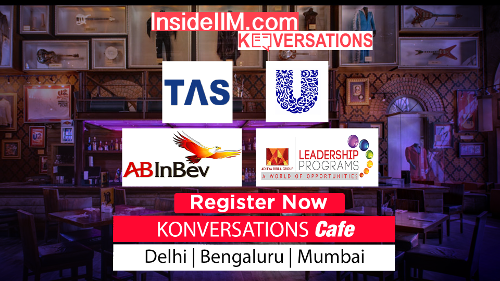 So let's get started with the newest members of the Student Team. This team comprises of students from IIM Bangalore, Lucknow, Indore, Kozhikode, Trichy, Shillong, XLRI Jamshedpur, NMIMS, TISS Mumbai, IMT Ghaziabad and K J Somaiya.
This is the third year that the student team has been selected from various schools across the country. After reading hundreds of applications and scanning them through 2 rounds, a team of 15 students has been carefully handpicked. The student team will contribute interesting content and will be the student's representative across different campuses.
Here are the members that will give you the best of the content on the platform until June 30th of next year!
| | |
| --- | --- |
| Name | B-School |
| Abhishek Kshirsagar | IIM Bangalore |
| Amol Aranake | IIM Bangalore |
| Aroon Koshy | XLRI Jamshedpur |
| Devanshu | IIM Lucknow |
| Gaurang Gupta | IIM Shillong |
| Harshad Patel | K J Somaiya |
| Mayuri Jadhav | IIM Indore |
| Nikhil Kumar | IIM Bangalore |
| Pankaj Mann | IIM Lucknow |
| Riddhi Kalra | IIM Trichy |
| Sambhavi Ganguly | IIM Lucknow |
| Sharun Sanel | IMT Ghaziabad |
| Shashwat Mairal | TISS Mumbai |
| Sumangal Kamath | NMIMS |
| Tanya | IIM Kozhikode |
1. Abhishek Kshirsagar

Abhishek is one of the several Abhishek's (and he says there are plenty of them) at IIM Bangalore. He has been reading and writing on InsideIIM for past couple of years. An engineer by education and an entrepreneur by heart, he has an experience of starting his own venture and then miserably failing at it, while learning several important lessons. Currently, he is a Junior Coordinator of IIM Bangalore's Entrepreneurship and Innovation Cell.
He believes that he has failed enough number of times to call himself a resilient person, and as a part of InsideIIM Student Team 3.1, he wishes to motivate others to try different things, fail at them and then try again, till they achieve success.
2. Amol Aranake 
Amol Aranake is a Chartered Accountant and is currently pursuing his MBA from IIM Bangalore (PGP 2017-19). This year, he fulfilled his 8-year long dream of being a part of IIM Bangalore. He is not your typical over-achiever who has been a topper throughout his life. He prefers to think of himself as an ordinary guy who fulfilled his dream through extraordinary determination and persistence. He believes in living each day like his last and follows his passion each and every day. According to him, if you do what you truly love, then you will truly love what you do!
He is passionate about Finance as a subject and is always excited to learn something new, no matter what subject it is. He loves tasks that are challenging and dynamic and make him push his limits. He pursues his love for dance as a part of "Taal Dance Crew" at IIMB. His passion in life is Football and he manages to take time out of the hectic MBA life in order to play and watch football every weekend. He calls himself a fitness freak and rarely does a day in his life pass without a gruelling workout. Lastly, on a slightly philosophical note, writing stories and experiences is what he loves doing and this is something that makes him connect with his inner self!
3. Aroon Koshy
Aroon is pursuing his Post Graduate Diploma in Human Resource Management from XLRI, Jamshedpur. He is someone who drew a lot of inspiration from InsideIIM while preparing for his management entrance exams and now looks forward to contributing to InsideIIM for the benefit of the aspirants.
He is still trying his best to keep up with the pace of life at XLRI and hopes to someday catch up on all the sleep that he is deprived of. He is crazy about sports, music, food and TV, and prefers them over his sleep.
He is looking forward to interacting with aspirants, b-school students and others over the InsideIIM platform and hopes to make new friends during this journey.
4. Devanshu
Devanshu hails from Bihar, and is an ardent admirer of Kahlil Gibran, David Beckham, and Sufi music. Writing for him started off as a forced routine in the English classes of his school, which slowly developed a passion and a willingness to make people read.
Finishing his graduation from National Institute of Technology Delhi, he currently pursues his MBA from Indian Institute of Management Lucknow. Devanshu had been working with content-curating firms such as the Consurgys Media and the Scribblers India for two years during his graduation. Additionally, his poems have been published in four national anthologies, and he takes a great interest in articulating and conveying little things into his poems. He is also a budding photographer and loves travelling. Give him a Table Tennis blade, and he will make sure to find a person to play along with.
Through InsideIIM, Devanshu not only looks forward to enhancing his writing abilities, but also exemplify to the MBA junta (aspirants or students) the notions, difficulties, fun, pressure, and lifestyle of dream MBA colleges.
5. Gaurang Gupta
Gaurang Gupta is currently a participant of PGP17 batch in IIM Shillong. He likes to swim and play volleyball and football. He is in office bearer in the Public Relations Cell of IIM Shillong. An aspiring writer, he writes short poems sometimes. He generally keeps the topics humorous however he has a liking towards serious topics well.
Right from my college, I have invested time in making new products. He continued with the same endeavours while working for his organisation where he had the opportunity to develop a new application for the organization. The application replaced an old legacy software which was causing losses for past ten years.
Having imbibed the technical skills, he now wishes to learn the managerial aspects and develop a holistic skill set. Management studies will provide him with the opportunity to interact with people from a wide gambit of backgrounds and learn from their experiences.
6. Harshad Patel
A Meritorious-Technophile-Gamer, no other words can describe our new soldier of InsideIIM better. By passion, Harshad Patel is a Batchelor in Mechanical Engineering from M.B.M. Jodhpur and to convert this passion into a profession; he is pursuing a PGDM in Retail Management from KJ Somaiya Institute of Management Studies and Research, Mumbai aka SIMSR. His permanent shelter is in Venice of East, Udaipur. Harshad is trying to find comfort for himself amid all the haphazard of the b-school journey. He has found a place for himself in Admissions Committee of SIMSR. He also likes reading human psychology and exploring new places.  Before joining SIMSR, he was working as a Research and Development Engineer and have worked on many interesting projects, and his analytical skills reflect in his way of writing. He believes in articulating himself through his articles rather than sayings.
7. Mayuri Jadhav
Mayuri Jadhav is currently a student of the PGP 2017-19 batch of IIM Indore. She has previously completed her Computer Engineering from Mumbai University. She has been the school as well as college topper throughout, and the Joint Secretary of Computer Society of India, during her graduation. Mayuri is an avid reader and a Potterhead. Her favourite authors include Dan Brown and J.K. Rowling. She enjoys writing and was an editor for the annual college magazine "Cozine". At IIM Indore, she has pursued her love for singing by becoming a part of the music club, Harmon-I. She is also a Junior Member of the Business Strategy vertical at ShARE, IIM Indore. As a part of the student team, she wants to give the aspirants a glimpse of what is in store for them.
8. Nikhil Kumar
Nikhil was born in a remote village in Bihar, in a family dependent on farming. Therefore, he has spent his early childhood in the rural area before moving to Patna.  After completing his schooling in different vernacular and English medium schools, he did his graduation from BIT, Bangalore in Electronics and Communication Engineering. Engineering turned him into a tech geek. This helped him to get a campus placement in Samsung R&D India, Bangalore.
At Samsung, he was part of a select few to be awarded President Award. Apart from his regular work, he was also a rookie Tizen App Developer and have submitted 2 Tizen App in Tizen App store.
He envisions himself as a Product Manager, someone who understands the nitty-gritty of a product's development cycle and apply this understanding to guide a team to make the best product
He loves helping people and mentoring them to achieve their goals. In the leisure time, he loves to answer questions on Quora.
9. Pankaj Mann
Pankaj Mann is a 21 years old electronics and communication engineer and a PGP1 student at IIM Lucknow. He's a huge Harry Potter fan and when he says his hobby is reading, he means reading Harry Potter again and again. He's an avid runner and a marathon enthusiast. His passion lies in teaching.
10. Riddhi Kalra
Words, in a supposedly humble opinion, is one of the most inexhaustible sources of magic, capable of both influencing injury and remedying it. It was this magic that drew Riddhi Kalra into the possibilities that expression could offer. She tends to be obstinate about pondering on the other side of things – the "what ifs", that have the potential to change the end of a story. She is of the opinion that there is brilliance in mediocrity and beauty in humility. She enjoys reading novels – particularly because of the parallel life it enables people to lead and happens to belong to the category of people who prefer physical books over their digital counterparts because of the musty smell of books, Biblichor. She is also an amateur guitar player and is currently studying in the first year of the Post Graduate Programme in IIM Trichy.
11. Sambhavi Ganguly
Sambhavi is a student of PGP1 at IIM Lucknow. She was born and brought up in Gurgaon. She is an Electronics Engineer with work experience in semiconductor design. She loves reading, talking endlessly and binge-watching FRIENDS. Also, she is a trained Kathak dancer and dancing gets her high. In her free time, she likes to write poetry and listening to music.
12. Sharun Sanel
Sharun is presently pursuing 1st year in IMT Ghaziabad (2017-19 Batch), and used to work as a Business Analyst in Accenture."Follow your Inner Moonlight, Don't Hide the Madness", he explores with a sense of intuition and enjoys analysis. He loves expressing himself through Dance (Salsa) and creatively letting out his stem of thought through writing and deep conversations. Sharun is passionate about debates and extempore, having an ENTP Personality allows him to be the Devil's Advocate and a curious observer. He is a Die hard fan of Sheldon Cooper (TBBT) and "How I met your Mother", also a quintessential Bollywood buff. Sports enthrals him with an adrenaline rush, especially in Cricket, Football and even in Chess. His soul gets enriched by being a part of a Jesus youth and also being with nature, as he is from Gods own country. He is instinctively an enthusiastic person, who thrives on tasting all colours of the rainbow and the zest for life. He would share an insider perspective, of his nest "IMT" through his prism of thought to capture the vivid amalgamation of ideas and journey of his fellow "IMTagged" Multitudes.
13. Shashwat Mairal

Shashwat Mairal likes to call himself 'A curious character'. He grew up in Bhilai (for those who don't know where it is, he has asked them to google it!). He is presently pursuing his Masters in HR from TISS Mumbai. Prior to this, he studied management studies at St Xavier's College worked as a Product Manager with a Bank, taught part time at a CAT coaching institute.
Having seen MBA aspirants as a friend, coach and candidate, he is passionate about dispelling some myths that a large no. of candidates seem to have while starting on their MBA journey. Also having an educational background in management studies and having seen the application of those managerial concepts in action, helps him (or so he thinks!) address the cynicism which many aspirants have towards management education (as a result of which most candidates see b-schools as mere 'placement agencies' – they are much more than that).
Shashwat enjoys travelling and is a politics buff. When not running around the campus attending classes, he can be found chatting with folks in the canteen or the library.
14. Sumangal Kamath
Sumangal Kamath is a first-year student of SBM, NMIMS Mumbai.  Prior to her MBA, she pursued her BCom from St Aloysius college, Mangalore. She describes herself as an almost singer and was also a contestant of Sa Re Ga Ma Pa Little Champs (Kannada). Apart from singing, she holds a strong penchant for cycling and writing. Through InsideIIM she hopes to write stories that inspire its readers.
15. Tanya

Tanya is a textile engineering graduate weaving dreams at IIM Kozhikode. This engineer by mind and writer at heart from Lucknow is putting her best to manage the hustle bustle of b-school life in the peaceful God's own Kampus. She finds solace In poetry and basketball brings her back to life. Loquacious, she loves being around people and nothing makes her happier than good food. An ardent InsideIIM reader last year, she is excited to be on the other side of the screen and desires to help CAT aspirants in every way possible.