All You Need to Know About Marketing Major:
A little background about me first; I've recently graduated from IMT-G in Marketing as my Major and would be joining a leading IT firm in their Sales Support function.
In popular culture related to MBA, Marketing is portrayed to be a specialization of people who are glib talkers, loves to hit the field & Finance, on the contrary, is for people who are dead serious and even geeky sometimes. Both the assumptions are only half true and we will see why. To keep the scope of this article focused, we will talk only about Marketing as a specialization; our agenda would be the career ahead in Marketing.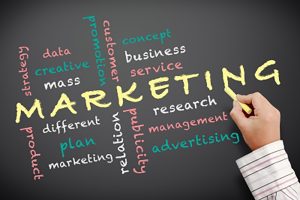 If you are in MBA, you can't skip numbers for sure. As a Marketing person, if you present any plan to Senior Management regarding your brand or project, it should be backed by crystal clear numbers. So, let's make it pretty clear: In next 2 years of B-school, you've to be very good at number crunching.
Let's talk about the career path in short to mid-term, in various Industries that recruit Marketing students:
FMCG/FMCD: Considered to be the hottest sector for any Marketing aspirant, this industry is highly challenging, demanding and is full of travel. Just to give you an example; Emami India's modern trade channel for Uttarakhand, Delhi, Haryana has only 1 Area Sales Manager (ASM). Just imagine the amount of travel and sales target stress involved. The bright side of this industry is the career path; most of the CEOs of FMCG majors are B-school grads who joined as Management Trainees. Just out of B-school candidates are hired as Management Trainees (MT). 1-year MT stint involves rotational functions like Branding, Rural Sales, Modern Trade etc. After completion of MT program, most of the candidates are given sales role and designation is Area Sales Manager (ASM), and the territory is usually a tier 2/3 city. Brand Management switch usually happens after 3-4 years (Can take more time as well).
IT Companies: Tech or the IT companies are one of the major recruiters for Marketing folks. They offer roles like Business Analyst, Presales or Bid Manager, Domain or Functional Consultant, Project Managers. They prefer candidates with previous IT experience and offer salaries that vary with work-ex. This industry offers a chance to work abroad and gain global exposure (along with good money). Career paths can't be singularly defined as many MBA grads keep changing their functions/roles based on opportunities.
Consumer Internet Firms or E-commerce: Companies like Flipkart, Amazon, Paytm, BYJU's are one of the highest paying in the b-school placements. They are also some of the most sought-after companies. The roles offered by these companies are usually of a 'Product Manager', for which candidates must have good analytical and technical skills. The career path is, again, not clearly defined as a person with less than 1 years of experience can be a Product Manager and Someone with 12 years of experience can be a Product Manager as well. This is also dependent upon the market value of the product.
International Trading Firms: This is a very niche recruiting segment. Major firms hire candidates from Marketing and give them a location in African countries initially. Packages are very high, as they have to match the hardship faced by candidates. This sector also offers a great exposure for entrepreneurial learnings.
I've covered only 4 industries in the article whereas there are many that have gone unmentioned. As a serious candidate, you must have got a hang of how to do research about various industries by now. So pick up the placement report of your prospective b-school, look at the list of companies and then search alumni and career path using LinkedIn.