One of the most important and time-consuming parts are the Batch profile and CV, as this will help you to get a shortlist in the companies. I connected with my buddies they helped me a lot in finalizing the CV after infinite iteration. It becomes hard to put together all the important & relevant points on a single piece of paper. One important thing that many misses is to be fully equipped with answers to all the points that are written in the CV, I used to do a 5 Why Analysis to get to the most basic answers of every point that is mentioned there.
I had a keen interest to get into either Consulting or FMCG company, so I had to prepare accordingly. For Consulting, I referred to Casebooks from NITIE, FMS, IIMA, and Darden and we used to make a group of 2 students and solve cases together. Guesstimates are also important and these casebooks helped a lot in that. I will suggest solving a guesstimate regularly as it keeps the mind sharp. For example: Guess how many people will be reading this interview of mine? Or to put it simply you can create a question anytime and ponder over it to get the approach.
As day zero approached, I revised the notes that I had made during preparation and a tailor-made preparation is required for different kinds of companies. The habit of analyzing various approaches and synthesizing my learning from every case helped me a lot.
---
What was the summer placement process at McKinsey & Co.?
After getting the shortlist for the company. we had a session with McKinsey to make us understand the "McKinsey Way of Problem Solving" and after we were allotted a buddy from the company. Buddies helped us a lot in preparing for the McKinsey interview. There were 4-5 interviews for 45-60 minutes which were cased based and guesstimates, all the interviews happened on the same day. Although, I had read about all the frameworks but in none of the cases the frameworks can be applied.
---
What were the reasons you think that you cracked the interview?
Getting my basics and CV right was an essential part of my success in the interview. The case practices that I did with my buddy and friends helped a lot. The interviewee is expected to use first principles (logic, structure, MECE, prioritization) to arrive at answers. It is the essence and the approach that I learned from solving cases during my preparation that helped me a lot.
They examine areas like personal impact, leadership, and entrepreneurial drive and the cases test the problem-solving skills, comfort with numbers, and common sense. The mindset of on day of the interview is also very important, I was calm-minded and even the interviewer also helps you to get at ease.
I believe one should be very much confident on the day of the interview as the interviewer is there looking for reasons to hire not to reject you :)
---
Tell us about your day-to-day work as a summer intern at McKinsey & Co.?
I was given an independent workstream and was given full ownership of that. The expectation and the milestones were informed clearly by the Engagement Manager and Partner. I worked for an Indian NBFC on their expansion strategy where they were expanding by merging with another NBFC. My job was to drive the Integrative Management Office (IMO) and Project Management Office (PMO) and play an important part in finalizing the end state of the merger.
There was a lot of problem-solving involved, developing hypotheses, validating my findings, providing recommendations, and implementing them. My job involved creating models, presentations, connecting with experts, brainstorming with the team, and showcasing the solutions to Partners and CXOs of the client. Overall, it was a steep learning curve and the exposure that I got was really amazing.
---
What are the most cherished moments of your internship?
There were many moments that I will cherish from my internship. Presenting your recommendation as an intern to a CXO of a large company can be quite overwhelming but the way my team supported me and boosted my confidence was amazing. Regular Problem Solving (PS) sessions with my Engagement Manager and Partner were also quite memorable, it always helped in getting an insight on how a Partner thinks and help in course correction. The weekly Coffee Session and Fun events, although on a Zoom call was nice. It helped in interacting with the team and getting to know each other better.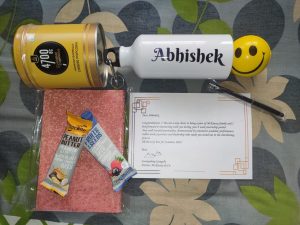 ---
What according to you was the main reason you bagged the PPO from McKinsey & Co.?
I feel there are three main things that are required from a McKinsey intern: Good Problem-Solving Skills, Excellent Communication (Both Oral and Verbal), and the ability to take ownership and deliver results. I believe the regular support and feedback that I got from my team helped me a lot in bagging the PPO. There is always something that you learn from a client meeting and incorporating those learnings into my workstream helped me a lot. I was hesitant in asking for help and from in-house experts to the client, all helped me and did the course correction where required.
---
Final piece of advice to the future summer interns looking for Consulting roles at McKinsey & Co.?
The first three months from college commencement are important and one should be quite focused during that time. Be thorough with the basics of every domain as it helps you to understand the problem statement and then you can come to answer in many ways as you will be thinking from every angle. Practice cases and guesstimates with your batchmates, seniors, and alumni if required as it will give you a real practice of case interviews. Learn the basics of case solving (P&L, M&A frameworks, etc) and be well versed with the different techniques such as PESTEL, GTM, Porter's five forces, etc. Particularly for McKinsey & Company, be MECE, always go with a hypothesis and understand fully the McKinsey way of Problem Solving.
---
***
Recommended For You:
---
InsideIIM's Best 50 - India's Most Employable MBA Graduates - Class Of 2022
For the Class Of 2022, we are back with the 8th season of InsideIIM's Best 50 - India's Most Employable MBA Graduates - Class Of 2022! If you're graduating from a B-School in 2022, you're eligible to take part in this competition! Grab the chance to bring out your best side and impress your recruiters and peers. Take the opportunity to show the world why you are special, on your own terms.