In our list of India's Best 30 - the 30 Most Employable Students from the Class of 2019-21, we feature MBA students who have shown a tremendous amount of courage & willpower to make their vision a reality. One of those featured in today's story, Shailesh Maheshwari, took a very brave decision to achieve his IIM dream. Read on and find out how this CA at IIM Shillong went on to delve deeper into the world of life sciences.
The following are Shailesh Maheshwari's set of responses to a questionnaire floated amongst MBA graduates to determine the top-30 most employable MBA graduates of the Class of 2021. Amongst the massive number of entries and responses being evaluated by the Founder of InsideIIM-Kampus Konversations, Shailesh's story and profile stood out. Here's his story in his own words.
Take Your Career To The Next Level. Ask Our Experts Anything. We Will Respond Within 48 Hours.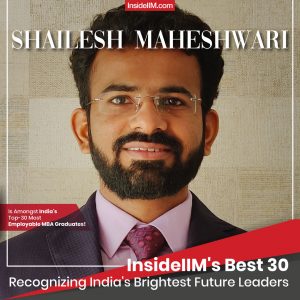 Shailesh is a Chartered Accountant pursuing his MBA from IIM Shillong. He is a PPO holder from D. E. Shaw India and is the winner of Jubilant Life Sciences corporate competition with a stellar performance in many other competitions. Prior to MBA, he worked at EY as an assurance executive and has handled many listed clients during his corporate stint since articleship. A graduate of St. Xavier's, Kolkata, Shailesh enjoys sports, ancient Indian history is a karateka, loves socializing, and is a budding cook.
Name an instance where you wanted something and went out of your comfort zone to achieve it OR Tell us the biggest risk you have taken so far in your life.
The toughest decision so far has been to quit a well-paying job with great future prospects to sit at home & prepare for MBA. It took a lot of toll and convincing. Even tougher was to convince myself. Being a finance grad, you are too good at calculating the opportunity costs even before you undertake the journey.
Most of my friends had a good-paying job and many discouraged me from pursuing the idea, but to look into oneself, introspect & understand what exactly I needed to do with my life was a difficult choice to make. I belong to a society where sons don't sit at home to study once they start earning. Breaking through that mental barrier was a task at hand and I received enormous support from my family in getting across this. So far, the journey has been good & I am proud to have considered the non-quantitative factors in the opportunity cost calculation.
When was the last time someone relied on you? OR What did you do which was purely for someone else - a truly selfless act.
People around me generally count on me. Despite being in the Placement Committee and having tight schedules, I have helped my batchmates throughout with their interview preparation during placement season, took mock interviews and helped them improve their answers. I also helped my colleagues with their presentations during our internship & personally mentored a group of juniors from my college. Even though I was participating in corporate competitions yet that did not deter me from helping anybody who asked for my help with regards to their presentations or to streamline ideas. I also shared my presentations with both the batches of my college despite competing against them & have personally helped teams whenever they were stuck during their corporate competitions and needed my inputs. And all this has been done without compromising on the deliverables which are required from a Placement Committee member.
Tell us about a time when you disagreed with an opinion/idea/decision. What did you do about it?
This happened during one of my tea garden audit visits during my CA articleship. All of us were interns and I was the lead. During that audit one weekend we were out on a trip when suddenly our car met with an accident. We were stranded far away from our work location. The women in the team were worried and wanted to grab any public transport. The journey would have been 8-10 hours. I felt public transport could be unsafe with women on board in an unknown location. Though, it was around 10AM then, due to network issues it was difficult to contact the tea garden managers. Somehow we got in touch and had a safe journey even though we reached quite late. They said that it was a wise decision not to opt for public transport because of the presence of high anti-social elements in the area. The twist in the plot came a few days later when we discovered a fraud. The same garden managers requested us not to report it. My team too persuaded me not to report it. I myself felt emotional and could never forget the timely help that they had provided to us when we were stranded. But being the team leader, I felt ethically obliged to report the fraud & complete my duty. Later, a string of other control deficiencies were detected at other places and we were able to plug the loopholes which could have cost our client crores.
What is the one thing you can claim to have some level of expertise or depth of knowledge in - it could be anything - a subject, a sport, a hobby, a venture, an initiative which has led you to do deep work in that field?
I am a Chartered Accountant and the last time I read Biology was in Class 10.
Yet, when Jubilant Life Sciences came up with their competition which required high-level research on Alternative Proteins & Nutraceuticals, I not only read up about FoodTech but also understood about the domain and prepared a feasible business idea which was more social-centric than profit-centric. I am currently working on business ideas which are focused on rural inclusivity & tapping the untapped resources urgently requiring creative interventions. MBA gave me the opportunity to explore beyond my core expertise of finance and delve deep into the world of amino acids.
If 10 Million Dollars (approximately INR 75 Crores) is given to you to use it any way you deem fit what would you do with this corpus?
I have some business ideas and they are in unique spaces of Plant-based Meat & Nutraceuticals. While both are need of the hour yet they are known by very few. My ideas have the potential to generate a lot of rural employment. The target markets I have in mind involve a huge role to be played by the rural & semi-urban market. Since both these ideas involve a lot of R&D & technical capabilities like machinery, a chunk of the amount would be utilized in there. The remaining bulk would be used to establish a rural entrepreneurship model. While, both the business ideas are different, I want to work on them one at a time & have plans to create a big organization merge both in them & run them as separate segments.
You may also like to read: