There is a reason why one of the authors on this website somewhere mentioned that in India, it's still IIM ABC and the rest. Especially, when it comes to placements. Talks of a slowdown seem difficult to believe if one just glances through the kind of companies and the roles offered at IIM Bangalore for internships in the summer of 2012.
IIM Bangalore concluded its summer placements and they are nothing short of spectacular. About 85 students or 25% of the batch will intern abroad. The offers are across domains, functions and sectors. In short, students are spoilt for choice.
Banking &Finance and Consulting & General Management - The kind of companies ,the number of companies, and the kind of roles in these two categories are the parameters that should tell you the gulf between IIM Bangalore and other top business schools in india. Only IIM Ahmedabad and IIM Calcutta and to a small extent ISB Hyderabad are in the same league.
Apart from the glamorous Wall Street names like Goldman Sachs, Morgan Stanley etc. there is big list of Private Equity firms providing access to some of the select opportunities in the country today. 18% or over 60 students will be interning in front-end investment banking/Markets roles. This may be a number that is more than similar profiles offered at 3-4 other top institutions put together. 5 % will be interning in Private Equity/VC firms which is again a very impressive number given how few those roles are in supply.
As far as Consulting goes, every marquee name one can think of wants to recruit from IIM Bangalore in huge numbers. General Management roles are some of the best on offer in India. What also caught our eye was the Executive Assistant to the CEO role offered at SAP and Narayana Hrudalaya.
Plenty of opportunities in the FMCG space and exciting roles in Consumer Products, Technology, Marketing and other roles make sure many domains and other sectors of the economy are touched. Dentsu and Rediffusion are very impressive Media names.
We will let the data do rest of the talking but first a few positive comments by alumni of IIM Bangalore who are in the industry (They have requested not to be quoted) :
1. Massive choice of companies - 123 companies to choose from will ensure there is space for specialized work opportunities
2. A 1 out of 4 chance at international placements - this coupled with the exchange program would probably mean half the batch going abroad atleast once
3. A good access to new-economy companies like Flipkart and Yatra on one end and a deep line up of investment banks and PE on the other, again make sure that there are choices available at both ends of the spectrum
4. In conclusion, the summers at IIM Bangalore seem to provide a large range of choices for students - the increase in batch sizes that happened a few years ago has only led to an increase in good companies and broadened the choices.
Click to enlarge any of the tables below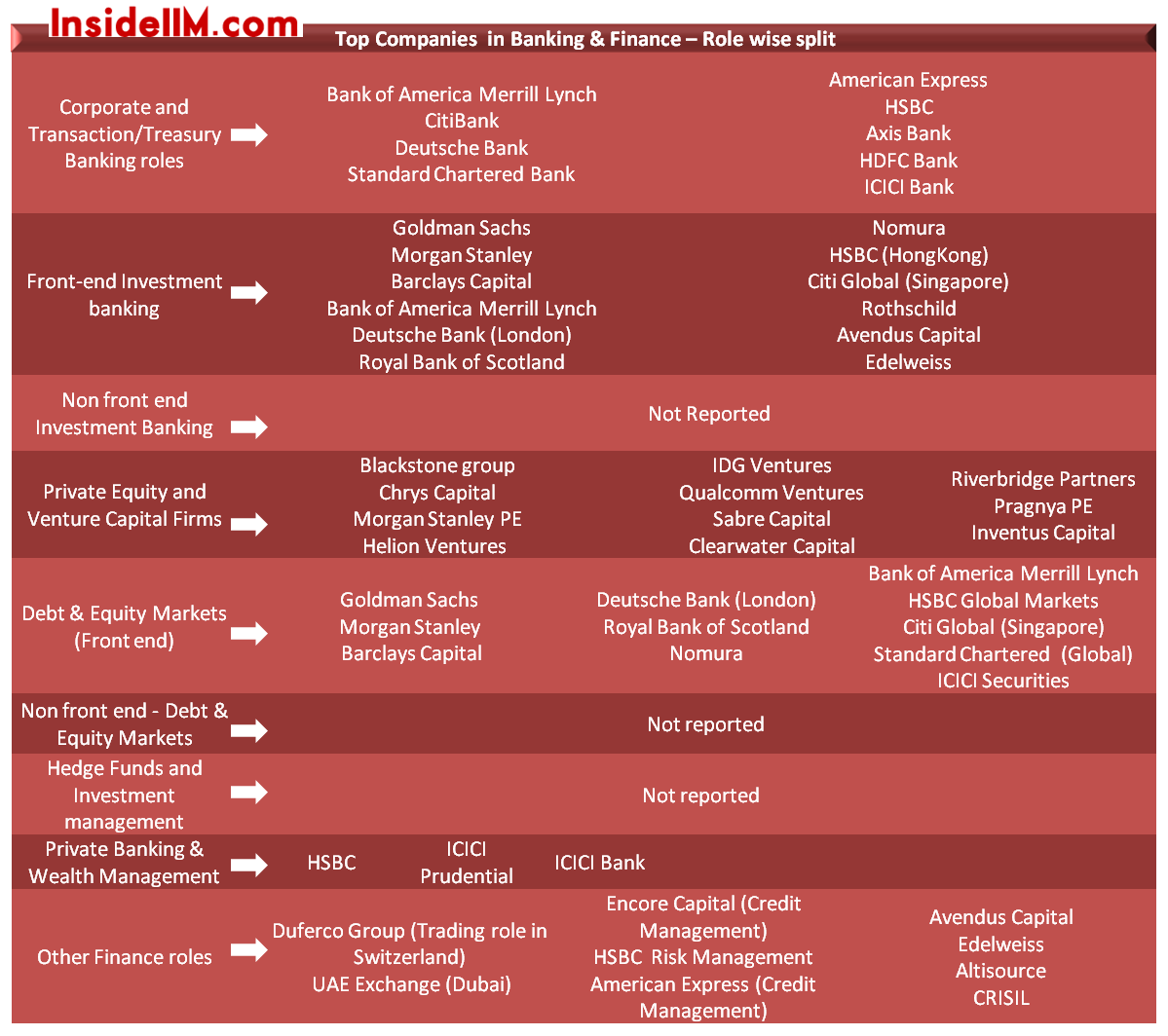 [caption id="attachment_910" align="alignleft" width="414"]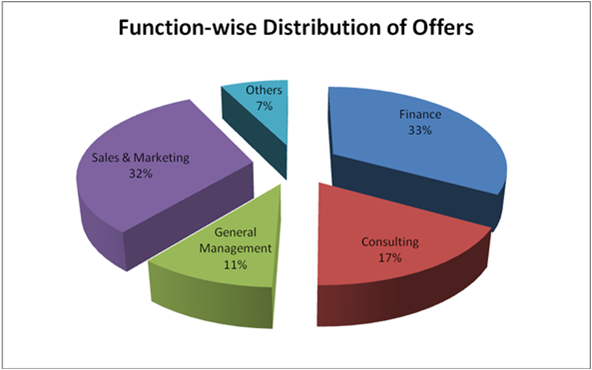 Finance break -up : Investment Banks (includes Markets roles) 18%, Private Equity 5% and Corporate/Private/Consumer Banking 10%[/caption]
Team InsideIIM.com wishes to thank IIM Bangalore Career Development Services and the placement committee representatives for sharing the role wise classification as per the above format. All the role-wise splits and top company mappings were run through the Chairperson of Career Development Services of IIM B before this story was published. The commentary around every statistic is strictly by people at InsideIIM.com and the IIM B placement committee has not played any role in it.
This is the fifth in a series of reports that InsideIIM.com will bring to you. We are committed in bringing you a complete picture. We will also ensure that no irresponsible reporting is done on this website. Attempt will be made to verify the data with the institution before any publishing is done. However, lack of response from the institution will not prevent us from providing insight to our readers.