Launched in 1989, Elephant Design is India's topmost independent integrated design consultancy firm. It has won numerous national and international awards, such as 8 Rebrand International Awards, Design for Asia Award, Top Design Agency ranking by Economic Times for over 8 years, WorldStar Packaging Excellence Award, International A' Design Awards, several India Design Marks and many more. It represents India at the Design Alliance Asia, a consortium of design consulting companies across 13 Asian countries. It has more than 100 clients from almost all business sectors, including many fastest-growing start-ups as well as global market leaders in their respective domains.
To know about the journey of Elephant Design, we interviewed Harsh Pamnani, who is an MBA from XLRI Jamshedpur and author of the bestselling book Booming Brands (published by CNBC). In his book, he has covered inspiring journeys of many new age 'Made in India' brands, including Elephant Design.
Take Your Career To The Next Level. Ask Our Experts Anything. We Will Respond Within 48 Hours.
Debayan: Tell me why you covered Elephant Design in your book?
Harsh: Elephant Design is India's topmost independent integrated design consultancy firm. Evolution of Elephant from a college internship project to an internationally recognized design firm is an inspiring dream-to-destiny journey that covers the passion of the team, the evolution of a brand, and the creation of design movement in India. Hence, I was curious to know about the journey of this brand.
---
Debayan: How is design related to branding strategy?
Harsh: In today's world, evolving consumers prefer superior experiences. If you ask anyone what differentiates great brands from average ones, one of the definite answers would be 'design.' Design is an integral part of the branding strategy. It elevates perceptions about a brand and creates differentiation. To differentiate themselves and provide a meaningful experience to their customers, many companies are now waking up to design as a key differentiator in their strategies.
---
Debayan: Tell me a little about how Elephant Design got started?
Harsh: In 1988, Ashwini Deshpande, co-founder of Elephant Design, was a student of NID (National Institute of Design). Then, she was doing her internship with the India office of a German multinational conglomerate BASF. Over a period of six months, she helped the company's corporate communication team in designing multiple collaterals such as a brochure, calendar, annual report, etc. She also helped the team in designing a trade exhibition. During this exhibition, the global corporate communications head of the company happened to be in India, and he appreciated the work done by Ashwini for that exhibition. He also saw the other work done by her during her internship and was highly impressed. Eventually, he offered her an opportunity to work on the company's international collaterals such as brochure and corporate audiovisual.
Ashwini had already planned to start a design firm soon after graduation. She informed the global corporate communications head of BASF that she was about to start her own design consultancy with some friends and would be able to take up this project through that firm. He agreed and for the entire scope of work, offered a design fee of around 100,000 Deutsche Marks that roughly equalled Rs. 13 lakhs in 1989. Luckily, he needed some time to put things together at his end. So, Ashwini got a grace period of four months to finish her graduation and get her friends to move to Pune to start the company.
---
Debayan: Elephant Design is a very catchy name. How did the team come up with this name?
Harsh: The name Elephant Design is inspired by the interesting ancient story of blind men and the elephant. Once upon a time, in a land far away, lived six blind men. They all met an elephant but had no clue what the creature was! Each one felt a different part of its body and reached his own conclusion. The man who felt a leg, thought the animal was like a pillar. The one who felt the elephant's trunk thought it was a tree branch. One of the blind men felt the tail and thought of a rope. All of these men only touched one part of the elephant and began to argue over what the animal really resembled. If you think about it, they all were right in their own ways, but they only needed to put their pieces together for the bigger picture – the whole elephant!
Similarly, in the world of design, individuals with varied talents & backgrounds bring different perspectives and collaborate to help an elephant (a richer and bigger picture) emerge. This was exactly the philosophy behind the name.
---
Debayan: Can you tell me about a few strategies that contributed to the growth of Elephant Design?
Harsh: Actually, there are many strategies that I have covered in detail in my book. Let me share a few of them briefly:
Sell to the right clients: Many start-ups dream of becoming multi-million-dollar companies quickly and try to do too many things to acquire any kind of clients. On the other hand, companies that create a strong position in the market, selectively choose their market segments and clients. Especially in a B2B consulting business, the quality of clients is more important than quantity. Early on, the co-founders realized that selective clients, who are innovators and early adopters in their respective industries, not only help the consultancy in building its credentials but also provide valuable feedback, new ideas, and, based on merit, new references. In the initial year, they had prepared a list of progressive business houses that could become prospective clients where design as a value addition would be easier to demonstrate. To pitch to these prospects, they wrote letters to their founders and CEOs explaining the multi-disciplinary nature of their team. Over a period of time, the company has worked on experiential branding, packaging & retail projects for some of the leading companies including Symphony, Britannia, P&G, Unilever, Tata, ICICI, Godrej, MTR and more recently for fast-growing start-ups including Paper Boat, Fingerlix, Epigamia and many more.
Don't dilute your brand: Most of the time, organizations think that growth means gaining more clients, more revenue, and more market share. To achieve this growth aspiration, they extend their well-respected brand name on to newer domains without thinking of alignment with core values & capabilities. In the short run, they might be able to gain some more market share based on the credibility of their brand, but in the long run, their brand may get diluted if the delivery quality in the new domain is not at par with past credibility. Elephant has been very selective in defining its growth. Instead of using its brand name to get into new domains and become a generalist, it has focused on enhancing respect and expanding the market for its specialized category i.e., design-led innovation. Over the period of time, along with services such as communication design, industrial design, environment design, and packaging design, it has started providing more value-added services such as design research, innovation strategy, and brand strategy to its clients. These value additions have helped, both in increasing the revenue as well as reputation.
---
Debayan: Can you share one piece of advice that Ashwini Deshpande shared with you for Booming Brands' readers?
Harsh: Give yourself a new challenge every now & then, and once you overcome that challenge, put another challenge in front of you. Thrive on challenges.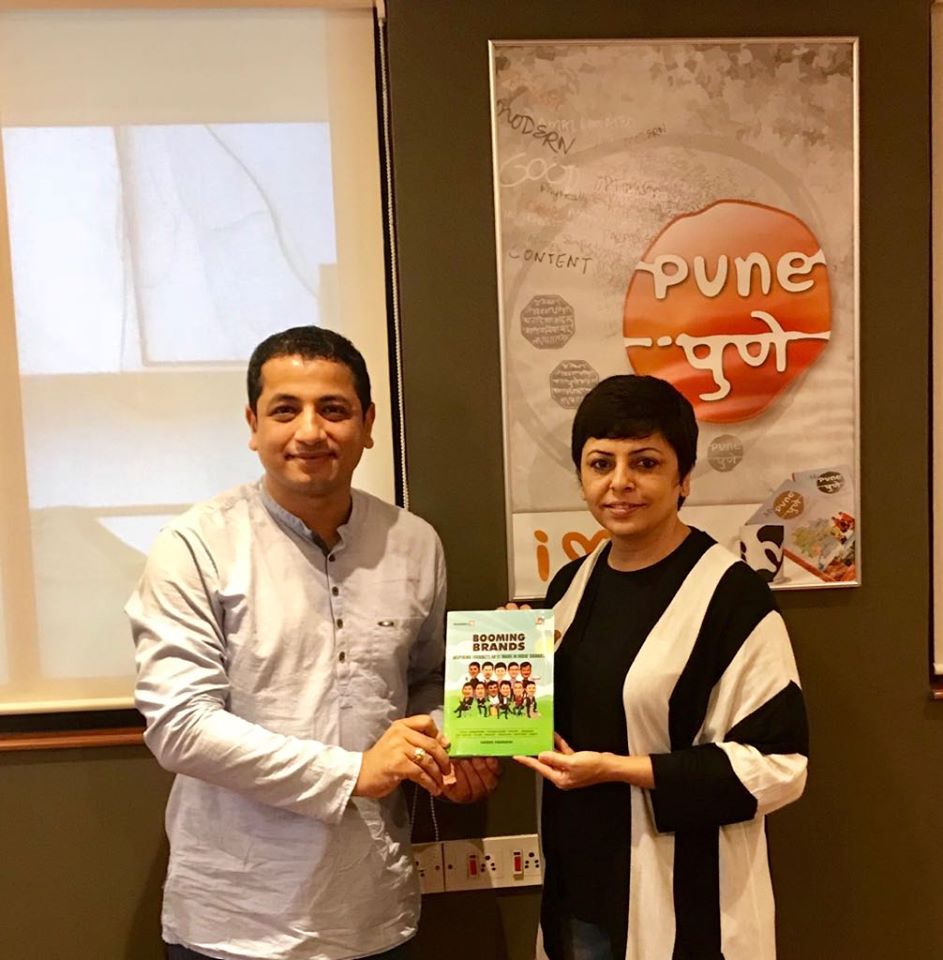 Harsh Pamnani with Ashwini Deshpande, Co-founder of Elephant Design
***
You May Also Be Interested In Reading -