Getting into a good b-school is a full-time job; it requires time, practice, awareness and due diligence. But when the dust around CAT and other exams settles & you receive your scores, you are left facing a barrage of questions like, "Where will these scores get me?", "How do I prepare for them?", "How do I prepare for GD/PI?", etc. Obviously, if you have a par score, getting into Tier 1 & 2 b-schools would be your goal & it has its own challenges. But if that's not the case, going for Tier 3 b-schools has its own intricacies. So we thought we'll talk about making the right choices after CAT.
We compared the Fees vs the Median Salaries offered according to MHRD database for b-schools ranked 41-60 which will typically be the Tier 3 colleges.
Take Your Career To The Next Level. Ask Our Experts Anything. We Will Respond Within 48 Hours.
Average Fees comes out to be approximately INR 8,70,000 while the Average Median Salaries offered in the placements in these colleges is approximately INR 7,00,000. There are only a few outlier options which offer good RoI while for the rest, the Total Fees outnumber the Median Salaries offered by a mile.
Does that mean that you don't stand a chance this year if your scores in CAT and other exams are low?
No!
Next up, we compare pursuing PGDM from Tier-3 colleges with an alternative,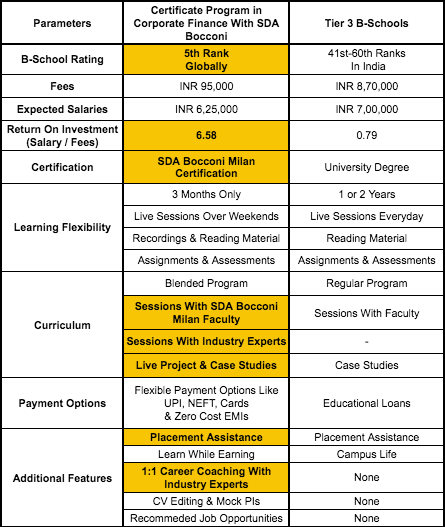 Why Settle For A Mediocre Degree When You Can Spend Less & Achieve More?