What costs more - pursuing an MBA from a government college or a privately owned college? On average, what is the difference in fees charged by a public MBA institute and private MBA institute? What does it cost to pursue an MBA from some of India's top-ranked public and private business schools, and which institutes are these? To find out, we bring to you MBA rankings of India's top government and private business schools in 2021!
---
IIM ABC Are India's Top Public B-Schools, NITIE Also Features Amongst The Top-10
IIM Ahmedabad, IIM Bangalore and IIM Calcutta are India's top three government business schools in 2021. The "holy trinity" of IIMs has always featured amongst the top three in the InsideIIM MBA rankings.
Take Your Career To The Next Level. Ask Our Experts Anything. We Will Respond Within 48 Hours.
FMS Delhi, which charges just INR 2 lakhs for a two year MBA program and offers a median salary of 24 lakhs, is ranked no. 4 in the list of India's top government business schools. Another public business school that offers a great ROI and features amongst the top ten government business schools in India is JBIMS, the "CEO factory" of India.
IIMs Lucknow, Kozhikode and Indore are also amongst the top then government business schools in India in 2021. Despite charging significant program fees, these year-on-year, these institutes are highly sought after for more than 2 lakh MBA aspirants appearing for the CAT exam. Also featuring amongst the top ten is NITIE Mumbai, also known as "the gem for GEMs" due to its policy of admitting only engineers to its PGDIM post-graduate program. The institute offers placements that rival those of some of the other institutes included in these rankings.
---
XLRI, SPJIMR, ISB Top Private Indian B-Schools
XLRI Jamshedpur has emerged as India's top privately owned business school in 2021. XLRI is often put in the same bracket as IIMs Ahmedabad, Bangalore and Calcutta and is one of India's leading business schools. SPJIMR Mumbai, one of the tougher business schools to get into owing to its rigorous profile-based selection process, is amongst the top three private business schools in India. SPJIMR has also consistently featured amongst the top ten b-schools in India, including in 2021. The institute offers placements that rivals those at some of the top-ranked IIMs.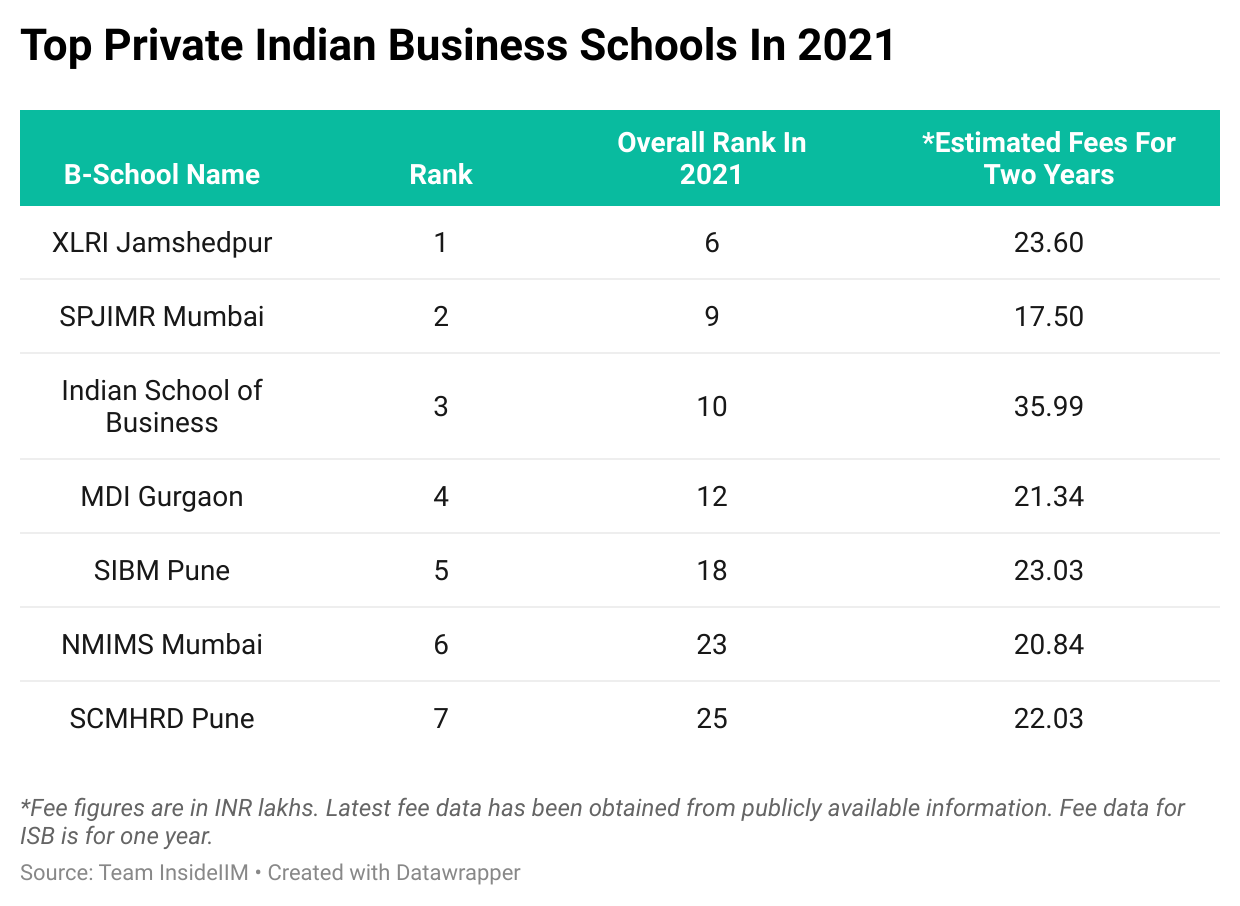 Also featuring amongst the top private b-schools of India is the Indian School of Business, which has recently been ranked as India's top business school as per the 2021 Financial Times ranking of global business schools. This year, ISB recorded a whopping 1145 offers for its PGP batch of 2021. Despite the pandemic, ISB also recorded an 8 percent increase in the average salary offered to the batch. Therefore it comes as no surprise that the institute is one of the most sought-after private management institutes in India and the world. Two Symbiosis institutes - SIBM Pune and SCMHRD - feature amongst India's top privately owned business schools.
---
On Average, MBA From Government Institutes Cheaper Than MBA From Private Institutes
Based on the publicly available information about fees charged by the aforementioned MBA colleges, it can be concluded that if you were to pursue an MBA from a top-ranked government business school, you would pay an average course fee of INR 16.46 lakhs. The course fee for the top ten government MBA colleges is in the range of INR 1.92 lakhs to INR 23.00 lakhs for two years.
For privately owned institutes, on average, you would have to pay a fees of INR 23.48 lakhs. If the fee for ISB's one-year PGP program were to be removed, the average course fee for private MBA colleges would stand at INR 21.39 lakhs. The course fee for the top private MBA colleges is in the range of INR 17.50 lakhs to INR 36.00 lakhs.
How much do you agree with these rankings? Which b-schools do you feel should've made the cut, and which b-schools shouldn't've? Let us know your thoughts in the comments below!