MBA summer internship is a brief learning experience involving on-the-job training with top organizations. It is an excellent opportunity for your career trajectory by assisting you in defining your preferred career path.
5 Top Soft Skills That Recruiters Look For In An MBA Summer Internship
Communication Skills: Every recruiter is interested in your ability to write and speak professionally. The key in any domain is the ability to translate ideas and convey information effectively.
Interpersonal Skills: It is important to build and sustain healthy relationships among your coworkers and clients. And if you are good at identifying the needs of others and understanding their perspectives, it is an added advantage.
Critical Thinking: Your ability to analyze and evaluate the situation to form a critique is highly appreciated in the business world.
Creativity: Recruiters expect you to have an ability to identify the need and come up with innovative ideas or a fresh angle.
Teamwork: It is the most sought skill by the recruiters. In order for organizations to operate effectively, professionals must be able to interact and work in teams.
Here are 5 Hard Skills To Possess For Summer Placements
Advanced Microsoft Excel: Your tasks with excel won't just involve creating tables. A few excel skills to be mastered are the VLookup Function, Pivot Table, Macros, Creating Charts, etc.
Data Analytics & Visualization: It helps in devising an effective case that helps the company progress. The optimization of this data differentiates successful companies from average ones.
Stakeholder Management: It is important to communicate with stakeholders associated with your project. It will be valued if you quantify the results and provide them feedback.
Case Solving & Guesstimates: Identifying the key issues, analyzing them, and coming up with a solution is vital in companies. Learn to solve cases & guesstimate to gain an edge over other candidates.
Domain-Specific Skills: You should have an understanding of the inner workings and processes in a specified field. Domain expertise and knowledge are critical skills that recruiters expect you to have.
Take Your Career To The Next Level. Ask Our Experts Anything. We Will Respond Within 48 Hours.
Summer Placements are unquestionably important for your career, as revealed by the stats mentioned in the below infographic.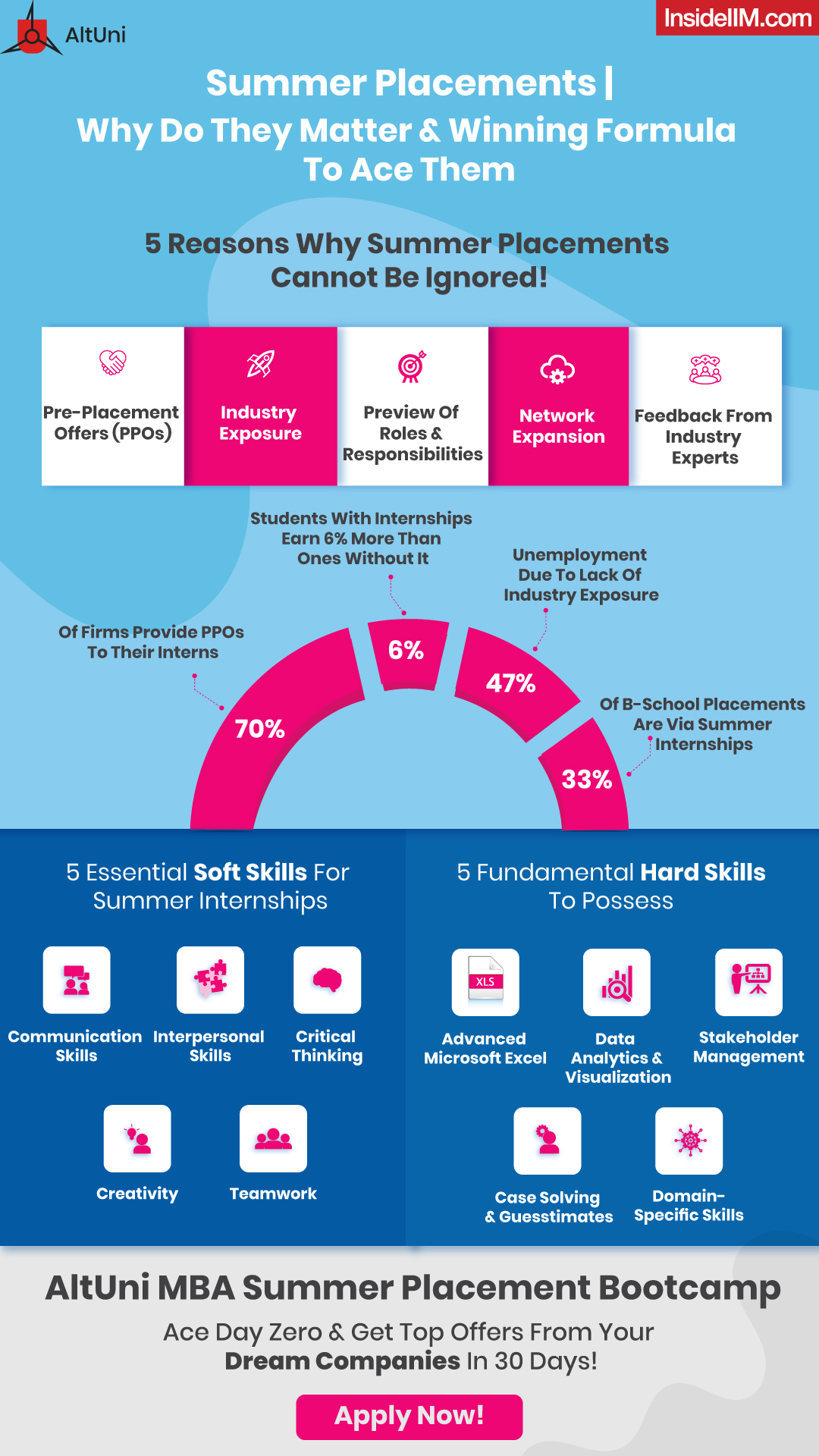 Following the massively successful 2021 Summer Placement Bootcamp which gained an excellent rating of 4.47 and helped 75+ students gain their dream offers, we are back with an even more effective Summer Placement Bootcamp in 2022 to enable you to crack your dream job offers with 10+ industry experts, who received an instructor rating of 4.58 in the 2021 season.
How Will It Benefit You?
Get 1:1 - domain expertise from industry experts of

TAS, BCG, HUL, Deloitte, Bain & Co., EY, Samsung, RIL, L&T, Paytm, Oyo, etc.;

Work on a

LIVE Business Case Simulation

& get exposure to solving business problems in real-time;

Get a chance to work on a

Live Project

based on your profile and your performance in the Bootcamp;

Master

domain-specific interview questions & tips

and take part in mock GDs & PIs to ace summer placements;

Learn from

students of top b-schools

on how they cracked their PPOs and placements; and

Improvise your

resume

&

SoPs

with the help of experts working at your dream companies.
That's Not All!
There will be

assured rewards

for the

Top 30 Rankers

of the program;

You will receive

study material & interview prep guides

crafted for each domain;

Get access to InsideIIM's

exclusive recruiter research

of dream companies & panel discussions on the same; and

Get access to InsideIIM's

exclusive domain-specific

first-hand accounts of interviews & internships.
What Do Our Students Say?
"Really insightful info given about the different roles in the finance sector for an MBA graduate, as well as a great articulation of job scenario in current/ previous crisis" - Saket on How To Ace A Finance Summer Placement Interview session
'The insights facilitated a complete whirlwind for me, the perception I had of Sales & Marketing took a straight 180 turn, and my existing knowledge got amped up by an insane margin.' - Anandmayee Tripathy on How To Ace A Sales And Marketing Summer Placement Interview session
"An equal proportion of time for great insights regarding consulting, case studies, interviews & prep. and clarifying doubts." - Sai Pranav Sidhu on How To Ace A Consulting Summer Placement Interview session