Owing to the rise in volumes of data in recent years, the demand for Data Analysts have increased drastically too. As of December 2021, there are 75,000+ active job openings for Data Analysts on Naukri.com and LinkedIn combined. A Data Analyst in India can command a range of salary from INR 3.4 to 17.5 lakhs per annum, depending upon many factors like experience, skills, location, and employer.
Thinking about it already? You're on the right track!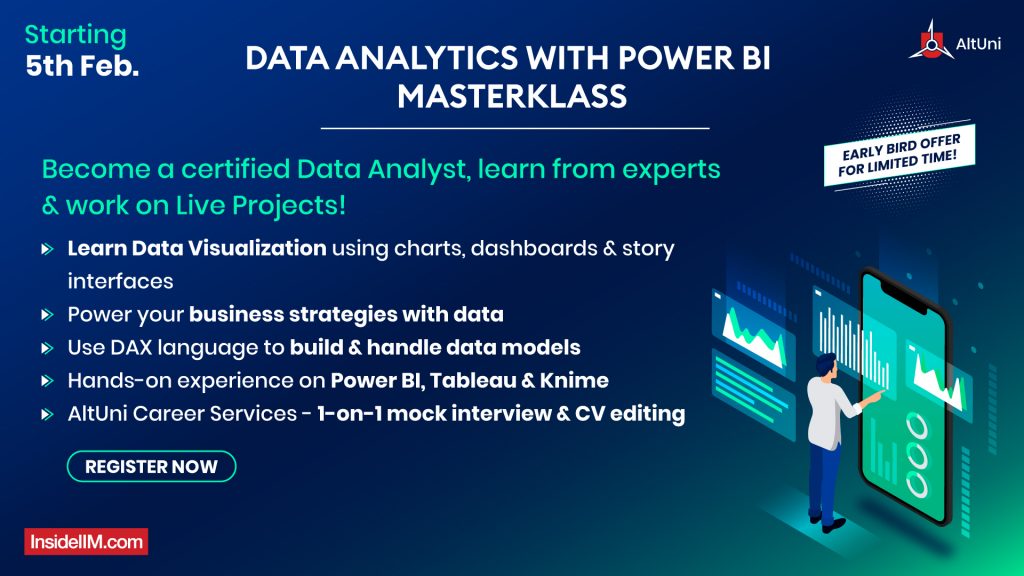 If you're planning to build a career in Data Analytics or any other management domain, Data Analytics is a skill-set worth adding to your profile. With AltUni's Masterklass on Data Analytics with Power BI, you get to,
Learn Data Visualization techniques and build data-driven business strategies
Build charts, interactive dashboards, and story interfaces for visualization of data and trends
Use DAX language to build and handle data models through the use of formulas & expressions
Get hands-on experience of Data Analytics & Visualization in 2 Capstone Projects
Become a certified Data Analyst!
Become an AltUni alumnus to get access to exclusive job opportunities & huge discounts on all current and future programs
Get access to AltUni Career Services like 1-on-1 mock interviews & profile building sessions by industry experts.